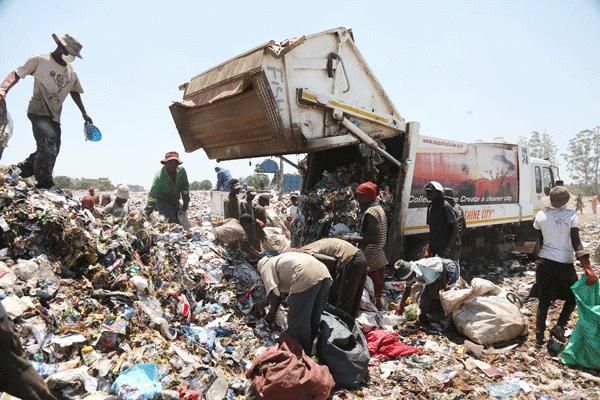 WHILE the world is at the centre of huge masses of solid waste, piling up on the land and seas on daily basis, nothing much has been written on liquid waste, including e-waste, which is intoxicating the atmosphere.
In this regard, the world, through the United Nations Environmental Programme and UN-Habitat, chose to commemorate March 30, 2023, as the International Day of Zero-Waste, to raise awareness of Zero-Waste initiatives including how to improve the way of doing business and contribute to Agenda 2030.
To sufficiently interrogate issues of the circular economy-based zero-waste, this year's theme is: Raising awareness to the importance of zero-waste and responsible consumption practices and urban waste management contributing to achieving sustainable development. Indeed, yes, the theme is very clear and sufficiently summing up. While information and knowledge awareness are key to unpack zero-waste issues, communities also need to regulate and watch their consumption practices to realise how waste management can be instrumental in sustainable development.
The world is not only grappling with solid waste, but also liquid and e-waste, which all contribute to the triple effect, making the whole process somewhat unachievable and a pipe dream too. With regard to climate change, gases produced by solid, liquid and e-waste impact negatively on the environment. In terms of achieving the envisaged zero-waste trajectory, the world, especially the Global South, faces a herculean task in its attempt to make inroads and realise the desired deliverables and dividends.
Globally or in the Global South, to be more exact, the amount of solid waste being successfully sorted out and separated using the appropriate technologies is very low, leading to waste piling up and scaring. Since it is the solid waste being talked about more because it appeals to the sense of sight, the backgrounding of information on liquid and e-waste will make people think these toxins do not exist or they are of lesser impact. It is important, in this regard that, all forms of waste should be equally interrogated, visualised and harmonised in order to avoid waste getting out of hand.
From the sustainable development goals (SDGs) points of view, SDG12 (responsible consumption and production), SDG11 (sustainable cities and communities), SDG14 (life below water) and 15 (life on the land) and SDG17 (partnerships and goals) are likely to suffer, especially in the absence of SDG13 (climate action), which is useful in all sustainable interventions. Since circular economy, through zero-waste, is supposed to improve the ways of doing business and realise economic growth, which is not currently happening in ways it should be. This shows that SDG8 (decent work and economic growth) and SDG9 (industry, innovation and infrastructure) are already impacted upon.
In terms of SDG indexing, with regard to the whole broad network of zero-waste, circular economy appears to relate almost to all the SDGs hence the global waste economy does seem looking good. With many kinds of waste keeping on piling, with plastic waste as the main nuisance, the global initiatives do not seem to realise how to handle both e-waste and liquid waste. Therefore, the zero-waste mark or deliverable appears more challenged and deceiving than ever before. Although zero is the lowest number, comparatively, its bar is quite high to deliver any meaningful interventions.
In countries of concern, principles of re-using and recovering are not closely being foregrounded and monitored and implemented. Therefore, enormous waste continues to be realised — going out of hand and being an eyesore — instead of realising value chains in terms of business and eco-prenuership. This is a cause for concern globally, hence the need to commemorate the International Day of Zero Waste, on March 30, 2023.
If zero-waste is supposed to culminate into business models and generate income, improve the ways doing business then there should be capacitation especially in the Global South where circularity gaps continue to widen. This also includes lack of relevant green facilities and technologies which contribute to the ease of doing business, manufacturing, produce goods and services in order to realise value.
Circular economy should appeal and apply to people's daily living transactions so that it becomes relevant as part of a livelihood option. The onus is on circular economy drivers to situate communication at the heart of their development paradigms so that communities understand the business benefits of waste. In this regard, waste should not be wasted, but eliminated to create business opportunities.
In this view, waste recycling, re-use and re-packaging should be clear, convincing and alluring to the stakeholders. The recycling business is not very much common in the Global South because of lack of context specific communication and technical expertise, in relevant technologies to sort and separate waste. For business opportunities to be realised, companies need to make circular economy central to their ways of doing business. The circular economy has an advantage of reducing waste and costs hence it becomes sustainable and the model of choice.
The media has an essential role to play in communicating helpful information to stakeholders. It is also important that companies have working knowledge of business models associated with the circular economy to be able to eliminate waste and create business opportunities.
Appreciation of waste pickers is key to change perceptions and negative attitudes. The aim is to be able to visualise waste recovery with human lenses. Waste workers need recognition and respect as they participate in a valuable health and environmental service.
Peter Makwanya is a climate change communicator. He writes in his personal capacity and can be contacted on: [email protected].
Related Topics