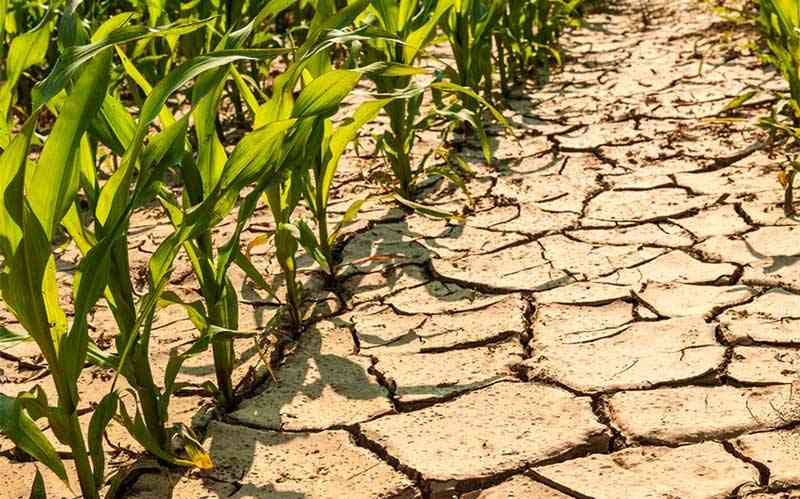 The Zimbabwe Coalition on Debt and Development (Zimcodd) has called for climate financing owing to the increased threat from the long-term shifts in temperatures and weather patterns.
This comes nearly two weeks after the government warned that the country's agricultural seasons will get drier in the coming years owing to climate change.
A recent report by financial services firm, IH Securities, said since sub-Saharan Africa's agriculture was predominantly rainfed it was highly susceptible to climate change.
IH Securities reported that based on a report from the Food and Agriculture Organisation, in terms of jobs, the sector provides employment and income for about 60% to 70% of the 15 178 979 (as of April) Zimbabweans.
In Zimbabwe, the just ended 2021/22 season was marked by a false start in some areas of the country, a late onset in other parts and unevenly distributed rainfall.
The performance comes as Zimbabwe's agricultural sector contributes about 17% to the country's gross domestic product and is one of the two backbones of the economy alongside mining.
"Increased climate variability has continued to worsen the livelihoods of citizens especially the rural sector who rely on rain-fed agriculture (due to droughts, cyclones etc). Our budgeting thus far has not catered for this increasing vulnerability," Zimcodd said, in its newest report titled 2023 National Budget: Citizens' Aspirations.
"Ministry of Finance and Economic Development should seek a green budget which also considers financing sustainable methodologies to secure future farming initiatives and livelihoods can recover from shocks of climate variability."
To date, most government support to agriculture has been in the form of debt securities to help farmers get inputs to increase crop output.
However, farmers have been hard pressed to realise these gains as the support lacks climate change provisions with the government only now making those considerations.
Thus, Treasury is in the process of conducting an audit on all its natural assets to see which ones can be used to form tradable carbon credits.
In terms of agriculture, the government will seek to offer investors at next month's COP27 in Egypt, carbon credits into the sector based on the fact that it's already sequestering more than it emits. COP27 refers to the annual United Nations Climate Change Conference for 2022 slated to take place from November 6 to 18 in Sharm El Sheikh, Egypt.
"At a national level, we sequester more than we emit. So, I believe as we go to COP27 we have an opportunity to say we are already sequestering more than we are admitting so the trading of carbon credits could start," Lands, Agriculture, Fisheries, Water and Rural Resettlement minister Anxious Masuka told this paper at the recent launch of the US$20 million smallholder irrigation funding facility.
"We are also saying we need additional resources to accelerate the climate proof financing that we are doing. As we know, we have climate proofing at two levels at the small holder level and through this accelerated irrigation rehabilitation and development so I think that the twin approach at COP27 will perhaps garner the support that we want."
Carbon markets have a market value of over US$200 billion globally.
A carbon credit is essentially a certificate that can be traded, basically, a legal instrument allowing the owner to emit carbon dioxide or other greenhouse gases over a period of time.
How carbon credits work is that if a country emits less than its targeted amount of greenhouse gases, it has a surplus that can be converted into carbon credits. These carbon credits can then be sold to either another country, company or institution interested in lowering its own carbon footprint.
Thus, the more farmers practise carbon sequestration, the more access they can have to carbon credit trading.
"Agricultural fields can act as carbon sinks through sequestering — binding — greenhouse gasses such as carbon dioxide. So, how does carbon sequestration in agriculture work? The answer lies in the soil," Syngenta said, a Swiss based leading science-based agriculture technology firm.
"As crops photosynthesise to produce their food, they remove carbon dioxide from the atmosphere and create the oxygen we need to breathe. Through this chemical process, carbon is sequestered in the soil.
In its newest report from its food security branch, the United States Agency for International Development (USAid) noted that widespread crisis outcomes are expected in typical deficit-producing areas in the south, east, west, and far north through the peak of the lean season in early 2023.
"In these areas, own-production is already depleted and above-average prices and below-average income are limiting access to markets," USAid's food security arm, the Famine Early Warning Systems Network (FEWS NET) said.
"Minimal outcomes are expected to prevail in some surplus-producing areas in the Mashonaland provinces, where households realised near-average 2022 crop production and had above-average carryover stocks from the 2021 harvests. Other typical surplus-producing areas negatively impacted by the poor progression of the 2021/22 rainfall season will remain stressed through the next harvest."
However, FEWS NET said with favourable rainfall forecasts for the 2022/23 rainfall season, casual labour demand is expected to improve compared to the 2021/22 season, and improved cropping, water, pasture, and livestock conditions during the 2022/23 agricultural season are also likely.
"However, payment rates for casual labour and terms of trade will continue to be negatively affected by poor liquidity and below-normal 2022 harvests and crop sales for cash and in-kind payments," FEWS NET said.
"The government is expected to be the main source of crop inputs for most smallholder farmers as access through the markets will be constrained by low income and exorbitant prices."
Follow Tatira on Twitter @tati_tatira
Related Topics