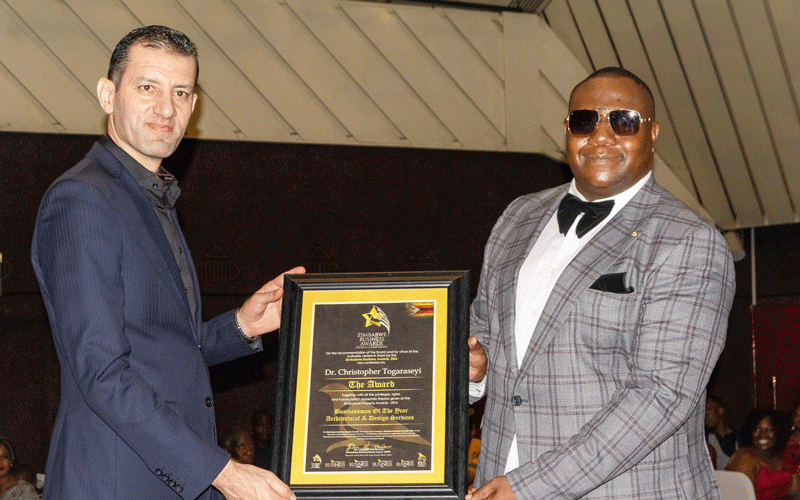 Leading architectural, design and construction services brand Togaraseyi Projects was the toast of the night at the recently held Zimbabwe Business Awards after they were crowned Company of the year architectural and design services while their CEO Christopher Togaraseyi was named businessman of the year architectural and design services.
The prestigious awards followed the conferment of an Honorary Doctor of Humane Letters degree from International Institute of Philanthropy (IIP) in partnership with International Women's University to Togaraseyi who has continued to steer the architectural and design company to great heights while sparing a thought for the less privileged.
Togaraseyi said he felt honoured to receive such recognition following years of unparalleled service to the market as well as meaningful contribution to humanity through his organisation's corporate social investment initiatives.
"This journey has been an eye opener and we are happy with the strides and transformation we have undertaken as a leading brand in construction as well as architecture and design. What this means is that we are a tried and tested one-stop service provider for all in need of both residential and commercial construction services.
"We are fully invested to the clients' needs from design and architecture through to the actual construction and commissioning of whatever structure the client needs," Togaraseyi said.
"Such expertise and setup allow us to give our clients the best service possible and we are more than encouraged by the impact and milestones attained so far.
"These awards are thus a testimony and motivation to our efforts over the years."
Some of the top brands that got recognised at the same awards include West Properties and their CEO Ken Sharpe who got property developer of the year and businessman of the year among other accolades while engineering company Fumati Engineers got engineering company of the year with their CEO Tinashe Changweya named Businessman of the year engineering services.
The construction related giant has been consistent since inception and is the brains behind some of the ongoing major construction projects across Zimbabwe; the most affluent suburbs in Harare included.
"Our workmanship is second to none and we endeavor at all times to give our clients the best product possible. There is no cutting corners at Togaraseyi projects because we give maximum attention to detail from choice and brand of materials we use through to the actual work as carried out by our expert teams.
Beyond the actual construction, we also put our expertise and industry knowledge to use by making the necessary checks with deeds office before construction commences just in case a client might have been sold a dummy when buying the stand. Such checks protect the client from incurring unnecessary costs," Togaraseyi said.
As both government and other private players continue to pursue the "housing for all drive", Togararseyi said they are happy to play their part in contributing to this national vision.
"Housing and shelter is a human right and as government and other private players push the housing for all narrative, we are the able and trusted partners towards this goal," Togaraseyi said.
"No one must be left behind and we have put in place the right models to achieve this.
"We have flexible arrangements and promotions for both local and international clients which makes it easy for them to achieve their dreams without fear of being prejudiced.
"Every project is an opportunity for us to prove our mettle and entrench our footprint hence our excellence approach to business."
The company has also invested in community development and charity through supporting other corporate social responsibility initiatives like the Brands that Care campaign where they partner other brands in reaching out to the less privileged.
"We believe in giving back to the community and besides our usual donations to the needy and support for disadvantaged students, we are also part of the Brands that Care initiative through which we reach out to the needy.
"We join other corporates for charity donations to identified charities and homes so that in our small ways we are able to make a difference in the lives of the less privileged. We are indeed blessed for others and we will always play our part in that regard," Togaraseyi said.
As the year progresses, Togaraseyi said his company will be unveiling various construction-related promotions so that they bring better convenience to their clients.
"Business is all about understanding the needs of your clients and your market and we are geared for an even more successful business year this 2023," he said.
"We want to become a leading brand in our sector through quality and tailor-made services.
"From design and architecture to construction, Togaraseyi Projects is the plug.
"We will be unveiling new promotions during the course of the year so that we ensure that all aspiring home owners are guaranteed to achieve their dreams.
"Clients should look forward to exciting promotions and giveaways this year."
Related Topics