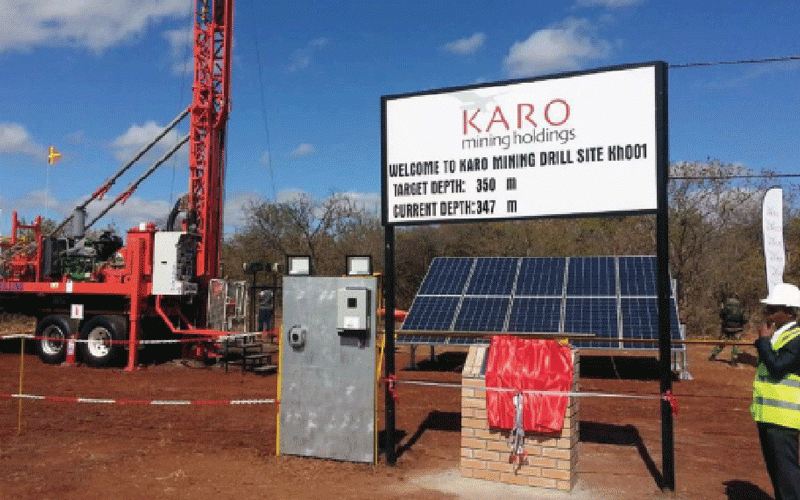 MINING concern Karo Mining Holdings Plc (KMHP) has managed to raise US$36,8 million of the US$50 million it aimed to raise for its projects in the country, Inter-Horizon Securities, which acted as a broker, announced on Friday.
KMHP, a subsidiary of the Cyprus-based platinum miner Tharisa Plc, is currently implementing a large-scale vertically integrated platinum group metals mining complex, located in the Great Dyke in Zimbabwe.
Thus, as part of funding initiatives for the proposed mine, Tharisa listed a US$50 million bond on the Victoria Falls Stock Exchange (VFEX) to raise capital to develop the Karo Platinum Project in Zimbabwe "on time and on budget".
Like its parent company, Karo is also headquartered in Cyprus.
The bond offer period closed on Friday.
"Reference is made to the prospectus published by Karo Mining Holdings plc dated 28 October 2022 relating to the issuance of and subsequent listing on the Victoria Falls Stock Exchange of a US$50 million bond, and an announcement published by the issuer's parent and guarantor, Tharisa plc, dated December 22, 2022 where the bond issue's private placement results of US$31,8 million being raised was announced," Karo said, in a statement on Friday.
"The issuer is hereby pleased to announce that it has received additional subscription applications totalling US$5 million to subscribe to the bond. As such, applications have been granted in full and the notes were issued to applicants after the issuer's receipt of proceeds. Interest on the recently issued notes commenced accruing from the date of issue thereof."
Karo said the issued notes would be listed on the VFEX alongside the previously issued notes that were listed on the exchange on December 16, 2022.
"The company would like to further inform bondholders and the investing public that the bond offer period has now closed. Following the aforementioned issuance, US$36,8 million was raised," Karo said.
Arxo Finance plc, a wholly owned subsidiary of Tharisa, was established to provide funding to Tharisa group of companies, and committed US$10 million to subscribe to the bond.
"As previously announced, all proceeds from the Bond will be applied to part fund the Karo Platinum Project — a development stage, low-cost, open-pit platinum group metals asset, located on the Great Dyke in the Republic of Zimbabwe," Karo said.
Karo's board thanked the investing public for subscribing to the bond issuance for the company.
The Karo Platinum Project has a total capital cost for phase one of US$391 million which is envisioned to be "the" second world-class asset in Tharisa's portfolio.
Related Topics