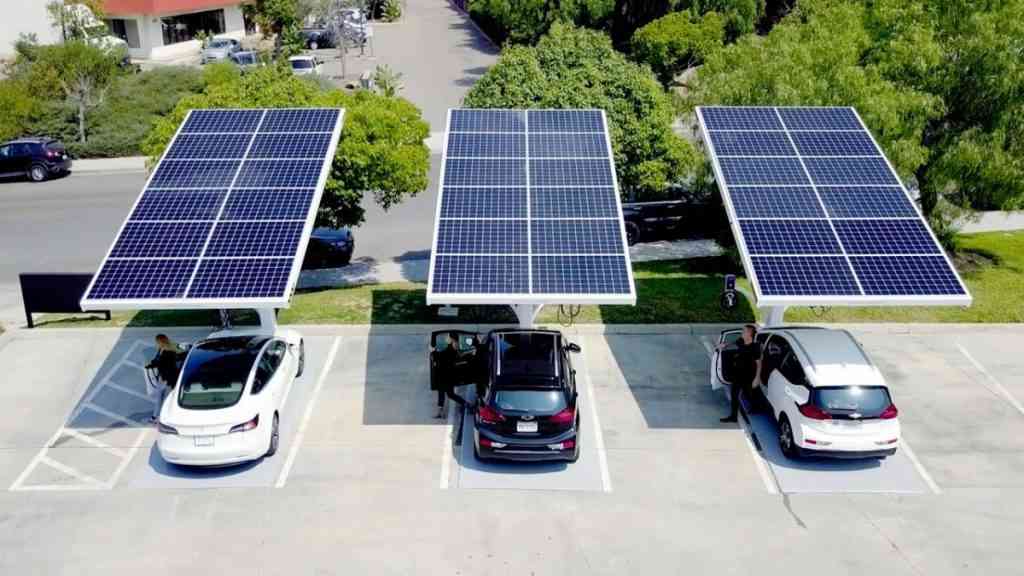 The United States has embarked on the ambitious journey of electrifying the transportation sector, but there are a number of hurdles that stand in the way – particularly EV charger reliability, accessibility and sustainability.
Automakers in the United States sold 807,180 EVs in 2022, according to the Wall Street Journal, with only 6 000 EV fast-charging stations across the country. Compare that to 150 000 fueling stations for gas-powered cars and it is clear that we have some ways to go.
The National Electric Vehicle Infrastructure (NEVI) Formula Programme aims to alleviate this problem. It allocates US$5 billion over the next five years for states to deploy a nationwide, interconnected network of EV chargers along thousands of miles of highways. But with a majority of chargers powered directly by a utility grid, is the grid ready to handle the rise of EVs on the market?
An obvious solution to the hurdles presented is to pair EV charging infrastructure (EVCI) with on-site solar and energy storage solutions.
This approach to clean energy modernisation keeps chargers running, alleviates pressure on the grid, and brings other significant benefits to communities nationwide. However, implementing this solution can pose its own set of challenges.
Pairing solar and storage with EVCI can boost accessibility to more people who might want to purchase an EV.
The Department of Energy found that 80% of EV charging takes place at home, but where does that leave residents who live in an apartment complex, condo, or rural area and may not have those connections readily available? Solar-plus-storage units can help meet accessibility needs in densely urban hubs or rural locations without needing a plug-in grid connection.
The recently passed Inflation Reduction Act (IRA) will extend and increase greater tax credits for solar, energy storage, and EV charging stations. For EVCI, the chargers must be located in low-income or rural communities to receive the credit. These incentives can help drive development in areas where access to affordable clean energy and reliable charging is most needed, and also enable developers to receive a tax credit on their project, helping make the project more economical — a win-win for everyone.
Pairing EVCI with solar and battery storage units also helps boost grid reliability. Utilities have to account for the power demand of new chargers on their system, so when those units are powered by solar and energy storage, it reduces demand on the grid, especially critical during extreme weather and large-scale fires that can result in outages, or precautionary forced outages to protect the grid.
In cases where grid demand peaks, these systems can even be used as a demand response tool, pulling excess solar energy stored in on-site batteries, or even from the EV that's hooked up into the charger, to help balance the grid and prevent potential outages.
As medium and high-duty EVs are adopted, EVCI power requirements will put more strain on the grid. However, with solar-plus-storage solutions paired with EVCI, utilities may be able to defer or avoid grid upgrades, which could boost accessibility in places with interconnection constraints, like rural areas where they're lacking the necessary infrastructure, or urban environments where the grid is congested. Additionally, the less that a utility spends on its infrastructure, the less ratepayer bills will increase.
To make solar-plus-storage-plus-EVCI a widespread reality, developers need to clear both technical and cost hurdles. They need a deep understanding of the complexity of pairing these solutions together and need to educate themselves on how to best procure EVCI and get it into the ground, with utility interconnection and permitting. Developers must also ensure the EVCI operates effectively with solar and storage. Legal and administrative considerations must also be navigated. With so many points to consider, it will take time for developers to gain the experience to successfully develop viable and economical, long-term solutions that combine solar, storage, and EVCI.
Pairing EVCI with solar and storage can be costly to implement – one of the reasons we don't see more of it. EVCI can be deployed inexpensively— the challenge is deploying high-quality charging units that are also robust operationally. Typically this means higher upfront costs and higher long-term operating costs that either need to be passed down to the consumer or taken on by the owner/operator, diminishing returns. The cost problem is only exacerbated by incorporating solar and energy storage. Understanding how this plays out, along with taking into consideration available local or state incentives, is critical to properly structuring the project.
Reliability and performance are important to stand out from the competition. Currently, public EV chargers do not have high enough availability, creating the perception that the system is not reliable. Most EV chargers are just 75% reliable — a one in four chance that the charger won't work when a driver pulls up to it. Charging issues only get worse during the winter months in certain parts of the country if the units aren't equipped to handle cold temperatures. During a grid outage, nearly every EV charger in existence today would cease to function, but using solar and energy storage solutions could alleviate this, shifting dependence from a strained grid, to a self-sufficient store of renewable energy – a move towards truly emissions-free transportation.
Currently, there are no programmes, incentives, or other mechanisms specifically geared towards the implementation of EVCI paired with solar and storage. Sparking greater adoption of these solutions starts by generating a dialogue with various stakeholders around the potential for solar-plus-storage and EVCI to secure understanding and motivation around opening new policy dockets, then providing meaningful programs and incentives that will drive implementation.
The NEVI programme is one such federal effort to support EV adoption. Some cities, including New York and Los Angeles, have created programs to work with their local utilities to electrify their transportation systems that benefit everyone. There are other programmes across the country, but there is confusion and overlap among them, creating more work and complications for developers to apply for them on the back end. A holistic, simplified approach to ensure programmes and incentives around solar-plus-storage and EVCI units are designed to work together in harmony will help developers get on board. — renewableenergyworld.com
Related Topics