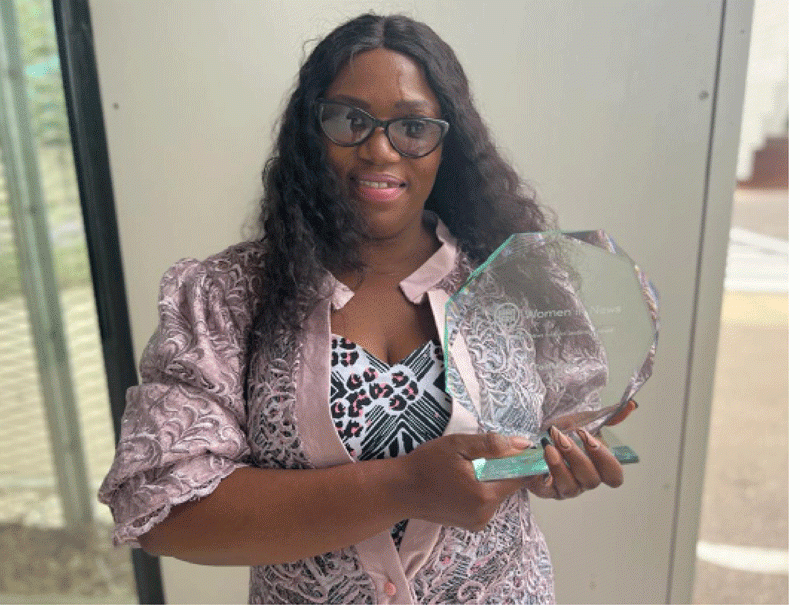 FAITH Zaba, editor of the Zimbabwe Independent, the leading weekly business newspaper, has been named the 2022 Laureate for Africa, a much coveted Women in News (WIN) editorial leadership award in recognition for her outstanding contribution to the global media industry.
Zaba, who became the first female editor of the Independent in 2019, joined a cast of other distinguished female editors from Philippines and Lebanon who were bestowed with the global prize in Zaragoza, Spain this week.
The awards, sponsored by the World Association of News (WAN) Publishers and WIN "recognises the exemplary contribution of female editors whose editorial stance impacts society positively.
Announcing winners of the global editorial awards, WIN said: "Faith Zaba, editor of the Zimbabwe Independent, was named 2022 Laureate for Africa."
The annual WIN Editorial Leadership Award recognises the exemplary contribution of an editor to her newsroom, and under her leadership, her media organisation's contribution to society.
Zaba, who is the first woman editor of the Zimbabwe Independent, the country's leading business and investigative weekly, owned by Alpha Media Holdings (AMH), has more than 27 years of experience in the news industry.
She was also the first woman to be appointed deputy editor in 2016, and the first of many other appointments until being named editor of the Zimbabwe Independent.
On receiving the award, Zaba, whose illustrious career has been underpinned by the rise of female journalists in a male dominated industry encouraged "young women in the media" to passionately pursue their dreams.
"I am deeply humbled and honoured to receive this prestigious global recognition. This award is a message to young women in the media and those who have the beautiful dream of joining this amazing profession; they too can sit at the table.
"Through sheer hard work, perseverance and determination, glass ceilings can be shattered. My message to the young women journalists is to never give up. You are worthy and, yes, you can," Zaba said.
In Zimbabwe, Zaba, who has scaled the editorial ranks at the Independent until she became editor, is involved in various mentorship initiatives aimed at developing the capacity of female journalists.
With a career spanning 27 years, Zaba has maintained the Zimbabwe Independent's position as the leading business weekly newspaper.
In his congratulatory speech WAN-IFRA's chief executive Vincent Peyregne said Zaba joined other outstanding laureates of the award who are dedicated to enhancing equality in the media industry.
"Equality and inclusion in the media are essential for a healthy and representative society. We are happy to welcome our 2022 laureates, Zaba… to the group of media leaders who play an exceptional role in making a difference in media while contributing to these fundamental ideals," Peyregne said.
AMH chairman Trevor Ncube posting on his official Twitter handle said: "Congratulations to Faith Zaba the editor of the Zimbabwe Independent for this global recognition. We are proud of your work and this award is a fitting tribute."
Former Independent editor Vincent Kahiya also sent his congratulatory note.
"Well done Faith Zaba for landing this prestigious award. So proud of you mate."
Diana Moukalled, from Lebanon and co-founder of Daraj Media in Lebanon, was also named 2022 Laureate for the Arab Region while Regina "Ging" Reyes, senior vice-president and head of Integrated News and Current Affairs Division of ABS-CBN Corporation in the Philippines, was named 2022 Laureate for Southeast Asia.
Other previous laureate winners from Africa include Mary Mbewe, the executive editor of Zambia's Daily Nation and Edyth Kambalame, editor at The Nation on Sunday and vice-president of the Malawi Editors' Forum.
"The laureates are selected by members of the Women in News global steering committee based on criteria such as commitment to editorial excellence, gender equality and supporting the next generation of media leaders."
WAN-IFRA is a global organisation of the world's press, comprising 3 000 news publishers and technology companies and 60 national publications in 120 countries. The organisation provides its members with expertise and services to innovate and prosper in a digital world and perform their crucial role in society.
Related Topics