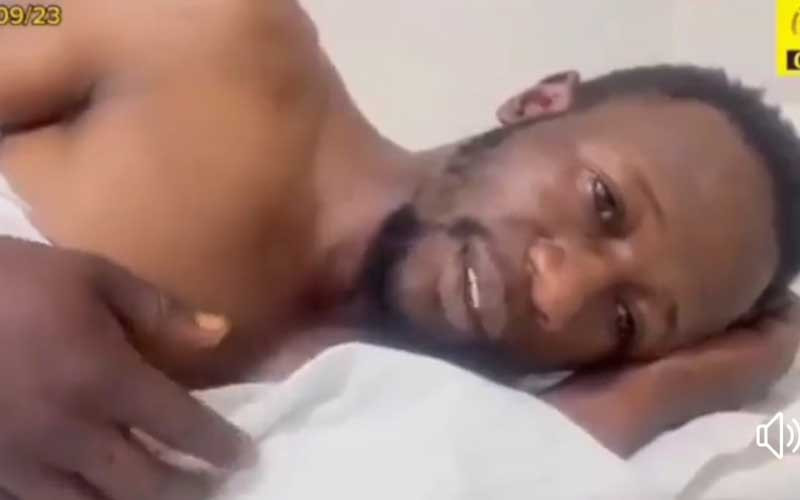 Citizens Coalition for Change (CCC) Harare councillor Womberaishe Nhende was in tears as he recounted events on the day when he begged his abductors to spare his life.
Nhende was snatched on September 2 this year by unknown persons who kept him captive for hours alongside another CCC activist Sanele Mkhuhlane before they were released.
Three unmarked 4x4 vehicles visited Nhende's home in Glen Norah and forced him and Mkhuhlane into one of the vehicles.
The duo was assaulted and tortured before being injected with an unknown substance and later dumped in Mapinga, about 73km along the Harare-Chirundu highway.
Since then, Nhende now battles all sorts of health challenges including loss of taste.
"The biggest trauma is that injection," Nhende said.
"Just imagining that these people, who are obviously state agents, may have injected some cancer-causing substance or some such poison which could manifest in my body now or sometime in the future, is traumatising," he said.
Already, preliminary health assessments have pointed at something cancerous having been introduced into his body.
Nhende said he recently tested positive for a virus that can cause cancer.
"I am still having a series of tests, the latest being a sample of my hair," he told The Standard.
"The doctors are checking if there are any trends or changes and the (Deoxyribonucleic acid) DNA structure of the hair.
"So, all of those tests haven't come back from the labs where we are trying to get as much information as possible on what the substance could have been.
"That feeling of trying to get a diagnosis of something and you can't really determine what it is, is just so traumatic."
Nhende says he is now having bouts of vomiting and also has loss of appetite.
"I have been surviving on intravenous feeding. When I came out of hospital I only ate natural yoghurt after having lost my sense of taste," he said.
"Now I can go for even two days without eating. As it is all I can attempt to eat is dry rice."
Almost all opposition activists that have been abducted and tortured recently were allegedly injected with some unknown substance and now say they are battling varying health complications.
At least 15 CCC activists have been abducted over the last few months.
The most recent case was that of Tapfumaneyi Masaya an active CCC supporter who was abducted from Mabvuku last week while campaigning ahead of the December 9 by-election in the constituency.
He was found dead on Monday last week.
In another case a fortnight ago, CCC legislator Takudzwa Ngadziore streamed live on Facebook while being chased by gun-toting men who then abducted, tortured and injected him with an unknown substance.
Ngadziore was later dumped in Mazowe, badly injured and disoriented.
Last month, former Mabvuku-Tafara legislator James Chidhakwa was also abducted, tortured and again injected with an unknown substance before being dumped in Arcturus.
His abductors shaved off his dreadlocks using matchetes.
Scars of this brutal encounter are yet to heal and Chidhakwa says he is still traumatised by the experience.
"I am still traumatised and I am still in pain. I can't say more," Chidhakwa said.
A source, who requested anonymity, opined that the substance that is being used by the abductors was likely Polonium-210, a rare and highly radioactive isotope that is extremely hard to detect.
Other nerve wrecking substances could also be used by the abductors.
"They could also be using nerve wrecking agents; these are man-made chemicals that are used, especially nerve agents," the source said.
"These could be Sarin, VX, Soman, tuban and this one from Russia; the polonium 210 and 204.
"Some of these substances are injected, swallowed or administered through direct contact."
Nhende said he feared for the health of his colleagues who were abducted and tortured.
"The other person who was abducted Nelson Mukwenha is experiencing memory loss issues," Nhende said.
He said the fear of further reprisals from state agents compounded his trauma, hindering him to move forward.
"The state agents whipped me with some sharp objects that tore off my skin, and they took turns to trample on and kicking me all over my body as I lay there helplessly," Nhende said.
"After that they threw me on the tarred road and reversed their vehicle with apparent intent to run me over. I only managed to move an inch away from the wheels as my whole body was aching.
"They only managed to run over my left foot."
Other victims of abductions reported that they were passing blood in their stool, raising concerns about internal bleeding and gastrointestinal complications.
Pride Mukono , another activist who was injected with an unknown substance when he was arrested and detained in 2019 said he was presenting symptoms associated with colon cancer.
Mukono said he suspects that he may be a victim of slow poisoning.
"The symptoms I am currently having started after my release from prison in 2019," Mukono said.
"These included slight aches in the lower abdomen and blood clots in my faecal matter.
"I initially thought this would go away, but it didn't hence I sought medical attention and I fear this could be colon cancer."
On September 3 this year, Zimbabwe Election Advocacy Trust executive director Ignatius Sadziwa was abducted and tortured by suspected state security agents shortly after attending a meeting with the European Union Observer Mission.
Sadziwa was tortured for four hours before being dumped somewhere in St Marys in Chitungwiza.
On August 26, former Marondera Ward 10 councillor Nelson Mukwena was abducted from his home in Highfield. He was also injected with an unknown substances.
Some abduction victims were not so lucky as they were never seen again like Itai Dzamara, a human rights activist who was abducted by state agents in 2015 and disappeared without trace.
CCC spokesperson Promise Mkwananzi said Zimbabwe 'cannot continue on the path of lawlessness and impunity' as he pleaded with authorities to stop abducting opposition party members.
"We hold the government of Zimbabwe squarely responsible for this carnage" Mkwananzi said.
"We call upon Mnangagwa while he is still dejure president, to uphold, protect and promote the rule of law, the constitution of Zimbabwe and ensure the safety and security of every citizen.
"We urge the police to do their work and ensure that all these abductors are promptly and effectively brought to justice."
Police spokesperson senior assistant commissioner Nyathi said the law enforcement agency had not received some of the reports of the alleged abductions.
"If there is any other case where somebody claims that a crime was committed, then they should report to police for investigations to be conducted," Nyathi said. "Like the case of Tapfumaneyi Masaya, it is being investigated."
Zanu PF activists and members of one of its affiliates, Forever Associate of Zimbabwe (FAZ), a shadowy group with links to the Central Intelligence Organisation, have been accused of most of the abductions of CCC members.
Faz president Kudakwashe Munsaka, however, said the accusations were baseless.
"We are now used to being wrongly accused and have gotten to a point where we no longer care what the opposition says about our organisation," Munsaka said.
"We remain strongly vested in all areas that will lead Zanu PF to victory as its affiliate. "We care less about lies that are peddled about our innocent organisation."
Zanu PF acting director of information Farai Marapira accused CCC of peddling lies about abductions.
"We all know that CCC loves to engage in hyperbole," Marapira said.
"They are the most toxic party in our country and they have done so many fake abductions in the past.
"Over the past few years I don't think it's Zanu PF; it's them.
"It's their direct policy and decisions to be moving about clowning and behaving in a manner that does not have any respect for the concept of democracy in Zimbabwe. "
Heal Zimbabwe Trust Information and advocacy officer Tapiwanashe Chiriga said they had recorded more than 10 cases of CCC members being abducted.
"We recorded quite a number of cases and most of these cases did not get national attention in the heat of the general election," Chiriga said.
Chiriga called on authorities to respect the United Nations International Convention for the Protection of All Persons from Enforced Disappearances.
"We demand that the state, through the police, investigates the systematic and targeted attack on opposition members and supporters to end abductions and torture so that all citizens enjoy the right to personal security as provided by Section 52 and freedom from torture and inhuman treatment granted by Section 53 of the constitution," he said.
According to Zimbabwe Lawyers for Human Rights, over 5,894 people have been abducted by the state since 2000.
Related Topics