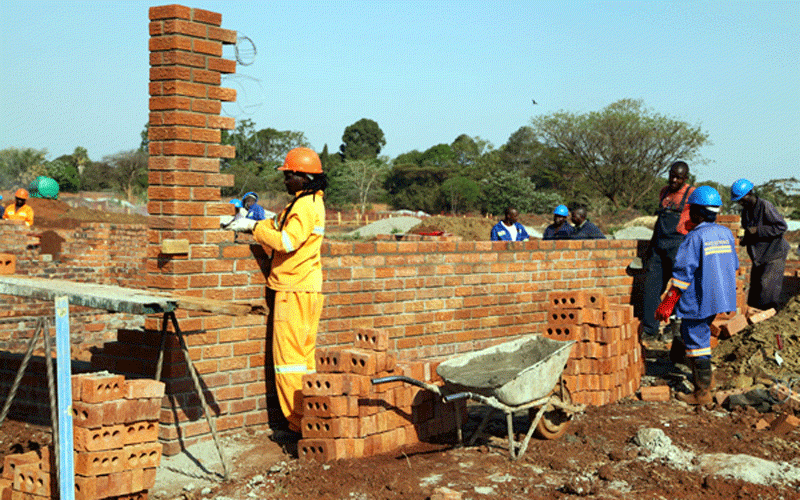 THE construction sector is faced with many complex challenges, such that it needs renewal, with the aim of making infrastructure more efficient, resilient and climate proofed.
Therefore, it is the role of manufacturers of building materials, architects, engineers and government to choose more efficient means of transforming the construction sector.
Outdated buildings, which have since outlived their time, contribute lots of greenhouse gases, hence they are at risk from climate change impacts and the changing environment.
In the face of climate change and the manner in which some infrastructure were designed, they fall short of the requirements designed to reduce emissions. While there are so many factors that are interconnected in the construction sector, promoting circular economy transition, in line with the sustainable development goals (SDGs) is key.
According to international best practices in the construction sector, demolishing of old buildings by 14% of current houses by 2050 would reduce and relive their resilient span.
The aim is for the residential areas to have reduced carbon emissions by 60%, a feat that is not easy to achieve due to a combination of factors and uncertainties as a result of the prevailing energy and emission mix.
Resilience is viewed as the ability of a system and its component parts to persist in the face of risks, adapt, transform and recover from the effects of hazardous events, bouncing back through rebuilding and bouncing forward, through transformation. It is common knowledge and a worrying factor, too, that the cost of rebuilding is increasing and painful, especially after disasters occurring.
Therefore, the construction sector need to keep abreast with new building requirements and best practices of the 21st century to reduce greenhouse gas emissions, save and protect the environment.
It is the construction sector's duty to lead the way, reform and invest early to make buildings more resilient by responding to spatial requirements.
These include appropriate siting, building in more secure locations, which are crucial ways to save, not only the infrastructure but lives, minimise costs and protect the environment.
The infrastructural renewal processes should always start in the home, but before that, it is significant, in this regard, to streamline and unpack infrastructural components.
These are grey, green and blue forms of infrastructure, which would provide more scope and meaning in this discussion. Grey infrastructure is built up, engineered and physical structures often made of cement or other long lasting materials, in the form of roads, bridges, canals, railway lines, sewer pipes, energy, flood protection, drainage systems, among others. These materials should be locally relevant and suitable to local conditions.
Green infrastructure consists of biophysical systems, namely green plants, animals and micro-organisms, which are living parts of the environment. This also include, water, air, soil, sunlight and minerals, which are non-living parts of the environment.
Green infrastructure also extends to green spaces, supporting biodiversity, natural ecological processes, green roofs, recreational parks, municipal play centres, street trees, among others.
Blue infrastructure involves well-functioning biophysical systems, related to water, as in water bodies, ponds wetlands, rivers, streams and lakes. Therefore, when contextualising infrastructure, it is significant to view it not in isolation, but as sufficiently and effectively integrated.
Resilience in the construction industry needs cohesion rather than fragmentation in its interconnected nature. The construction sector functions as a typical fusion and networked community of practices and best described as a 'system of systems.'
In this regard, if one part of the systems is not available, then no construction would take place. In the context of the home, it is advisable to use low-carbon or no-carbon technologies to heat most homes and reduce heat by using solar cells or solar hot water heaters.
The goal is not to make homes heavy energy consumers, contributing to carbon emissions and other greenhouse gases.
Modern infrastructure should have large windows for free air-circulation or glass that allows more sunlight as against to increasing energy fired lighting and heating.
This is because, lighting and office equipment make up almost half of the energy consumed by commercial buildings.
In this regard, lights, computers and air conditions produce lots of heat, which means commercial buildings demand less artificial heating than natural sunlight.
Building high, is also recommended, as in skyscrapers which are not very much carbon emission intensive. Green vegetation on roofs also helps to make buildings cooler as planted plants help to absorb carbon dioxide emitted by a variety of domestic appliances.
Developing countries like Zimbabwe, which are aspiring to be middle-income economies by 2030, need to improve on its data when it comes to realising the costs and benefits of investing in resilient infrastructure in any given location.
Locally-related climate risks assessment is required in order to contribute to building best practices, designed to achieve resilience.
It is significant for the country to engage in piloted efforts to fill in the data gaps by building green, with banks and private sector, coming forward to support the construction sector through funding against physical climate risks and making investment in infrastructural development key.
A co-benefit in this regard, is that the country is not lagging behind as it has the Zimbabwean Building Contractors Association (ZBCA), an organised body designed to implement building best practices while at the same time reducing emissions and protecting the environment.
This does not mean that there are no challenges that the sector has, but the realisation of climate risks, saving and protecting the environment becomes instrumental and paramount.
Unsustainable building practices which contribute to about 32% of greenhouse gas emissions, while consuming a significant amount of energy should be engaged, monitored and conscientised.
Resilience, mitigation and sustainability in the construction sector can only be achieved if the industry contributes to solutions towards the country achieving SDGs.
This is because, of the interdependence between assets that make up an infrastructure system contributing to a "system of systems", as in SDG 9 (industry, innovation and infrastructure), combined with SDG 11 (sustainable cities and communities), SDG 7 (affordable clean energy), not forgetting SDG 13 (climate action).
Overall, infrastructural development contributes to the majority of SDGs because SDGs are most impacted by investing in infrastructural resilience.
For these reasons resilient designers have to consider mitigated climate and disaster risks in their designs.
This is important because all resilient infrastructural systems contribute to coping with acute shocks and chronic long term stresses.
Other critical best practices to take into account, are nature-based solutions, cost effective solutions that provide benefits to the environment, communities and economies.
These are critical in enhancing resilience through infrastructure. Resilient infrastructure not only reduce the impacts of disasters, but of people, assets and ecosystems as well.
The essential role of circular economy in the construction sector should be upheld, as it discourages the unsustainable behaviours of extracting and throwing away building materials without recycling and reusing.
This is important in safeguarding the environment and observing space awareness in the construction sector.
The idea is to manage pollution, emissions, land degradation and knowledge sharing, shaping land use regulations and building codes, governing where and what to build.
Related Topics