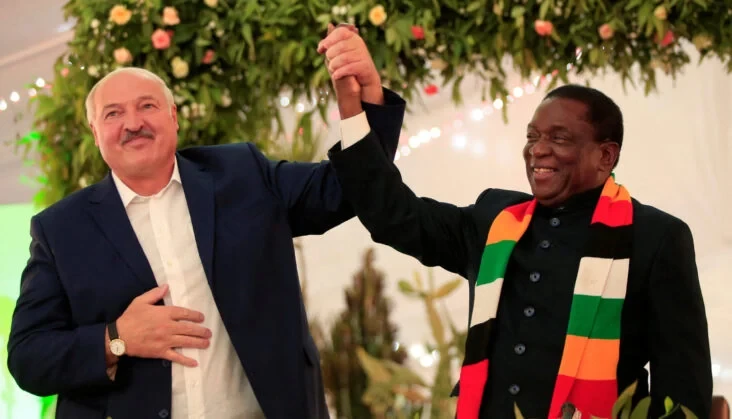 Belarusian President Alexander Lukashenko's state visit to Zimbabwe has come and gone but what does it mean to Zimbabwe in the context of the geopolitical conflict between Russia on the one hand and the United States and its European allies on the other?
It will definitely be seen as an act of defiance by a Western world fighting a proxy war in Ukraine against, and is suspicious of, Russia's intentions in Africa. Russia is Belarus's closest ally.
Zimbabwe has good relations with Belarus as shown by the state visit, but Belarus, like Zimbabwe, is a country on the European Union and US sanctions lists, so Lukashenko's sojourn raises a red flag in Washington and worsens Zimbabwe's relationship with the US.
Zimbabwe has taken delivery of farm equipment from the Eurasian country. But Belarus is now among the top arms traders in the world. It earned over $1 billion from the arms trade in 2017, and has entered the Top 18 of the world's largest arms exporters. Fears abound that the purpose of the Belarusian strongman's visit is an arms deal.
Former United Nations secretary-general Ban Bi Moon once accused Belarus of being "arms dealer to the world's pariahs".
Belarus manufactures state-of-the-art advanced military systems.
The sale of radar and electronic warfare systems, drones, and the upgrade of the Soviet systems, including air defence systems and radars, account for the largest arms trade revenues.
Russia and Belarus ties have been defined most recently in the ongoing conflict in Ukraine where Belarus has given its support carte blanche.
A nuclear power plant was being built with Russian assistance in Belarus.
US-Belarus relations
The US state department says since Lukashenko came to power in 1994, he has consolidated power through widespread repression. In 1996 Lukashenka temporarily expelled US and EU ambassadors. After a presidential election in 2006 the US and the EU implemented travel restrictions and targeted financial sanctions on nine state-owned entities and 16 individuals. In 2008, after the United States tightened sanctions Belarus permanently expelled the US ambassador.
Over this period, Belarus became almost wholly dependent upon Russia — politically, economically and militarily.
According to the US state department, "Belarusian authorities are reluctant to initiate basic economic reforms necessary to create a market-based economy, with 70% of the economy still under government control. Belarus's opaque legal and regulatory systems and rule of law deficiencies create a challenging business environment."
EU Belarus embargo
The EU is a major ally of the United States. Its embargo has been extended annually since its introduction in 2011. In February 2019 EU Council prolonged the restrictive measures against Belarus for one year, until February 28 2020. These measures include an embargo on arms and on equipment that could be used for internal repression as well as an asset freeze and travel ban against four people designated in connection with the unresolved disappearances of two opposition politicians, one businessman and one journalist in 1999 and in 2000.
Like Zimbabwe, therefore, Belarus is an international pariah but, most critically, a close ally of Russia against which the US and the EU are fighting the proxy war in Ukraine.
In October 2014 the Herald reported that the Obama administration warned Zimbabwe about its growing economic dealings with Russia and threatened further sanctions against Zimbabwe in the wake of a platinum deal. The US is in the process of passing a law — Countering Malign Russian Activities in Africa Act — that punishes African countries that support Russia's invasion of Ukraine.
Russia's footprint in Zimbabwe is now very well entrenched making Zimbabwe an obvious target of the new US law.
Platinum deal
A US$3 billion platinum mining project in Darwendale was commissioned in September 2014. It is touted to be the second largest platinum deposit in the world and the biggest joint venture Harare has entered with a foreign investor in the history of independent Zimbabwe.
Nearly a million ounces of platinum are expected to be produced annually and thousands of jobs will be created.
Russia and 2018 elections
According to the Carnegie Moscow Centre (CMC), Moscow is now seeking to establish cooperation with Harare not only in the traditional commodities sector but also in new areas.
Russians played a significant role in the July 2018 presidential election that saw the ruling party's Emmerson Mnangagwa officially elected.
This localised success could be the start of more systemic Russian participation in political processes across the African continent according to the CMC.
The 2018 election in Zimbabwe was seemingly the first time in post-Soviet history that Russian political consultants played an active role in an election campaign in an African nation.
In March 2018 Zimbabwe Electoral Commission head Priscilla Chigumba and then-presidential advisor Christopher Mutsvangwa visited Moscow.
"Chigumba and Nikolai Levichev, a member of Russia's central election commission, discussed suspicious-sounding topics such as 'issues of electoral sovereignty' during their meeting."
Russian consultants paid close attention to the unfolding of Zimbabwe's presidential campaign.
On August 1 2018, when the Zimbabwean opposition protested the election results, the first vice-president and shadow leader of the country Constantino Chiwenga flew to Russia with a "special message" for President Vladimir Putin.
Tellingly, Chiwenga took part in the closing ceremony of the International Army Games and met with Russian defence minister Sergei Shoigu.
On July 25-27 2018, President Mnangagwa visited the BRICS summit in South Africa and met with Putin at the height of his election campaign: the visit to Johannesburg was in fact its culmination.
"The West can count on virtually no one in Zimbabwe. The UK and the United States have long lost control of the situation there, and now China and South Africa [and now Russia], as Zimbabwe's main partners, are interested in the political and economic stabilisation of the country," says the CMC.
Military cooperation
In mid-January 2019 Mnangagwa paid an official working visit to Moscow.
According to a Herald report, he told Sputnik News Agency (SNA) in an interview: "We have always had cooperation in the field of defence and security with Russia. This we are not abandoning.
At the moment, we don't have much economic muscle to buy such things which we would want to buy from the Russian Federation.
"But down the line, as Zimbabwe becomes stronger in terms of its economic muscle, we should be able to buy the type of military hardware, which we know the Russian Federation has and the state-of-the-art type of equipment that they have; we are not in a hurry."
According to analysts, Russia is gradually increasing its influence in Africa through strategic investment in energy and minerals. It's also using military muscle and soft power.Russia is the second largest exporter of arms globally, and a major supplier to African states.
Over the past two decades it has pursued military ties with various African countries, such as Ethiopia, Nigeria and Zimbabwe.
Russia has also been actively supporting Zimbabwe. Shortly after it was reported in 2018 that China had placed new generation surface-to-air missiles in Zimbabwe, Russian Foreign Minister Sergey Lavrov announced that his country was pursuing military cooperation.
Zimbabwe's closeness to Belarus, Russia and also China makes it an intractable member of the bloc that is decidedly against American hegemony and its desire to continue with the unipolar world which it leads.
The US will, therefore, not be in a hurry to remove the sanctions it has imposed on Zimbabwe.
Madanhire is an associate editor at the Zimbabwe Independent.
Related Topics