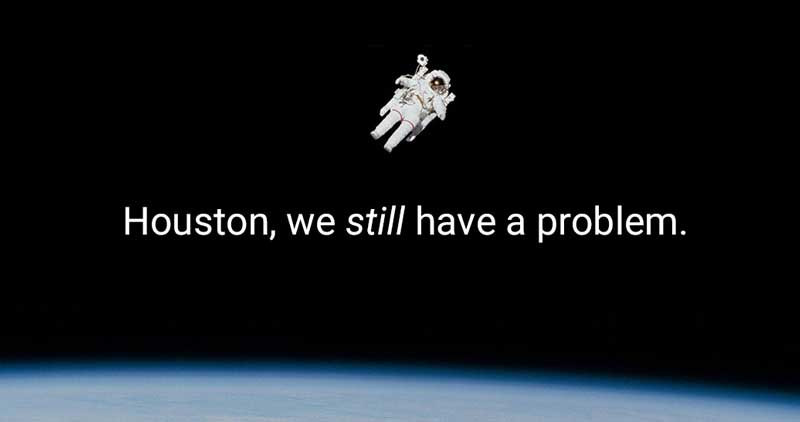 NASA faced a massive problem, as we reflected in a previous article, when the two engines of Apollo 13 exploded in 1970, requiring them to get the lunar craft back to earth safely with the three astronauts alive.
They managed to solve the problem, mercifully and thankfully. However, while they were to be congratulated hugely for that astonishing achievement, they were not immune to further problems and sixteen years later the space shuttle Challenger exploded just over one minute after its launch resulting in the deaths of all seven crew members.
Previously, we likened the Apollo 13 situation to the situation we face regarding sport in our schools – namely, we have a problem.
However, just like NASA after Apollo 13, even if we can resolve the previously discussed problems, we still have further problems with sport in our schools.
The first problem is there are few teachers who can coach sport. Teachers nowadays have not played sports themselves, as youngsters or adults, let alone coached sports, though their job description requires (or should require) them to coach sport.
Schools do not have the time or finances (or perhaps inclination) to train their teachers to coach sports, thinking that there are other more important things to consider.
Schools, therefore, try to get around the problem of teachers not being able (or willing) to coach team sports by bringing in outside coaches – though it should be stated that they should still be requiring teachers to be responsible for the team's behaviour and attendance, while learning from the outside specialised coach during the practices and matches.
However, this raises two further problems, regarding outside coaches: firstly, it costs money and secondly, the coaches are not trained, this in turn being seen in three areas: they are not trained to work with youngsters (remember teachers take years to be trained to teach youngsters); secondly, many of them are not trained even as coaches (simply being good players); and thirdly, most of them have no concept of the purpose of doing sport at school (learning more than winning); the coaches are purely interested in results, to boost their reputation.
They will go to any length to achieve that, often in contradiction of the school's values.
A similar problem exists with the officials required for sporting fixtures (which are an essential part of the learning process).
Nowadays, neutral referees and umpires need to be paid (previously they would do it for free but not now, as now many are unemployed).
This means that many schools find it hard to provide quality unbiased referees and umpires and that can affect the fixture's purpose.
Furthermore, the level of refereeing or umpiring is sometimes very poor and unprofessional – the official turns up in inappropriate gear (jeans and shoes) then proceeds to stand in the centre circle without keeping up with play.
However, in fairness, there is very little incentive for people to volunteer to serve as a match official when they will be abused by ignorant spectators on the side-lines who are not prepared to train or take qualifications to be an official. There is a problem!
Then we face parents who often try to interfere and have influence in the selection of teams, in particular to ensure their child or their friend's child is selected.
Parents often volunteer to coach teams, which is commendable, but only if their child is playing in that team, so the motive is personal.
Furthermore, they, like the above-mentioned coaches, are not trained in handling children.
It is also often found that parents give their child advice which is contrary to the direction given by the coach, which confuses the child.
Parents do not understand the lessons that need to be learned by children through sport, nor the purpose of sport at school. That is another major problem.
When it comes to schools, the win-at-all-costs mentality tempts schools to cheat, by using over-age players or by using players who are not registered at the school or who do not study at the school.
Not only is that inappropriate and unfair to the other schools but it is also unfair to those children who are registered at the school who are now deprived of the opportunity, privilege and thrill of representing their own school. That again is a problem.
We need to find solutions to these problems before school sport explodes. That is our challenge.
Tim Middleton is a former international hockey player and headmaster, currently serving as the Executive Director of the Association of Trust Schools Email: ceo@atschisz.co.zw
Related Topics