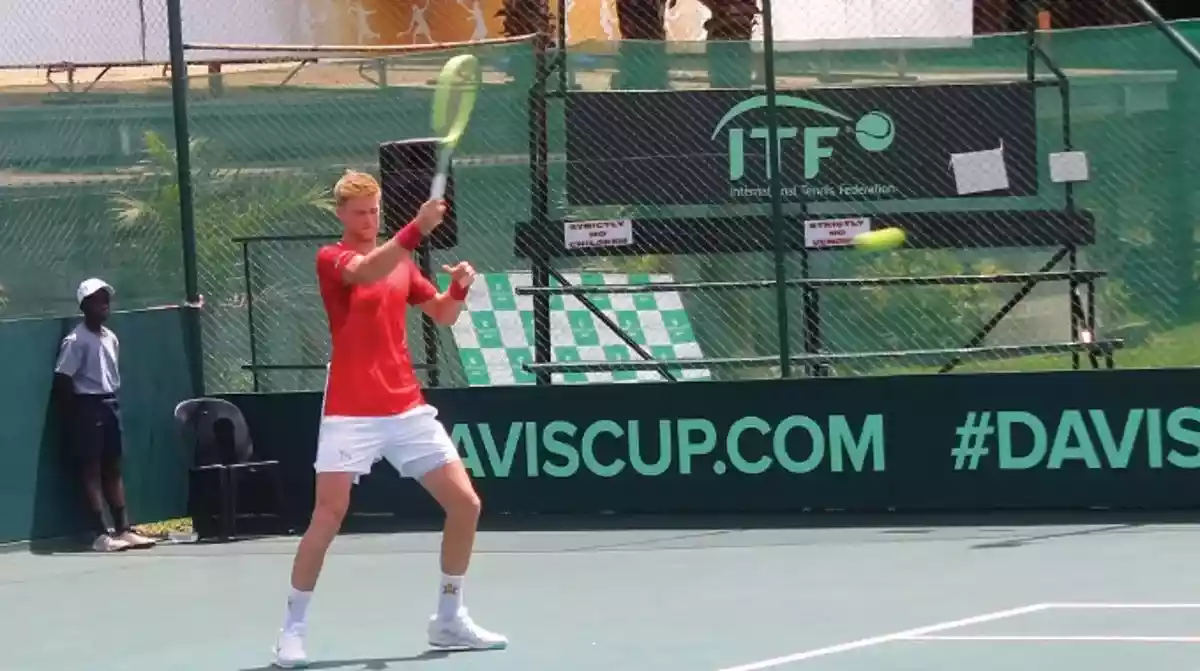 TENNIS ace Benjamin Lock has paid tribute to the country's tennis legends; brothers Byron and Wayne Black and Kevin Ullyett for cementing the country's legacy in the prestigious Davis Cup competition after recently moving to second on the all-time singles win list for Zimbabwe.
Lock achieved the milestone during Zimbabwe's 3-2 loss against Uruguay in a Davis Cup World Group II play-off tie at Harare Sports Club last month after notching up his 29th singles win in the competition and surpassed Wayne Black.
Byron Black has the most singles wins in Davis Cup for Zimbabwe with 39 while Wayne Black in third place with 28.
After making his Davis Cup debut at 17, Lock now holds the record for the most ties played in the team competition, having featured 33 times for the country.
He, however, feels it would have been impossible for him to achieve all that without inspiration from some of the country's former stars such as the Black brothers.
"First of all I feel very privileged to be in this position and to have won so many matches for Zimbabwe. Obviously Wayne, Byron (Black) and Kevin Ullyet are just legends in our country for tennis and all their achievements and what they have done has been an inspiration for all the tennis players who came after them in Zimbabwe," Benjamin said.
"At the same time it's not like I was competing to pass them, it just kind of happened to pass Wayne in the singles record. The wins kept coming and I got closer and closer to that number and it was amazing.
"I think most importantly for me; just to have won as many singles matches for Zimbabwe is great. It didn't matter to me who was ahead of me or by how many wins, you know it's not something I was looking forward to.
"Of course I am happy with the record that I have achieved and everything that comes with it, but it wasn't like it was a massive competition, but I am happy with what I have been able to achieve in the singles so far in the Davis Cup and at my age I have got many years of playing Davis Cup," he added.
Against Uruguay, Lock beat the visitors' number two player Ignacio Cariou in straight sets to level the ties on day one and draw level with Wayne Black on singles wins.
The 30-year-old restored parity yet again on the final day getting the better of Martin Cuevas 7- 6, 6 - 4 for his 29th Davis Cup career win, but it was not enough to save Zimbabwe from relegation into Group III after Courtney Lock lost the deciding singles rubber of the rain-interrupted tie.
Benjamin reflected on his journey in the Davis Cup.
"I made my debut when I was 17, it was in Morocco and straight away I was in love with the team environment, the team aspect and the format of playing in a team. I have always said I have played my best tennis during Davis Cup and especially in Zimbabwe. I just play at a different level and obviously my record shows that.
"I always come out of the Davis Cup weekends oozing with confidence. I can't remember a Davis Cup match, which I have felt I was bad, it has always been a good performance for me. I just love playing in that environment even with away crowds; playing in hostile conditions and you have the whole stadium against you. It's a great honour to be part of the Davis Cup and I have loved all the memories that I have had in the competition so far," he said.
While it has been a rollercoaster ride for more than 10 years in this competition, Benjamin Lock has a few ties and performances that stand out for him.
"One of the better moments would be last year in Algeria when we qualified back into the World Group II. We won the Africa Zone Group and we beat Namibia in the final doubles match. What people don't know is we had already played five matches with five different countries; it was 40 degrees in Algeria, very difficult conditions to play and so much pressure because you know what you are playing for," he said.
"I won my singles match and we were one-one going into the final deciding doubles and my brother (Courtney) and I played maybe the best tennis match of our lives and we won 6-0 6-1 in an hour.
"And I remember the embassy of Zimbabwe in Algeria being there to support us. My brother and I were completely in the zone."
"Individually I would say getting my first top 100 ATP win in Davis Cup (was memorable). I beat Marius Copil from Romania and we played away in Romania in his best conditions, indoor hard court. Two weeks before that he had beaten Stan Wawrinka and Alexander Zverev and he had lost to Federer 7 - 6 7 - 6 in the final of an ATP event in Switzerland and those wins for him were in indoor hard court.
"So when I played him and I won 6 - 4 7 - 5 I was playing at an unbelievable level. It was one of the best performances I have had ever in my life in a singles court
"I would also say we had a great team victory when we beat Turkey 3-0 at home. Takanyi (Garan'anga) and I had a really good performance. we won our singles and we clinchéd the doubles, it was a massive win
"Above all the greatest Davis Cup tennis memory for me will definitely be our tie against Georgia away in 2016. On the first day I played the number two from Georgia I won the fifth set 6-4 after 3 -and-a-half hours.
"On the first day I played singles against the Georgia number two from Georgia and I won 6 - 4 in the fifth set in three and a half hours.
"It was a crazy match. I had to sleep, recover and come out the next day for the doubles.
"Courtney and I we're two sets to love down , a break down and we saved six match points and we won 6 - 4 in the fifth set and we beat a top 50 player in the World . That is by far the best tennis memory I have ever had in Davis Cup and it's really special to me."
When he finally calls time on his career, history will always remember Benjamin as one of the finest players to ever emerge from Zimbabwe.
In the meantime, he continues to just enjoy living his dream.
Related Topics