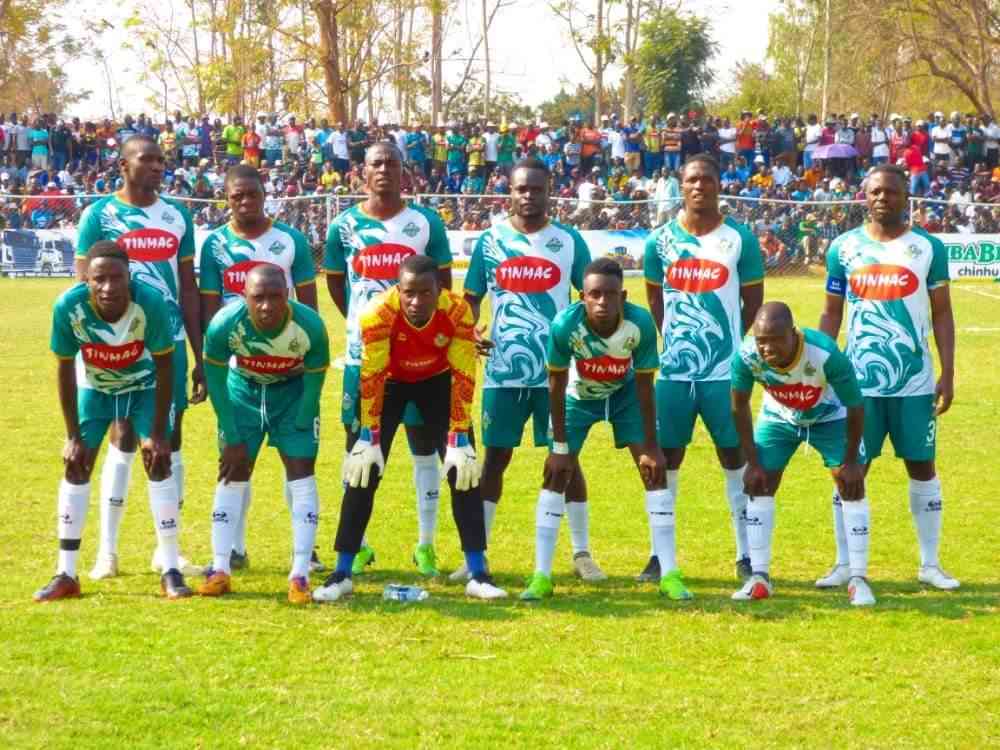 SIMBA BHORA . . . . . . . . . . . . 0
GREEN FUELS . . . . . . . . . . (1)1
Rodwell Dhlakama's tenure in charge of Green Fuels began in the best possible way after the topflight newboys secured their first set of maximum points of the season with a narrow win over Simba Bhora at the National Sports Stadium in Harare yesterday.
Washington Mapuya's 16th minute goal from a free kick following a blunder by goalkeeper Seidu Rashid saw them notching their first topflight win.
Dhlakama, who replaced Bhekitemba Ndlovu, did not sit on the technical team's bench, and was seen directing operations from the terraces, with second-choice goalkeeper Chris Mverechena tasked with the duties of conveying messages to goalkeepers' coach Innocent Chogugudza, who was bellowing instructions from the touch line.
Green Fuels had gone six matches without a win, but they finally got off the mark courtesy of a good strike by Mapuya from outside the box.
A rather lukewarm match saw the visitors' goalkeeper David Bizabani saving a Blessing Moyo second half penalty to help his side secure the hard-fought victory which moved them from bottom of the log standings to 17th position with five points from a possible 21.
Simba Bhora, whose mini-revival has been ended by this defeat, missed on the opportunity to move into the top-three with a win. They remain on 10th position with eight points, but they could slump into the relegation zone if weekend results don't go their way.
"It's good to have the first win, and it's a confidence booster for our team. Getting a win away from hone after having been losing gives you a good feeling gowing forward," Chogugudza said.
"We did the defending well after we scored. We kept the shape of the team and also the positional and tactical discipline was there. But as coaches we are never satisfied even after a win. You want to do much better, but this display today gives us a working platform to work with going forward. The attitude and the application from the players today was good. There are just a few technical things that we need to go and work on."
Simba Bhora coach Tonderai Ndiraya blamed the defeat on fatigue.
He questioned the rationale of the match fixtured on a Thursday, just three days after his side had played away in Zvishavane.
He also felt Rashid, on his debut, made many mistakes which cost them the match.
The Ghanaian, who came in for Simba Chinani, who suffered an injury during warm up, was lucky to escape with just a yellow card after committing a professional foul. He handled the ball outside the box to give away the free kick that was scored by Mapuya.
"It was very difficult for us today, we started very slowly in the first half. We were unfortunate to lose Chinani and we had to quickly bring on board Rashid. He was a bit nervous and that led to so many blunders that he made and the goal that he conceded. He made a mistake (when conceding the free kick) and then failed to organise his wall and conceded right where he was standing. That really brought us down," Ndiraya said.
Teams
Simba Bhora: S Rashid, W Tafa, P Jaure, B Moyo (A Sadiki, 77'), K Murera, T Chipunza, V Kawe (A Manenji, 55'), R Chitiyo, S Maramwidze (I Nyanhi, 55'), A Mandinyenya (L Musikiri, 77'), T Balakasi (T Chawapiwa, 55')
Green Fuels: D Bizabani, M Phiri, O Mwerahari, R Chinemo (H Moyo, 57'), T Gora, L Genti, X Moyo, C Dhuwa (I Lawe, 77'), K Mavunga (A Manyamba, 57'), N Ndlovu, W Mapuya (N Matinha, 85')
Related Topics