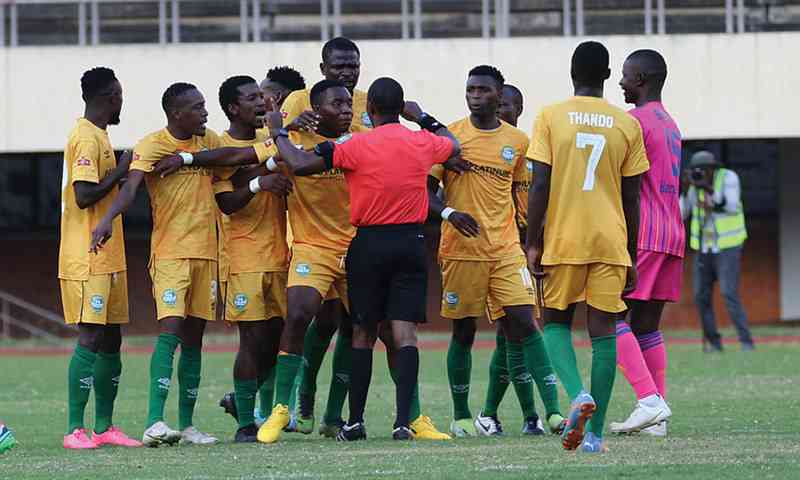 IT has been a difficult start to the season for defending champions FC Platinum as they chase an unprecedented fifth straight title.
The Zvishavane-based platinum miners suffered their third defeat of the season after just nine matches against Ngezi Platinum Stars on Sunday, and have conceded 11 goals and have a minus two in their goal difference column.
At the moment, the Norman Mapeza-coached side has gone five matches without a win.
One has to go as far back as 2013 to find a moment where Pure Platinum Play went five matches without winning a game.
It was between May and June 2013, a phase that cost Zambian coach Tennant Chilumba his job.
That same year the club concluded the season with two draws and began the 2014 campaign with two draws and a loss which meant they went on a five-match winless run when Lloyd Mutasa was coach.
Pure Platinum Play have been known to be slow starters in the league under Mapeza, but this time around their statistics are worrying.
The team sits in ninth place with 12 points from nine matches, five behind leaders Ngezi Platinum Stars.
Could it be the end of an era for FC Platinum after an amazing run of four titles on the trot?
It might be early days, but an unprecedented fifth league title is already looking unlikely as the platinum miners struggle to rediscover their old selves.
But Mapeza feels this is just a passing phase and it would be unfair to talk about the end of an era of their dominance in local football.
"I am not worried about that we have been in this situation before. It's a game of football, it's just a phase we just have to keep working hard it will come to pass," he said after the weekend loss.
"I am not God I can't talk about the end of an era. Do you know what is going to happen tomorrow? How can you talk about an era, still how many games to go? And how many points are there between us and the guys on top of us.
"There was a time when some of the clubs were 14 points ahead us (and we won the title) but some of these teams you see there are just three points on top of us. I cannot talk about the end of an era because this is not the 34th game. Games will be won and games will be lost," said an agitated Mapeza.
It has been an enthralling start so far for Manica Diamonds which stormed into the top five in the standings after their 2-0 win over Chicken Inn on Saturday.
Caps United, Dynamos, Highlanders and currently Ngezi Platinum have all led the race at this stage of the competition.
Mapeza shared his sentiments on the unfolding league race.
"I don't know whether it's good for our football or not, but maybe it shows that the league is more competitive this season. For me I will concentrate on my team. I know Manica Diamonds are on 15 points and we have 12 points so the points tally is not that bad. We just need a game or two to win and we are up there so I am not worried about what happening now," he said.
Related Topics