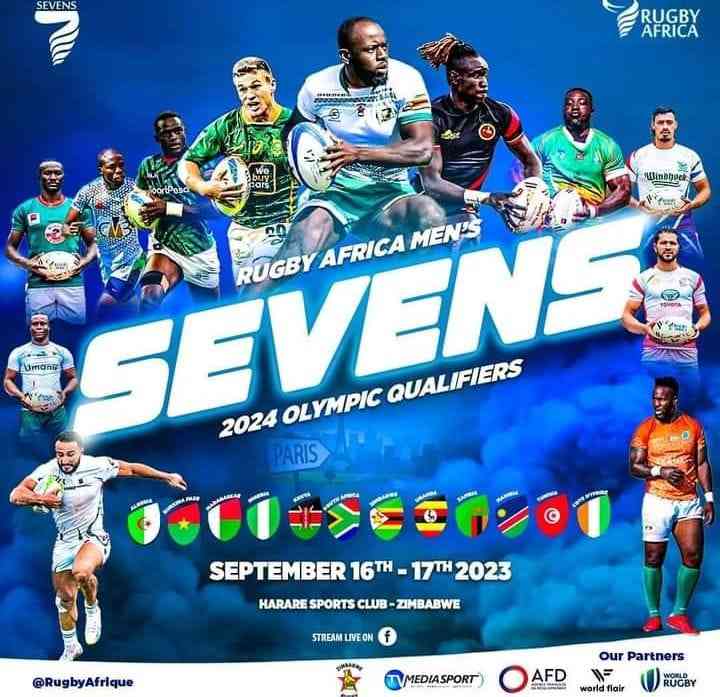 ZIMBABWE Rugby Union (ZRU) are ready to host the Rugby Africa Men's Sevens 2024 Olympic Qualifier scheduled for Harare Sports Club on September 16 and 17.
This will be the first time ZRU host a tournament of this magnitude which speaks volume of the way the administration has been handling the development of the game locally. The tournament is set to run under the auspices of local garment manufacturing giant, Paramount Garments, ZRU continental rugby perennial sponsor who are celebrating 75 years of existence.
ZRU vice-president, Losson Mtongwiza is excited at the prospects of hosting the continent for the penultimate leg of the Paris 2024 Olympics.
"It's a massive vote of confidence by the Africa Rugby awarding Zimbabwe the right to host such a prestigious tournament. It has been all hands on deck since February when it was revealed to us that we were going to host this tournament," Mtongwiza told NewsDay Sport.
"We have removed and realigned the posts at Harare Sports Club and the ground to ensure that they all conform with the international standards. From an organisational point of view I can safely say we are ready and good to go."
The two-day Paramount Garments Rugby Africa Men's Sevens tournament will see only the eventual champions qualify for the Olympics out of the 12 teams scheduled to participate in the games.
Teams finishing second and third will have another shot at the Olympics in the final round of qualifiers. Zimbabwe finished third in the last Olympic qualifier meet, but failed to redeem themselves in the repêchage, finishing fifth.
Mtongwiza hopes that the Cheetahs will seize the opportunity which comes with hosting the event and bulldoze their way through to the next edition of the Olympic Games.
"Hosting comes with its advantages. Being the home team naturally pushes you to perform to the limit backed by the home support and I'm sure the boys will be able to utilise the status quo to their advantage," he added.
"We just hope that the Cheetahs will be able to outrun every other opponent on the field, I don't doubt their determination and love of the game. It will be a successful tournament all-round should they make us proud and book an Olympics berth."
Zimbabwe is in Pool C together with Uganda, Burkina Faso and Algeria. Pool A comprises powerhouse South Africa, Madagascar, Tunisia and Côte d'Ivoire, while Kenya, Zambia, Namibia and Nigeria make up Pool B.
The association has so far given the team the support they needed during their preparatory phase exposing them to various tournaments and state of the art facilities in the build-up to the tournament.
"The boys have been playing in the Cheetahs Series' for the much needed game time and they have been performing well in these games," Mtongwiza said.
"At the moment they are at the High Performance Centre in Pretoria for their camp. They have been there since September four and will be back in Harare on the 12th (on Tuesday) just four days before the tournament kicks off."
Related Topics