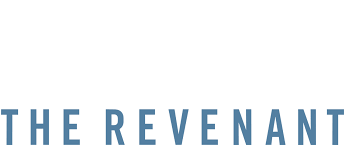 By Tim Middleton "Back to the Future" was an extremely popular series of three movies starring Michael J Fox back in the 80s. As the central character went back in time, he tried to change future events, showing how small, insignificant choices today can have a massive effect in the future — the subjects we choose, the careers we follow, the friends with whom we mix, all have an impact.
In more recent times (2015), the film The Revenant, starring Leonardo DiCaprio, follows the path of a fur trapper who was mauled by a bear and left for dead by an ambitious colleague; here was one who came back from the dead, with the past catching up and affecting the future.
We will all no doubt be familiar with those art books for young children where the child has to join up all the dots to make a clear picture; there are lots of dots but they show nothing if they are not connected. When the connections are made, however, the picture becomes special. We will also be familiar with the old saying that "we need to get all our ducks in a row", reminding us that we need to be prepared and be organised before we do anything. The ducks must not be floating around randomly. Then we may recall how our English teacher would remind us to ensure that each paragraph in an essay needs to be linked to the one before and the one after, for the essay to follow naturally and fluently. It must all be relevant to the essay title.
The observant reader will already therefore have noted that the preceding five scenarios have not led on from one to another smoothly. So then we need to ask ourselves this question of this article: where is all of this taking us? What relevance do all these examples and points have? The answer therefore is in that very word: relevance. Each preceding scenario is in fact related.
While we have previously considered how children hate school because they see it as boring, another reason children give as to why they hate school is that they find it irrelevant. They find no connection in what is happening at school. "What has it to do with real life?" they cry. "When will I ever use algebra after school?" they wonder. "Who cares what happened in 1066?" they ask. And indeed they have every reason to do so and schools have got every responsibility to explain it to them. Children must see the relevance if they are going to take it in.
As an aside, though, we in turn might just question how the war games they play on their consoles have anything to do with their modern life, how following celebrities in different fields is relevant to their life, and how supporting an English soccer team has any relevance in Zimbabwe.
Schools, and education as a whole, need to be relevant, and relevant in different areas. What happens in schools needs to be relevant to the present. Shakespeare is still relevant as its themes are ageless. Robin Williams delivers a Shakespeare speech to his pupils in 'Dead Poets Society' in a way that the celebrated Western actor John Wayne would speak. Its themes go across borders, as seen in a performance of The Merchant of Venice by one school in recent years which was entitled, The Vendor of Harare. The words of Marcus Aurelius, a Roman Emperor over two thousand years ago, still are relevant today when he said that "Natural ability without education has more often raised a man to glory and virtue than education without natural ability."
What is taught in schools must be relevant to each subject. We need to join up the dots between the subjects being taught; each is training the mind to apply thinking in different areas. We need to link all that happens in the morning to what takes place in the afternoons. Everything that happens at school happens for a reason and purpose; none of it is by accident or for amusement.
We have touched on many things in this article; maybe we need to tie them all together.  Much of what has been taught over the years remains relevant today. Schools in fact remain very relevant; we cannot do without them. However, schools must show their relevance. We must link subjects, concepts, events and above all people. We need to look to the past for a better picture of the present as we head into the future. Education must come alive again. We need to connect the dots, get our ducks in a row. If we did, maybe we all would be glad to go back to school.
Tim Middleton is the executive director of the Association of Trust Schools [ATS]. The views expressed in this article, however, are solely those of the author in his private capacity and do not necessarily represent the views of the ATS. 
email: ceo@atschisz.co.zw
website: www.atschisza
Related Topics