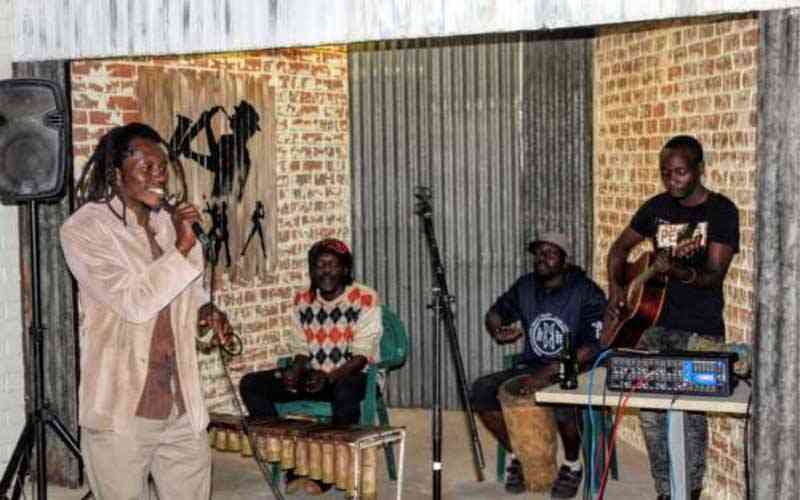 DISCUSSIONS that surround the relevance of minority languages have achieved little prominence in music circles because Zimbabwe has been imagined largely as a Shona and Ndebele state.
The sociolinguistics of Zimbabwe has been in the dynamics of English and its relationship with the Shona and Ndebele languages, or the super tribes.
Clive Robin Change whose stage name is WaBB is a Nambya reggae dancehall artiste based in Bulawayo who is a cultural activist advocating for the restoration, preservation, and safeguarding of the intangible heritage of the many indigenous tribes that are present within the context of Zimbabwe.
"The 2013 Constitution embodies, and appreciates the cultural diversity of Zimbabwe which has 16 official languages. Nambya is one of those important languages which are constitutionally recognized, and hence as an artiste I seek to bring more awareness to Nambya as a language and also an aesthetic of culture which we in Zimbabwe have to know more about," Change said.
In the context of Zimbabwe, many artistes and creatives remain culturally and also linguistically ignorant, which thus becomes an impediment to their originality when it comes to their art and creativity.
Embracing one's culture and pride in language is a factor that can enhance artistic creativity and bring forth value to art pieces, and in the process enables an artist to be internationally marketable.
Examples of success stories are of the internationally acclaimed group Mokoomba, which has been touring the globe despite that their music is in the Tonga and Luvale languages and traditions predominant in Matabeleland North. This shows how incalculating one's cultural identity and aesthetics is of essence and can be a factor that can contribute to growth.
Nambya, or Nanzwa/Nanzva, is a Bantu language spoken by the Nambya people in northwestern Zimbabwe, particularly in the town of Hwange. It is either classified as a dialect of Kalanga or as a closely related language. I could say that if you listen to some words, they also do correlate with Shona to mean that it can be also easy to learn and appreciate.
Change describes his musical journey as having started way back when he was in secondary school. He says he was influenced by Jamaican artists and "riddims" through their consciousness and lyrical prowess.
To him the sounds of reggae and dancehall spoke to his soul, which drove him into a recording experience in 1999 where he was doing a Jamaican instrumental which was the culmination of his musical journey.
"As I grew in the industry, I was mentored by the late Joe Maseko as he was heavily involved in my productions and assisted me in fusing traditional acoustic sounds with a reggae vibe to come up with something unique in style".
"I did up tempo music and laid back sounds to cater for young and old folk respectively. I did this using Nambya language. I also have music productions in English but the Nambyan vibe is my priority as I desire to bring hope, enlightenment and love of one another beyond any tribal lines," Change said.
Change also explained how he adopted the tag "uNambya wokutanga" to liberate fellow "Nambyans" so they can see themselves worthy of being pioneers in any field of their choice. This was based on the realisation that there were few artists who were pro-active in the creation of art works like music, poetry and even literary works in native languages such as Nyanja, Kalanga, and Tonga among others.
"I led by example and I recorded and released the first ever Nambya reggae dancehall album 2014/2015. This was a milestone as I was tapping into a sound which was unheard and using a genre which many people within the locale in Zimbabwe are well vexed with. The only difference was that unlike the common Zim-dancehall genre, I was not using Shona but used Nambya," Change said.
In his songs Change addresses the common social ills and the injustices which ravage the society at large.
His focuses in the songs is to conscientise and strengthen Nambya folk who in a great many times have a low sense of confidence. This inherently contributes to them not participating in different social, economic and even political activities.
"Reggae and dancehall relate to revolution and deep radicalism which embody the need for one to sing about consciousness. In using Nambya the attempt is to also cater for the Nambya audience who are in a great many cases overlooked as there is a dearth of music in the language. This means that as an artist, I also seek to mentor and empower other youths to be proud of expressing themselves artistically in their mother languages."
He bemoaned how most young people have lost the sense of pride in their mother languages as they are being pressured into adopting the global trends and cultures, which in the end also precipitate their delinquency and engaging in nefarious practices of drug abuse and alcoholism.
Change challenged the need for schools to inculcate the importance of teaching children in their mother tongues and also inculcating a sense of cultural pride within the curriculum so as to create more awareness on the importance and the relevance of minority languages.
"The challenge is that people in Zimbabwe are highly monolithic in their approach as they socialise themselves into knowing only a few languages. This can be a problem in the event that one travels to an area where everyone predominantly speaks the language.
"The other challenge is with regards to how many people tend to think that people that are from minority tribes like the Nambya and Tonga are backward and uneducated. The reality is that we are equally intelligent if these negative stereotypes are removed within our society."
He said universities and colleges must encourage students to also write dissertations and academic papers using Nambya as a language.
"Emphasis must be given to safeguarding local languages and natural resources, which can play a role in the enhancement of the livelihoods of the locals. For example, people around the Hwange national park should benefit from the park being within their community, which is something that I advocate for as I am of the realisation that locals are not benefiting from their natural resources," Change said.
He said it is imperative for radio stations to promote and also play music in minority languages. In a great many cases, it seems that radio stations choose to play the common artistes that sing in English, Shona or Ndebele, and overlook music by artists who sing in other minority languages.
Cultural pluralism is needed in the arts sector as it will help in demystification of the negative attitudes, which in a great many cases makes art works from minority languages not to be recognised locally.
Change's story shows us that government, in partnership with different stakeholders should play an active role in promotion and enhancement of the recognition of how minority languages should be made more available in the wider contexts so as to facilitate inclusion and infusion.
Raymond Millagre Langa is a musician, poet, orator and independent researcher. He is also the founder of Indebo Edutainment Trust. Follow Raymond Millagre Langa @Millagre Ray Langa on Facebook, @Millagre Langa on twitter and email millagrepapaito@gmail.com or indebotrust@gmail.com
Related Topics