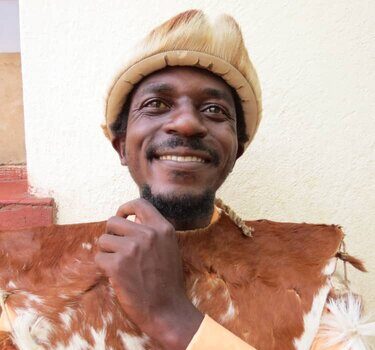 By Jane Nkiwane Prominent Matabeleland South province artiste Prince Ncube, affectionately known as Dr Gasolo in showbiz circles, will next month embark on a 126km journey on foot as part of a fundraising initiative that is meant to support artistes in that part of the country.
Dubbed The Long walk to success, the journey will see Dr Gasolo leaving his rural home in Matshetsheni in Gwanda North to Bulawayo on August 18.
He will walk on foot performing along the way as he seeks to raise awareness on the importance of arts in society.
"This walk is an awareness walk where I intend to draw attention from the local business community and traditional leaders around Matabeleland South province to notice and support local artistes as well as to fundraise for the Dr Gasolo School of Arts Competition function," Dr Gasolo posted on his Facebook page last week.
A number of promising artistes from Matabeleland South province have failed to make it on the country's dog-eat-dog arts industry due to a number of challenges, chief being lack of resources.
"When local artistes stage shows usually there is a low turnout of fans or some of the fans do not pay the amount required for the tickets or at the entrance," Dr Gasolo said.
 "But in other provinces you would find that an artist can sell a disc for US$10 and a well wisher can offer to buy it for us$1000 as a way of showing support."
 Dr Gasolo said it was important for the community to support its own.
The 34-year-old will embark his journey on August 18 when he leaves his home for Gwanda town where he will perform in the presence of government officials, area chiefs, local business personnel and the community.
The following day he will walk to Esigodini where he will perform before walking to Bulawayo where he will on August 20 launch a poetry album titled Impande the roots.   
In preparation for the August walk, Dr Gasolo will rehearse with a walk from Bulawayo to Esigodini and back to Bulawayo on a date yet to be advised.
Dr Gasolo said he was inviting individuals and companies who wish to be part of the event and also partner with him to make the initiative a success to contact him.
Related Topics