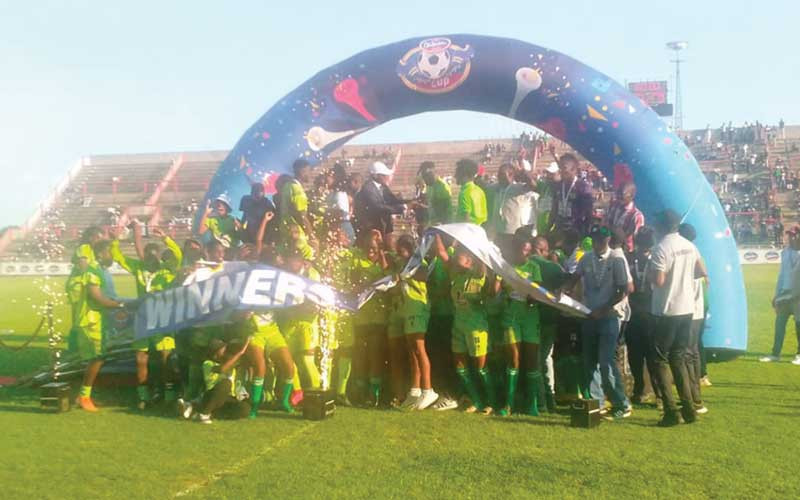 BULAWAYO CHIEFS . . . . . (1)1
HERENTALS . . . . . . . . . . . . . 0
BULAWAYO Chiefs clinched the Chibuku Super Cup trophy after beating Herentals in a fast-paced final at Barbourfields Stadium yesterday.
They walked away US$75 000 richer, while Herentals picked a $50 000 cheque.
Fans rallied around Chiefs to the end, while Herentals brought with them a sizeable following for what turned to be a good show.
A good crowd, estimated at over 10 000, came to witness the final and the fans were not disappointed with the carnival atmosphere befitting a cup final.
Arthur Musiyiwa scored the all-important goal seven minutes before the break, beating the Students goalkeeper Takudzwa Chikosi all systems out from inside the penalty box.
It capped a rather a balanced affair with both sides taking turns to attack without changing the scoreline.
In the second half, Herentals kept Chiefs in their own half, attacking from all angles but could not find an equaliser.
Bulawayo Chiefs coach Thulani Sibanda, was represented by goalkeeper's coach Nkosiyazi Ncube in the post-match interview, who expressed delight at the team's performance.
"We knew it was going to be difficult. It was a good performance in the first half. We could have scored two goals in that half. It's a plus and a bonus for us as we prepare for the next season," Ncube said.
For Herentals coach Kumbirai Mutiwekuziva congratulated The Ninjas.
"Well done to Bulawayo Chiefs for that remarkable performance. I think they capitalised on home advantage and at the same time we were not clinical having dominated the second half. The pressure of having to come back from behind was too much for us," Mutiwekuziva said.
Bulawayo Chiefs: D Bizabani, E Moyo, K Madzongwe, L Ndlela, A Musiyiwa, M Msebe, K Moyo, P Chikwende, B Veremu, F Moyo (H Chikosa 60'), F Matare
Herentals: T Chikosi, B Majarira, T Benza, B Majarira, A Maliselo, J Zhuwawo, I Benza ( D Marowa 46'), P Chama, W Chimbetu, W Kapumha, L Ruguchu
Follow Fortune on Twitter @fmbele
Related Topics