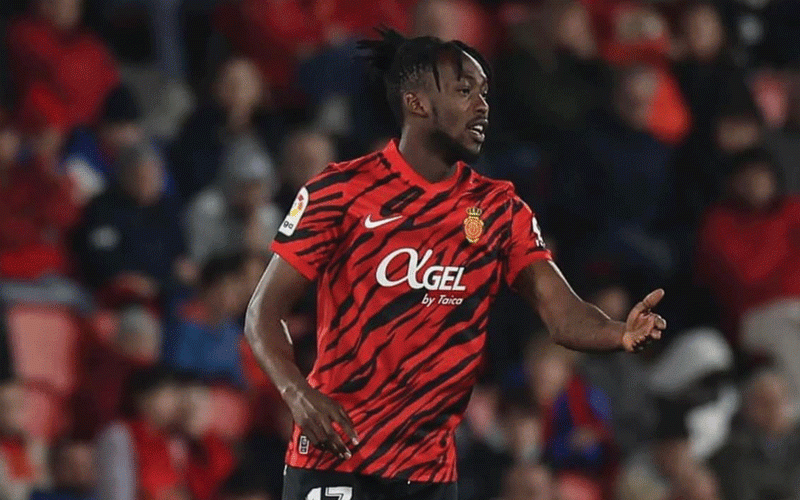 WARRIORS star Tino Kadewere is relishing the opportunity to meet one of his childhood idols Karim Benzema when his club Real Mallorca host reigning champions Real Madrid in a LaLiga Santander encounter at the Mallorca Son Moix Stadium this afternoon.
The match kicks off at 3pm.
The 27-year-old Zimbabwe international was initially scheduled to make his La Liga debut against Real Madrid at the Santiago Bernabeu back in September, but an injury on the eve of the match denied him the opportunity.
Kadewere has since recovered from the long term injury and has been featuring regularly for Mallorca who are currently in 10th position on the LaLiga table with 25 points from 19 matches.
In fact, the Highfield-born star, who has been used sparingly so far after making all his appearances from the substitute bench, will be hoping to finally earn his first league start.
The match will be a special moment for the former Harare City forward as it will provide him with an opportunity for a duel against one of his heroes Benzema.
Kadewere has for long revealed his admiration for Benzema due to their close connection with his parent club Olympique Lyon, where the French superstar also plied his trade before making his big money move to Madrid.
"I always talk to him," Kadewere said of his relationship with Benzema in an in-depth interview with the Madrid-based sports website Relevo.
"Benzema is my second idol (after Cristiano Ronaldo). He plays the same position as me. He is an amazing player. He is a magnificent boy, I respect him a lot. To this day he is still the best player after winning the Ballon d'Or. When he arrived at Real Madrid, he signed the same season as Cristiano, I began to see him. I started to see the best plays from him when he was in Lyon. When I signed for the club, I learned about the story and understood how important Karim was to the club. He has been the best player that has gone through there."
The pair have remained close for the past two years since the Real Madrid star posted a heartfelt message on his social media platforms praising the Zimbabwean forward and urged him to continue pursuing his dreams.
The Frenchman's message came ahead of Lyon's derby against St-Etienne where an inspired Kadewere went on to score twice as his side secured a 2-1 derby victory.
The pair have remained very close ever since, according to the Prince Edward School alumni.
"I really appreciate that he recognised me when I was at Lyon. It was something incredible, something that motivated me a lot. For a great player like him to recognise that I exist...," Kadewere said.
"That night we won 2-1. I scored two goals. It was a fantastic meeting. After he posted that tweet we talked. I sent him a message and said thank you very much. We began to have contact since then.
"Sometimes we exchange a message. Before the game I'll send him one and I'll tell him we're ready (laughs). [Benzema is low and will not be able to play this Sunday's game]"
Kadewere also reflected on the mental anguish he endured after suffering an injury on the eve of his club debut in September before enduring a two-month injury layoff.
"The injury was a very hard moment. It was something that left me in shock," he said.
"It was a very hard moment. I felt depressed because I did not expect it. It is something that left me in shock, I did not think about that.
"But the people here were amazing. The members of staff, colleagues, fans… They didn't let me feel sad. It is true that inside I felt sad... I wanted to play and suddenly I was injured. Now I feel very good."
Related Topics