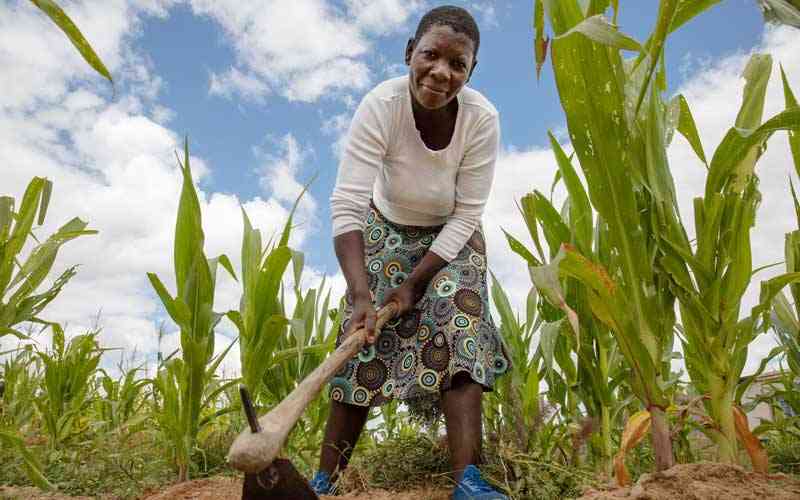 To break the cycle of relapses into food crises, the United Nations World Food Programme (WFP) and its partners bridge humanitarian responses with a step-by-step approach to establish sustainable livelihoods in Zimbabwe.
Effective natural resource management is promoted through integrated support to rural smallholder farmers, who are the backbone of the Zimbabwean agricultural-based economy. The chances that they fall repeatedly into food insecurity decrease when they have access to productive assets, manage weather-related risks and when they are able to save, borrow and lend money.
Constance Mugore is 46 years old and provides for a family of eight. Living in Masvingo in Zezai village, she has seen droughts becoming more frequent and harsher. Constance and her family were struggling to feed themselves with her children having to hawk wild fruits and dried vegetables, and her husband taking low paid jobs in South Africa.
"Most of our food comes from farming cereals, but we also have some animals and a vegetable garden. The challenge is that all these activities depend on water and when there is a drought we don't have any food at all," she says.
To help Constance and her family cope with their new reality of unpredictable weather, WFP enrolled her into its resilience programme. The programme brings together improved natural resources management, better agricultural practices, and financial inclusion and reaches a total of 50 000 people. The programme is adding improved social cohesion and livestock management to the targeted communities and reaches an additional 30 000 people.
"By insuring my crops I reduce the risk of losing everything if there is a drought. We are also taught to collectively put money together and lend it to start small businesses and to set up gardens where we have water to produce vegetables and harvest fish," she explains.
When there is a natural disaster, compensation for weather-related losses prevents farmers from having to resort to desperate measures such as selling productive assets and stimulates faster recovery.
With experts predicting that cyclones, flooding and drought are set to become more frequent and severe in the years to come, WFP is investing in early warning systems that will enable smallholder farmers like Constance to prepare for a disaster before it strikes.
Communities can be productive, understand the value of nutrition to their wellbeing and sustain the environment when they have skills and resources. The Rural Resilience project is supported by the United States Agency for International Development (and the Swiss Agency for Development and Cooperation.
World Food Day commemorations are a national event coordinated by the Government of Zimbabwe through the Ministry of Lands, Agriculture, Fisheries, Water and Rural Development with support from WFP and the Food and Agriculture Organisation of the United Nations.
Food insecurity and gender inequality are closely interlinked. WFP partnered with the UK's Foreign, Commonwealth & Development Office (FCDO) and Plan International Zimbabwe to implement a programme to Stop Abuse and Female Exploitation (SAFE) in Chiredzi. The aim is to reduce the perpetration of violence against women and girls driven by economic insecurity and unequal social norms, while increasing access to essential services for survivors.
Tatenda Macheka is the communications, advocacy and marketing officer at the World Food Programme - Zimbabwe.
Related Topics