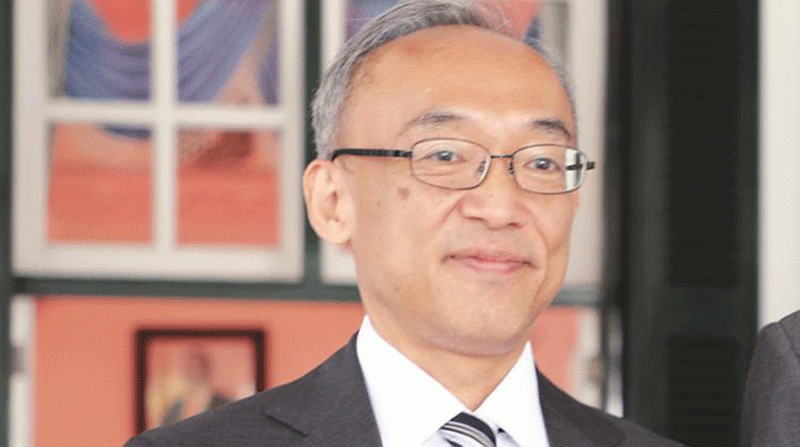 JAPANESE Ambassador to Zimbabwe, Satoshi Tanaka says Japanese firms are wary of investing into the country owing to the country's volatile economic climate.
Currency erosion, high inflation and foreign currency shortages have been an albatross to Zimbabwe's recovery, and many investors have been sitting on the fence due to these factors.
"There are two areas we (Zimbabwe and Japan) can collaborate," Tanaka told businessdigest during the 2022 Confederation of Zimbabwe Industries (CZI) annual congress this week.
"The first is development aid. We are supporting agriculture, infrastructure and hospitals. Japanese businesses can be contributing to those kinds of initiatives.
"Another area is business-to-business relationships. That is very important nowadays. But still Japanese companies have some difficulties in coming to Zimbabwe because of these financial situations or the currency situation.
"Having a more stable business environment is very important. We are really looking forward to witnessing whether a more stable environment is coming," he added.
The Zimbabwean dollar has lost about 79% of its value relative to the US dollar since the government adopted its foreign currency auction system in 2020, according to the 2022 Investment Climate Statement released by the United States government recently.
Apart from Japanese investors, businesses from other markets have also been cautious, citing heightened risks in Zimbabwe, where power has also been a big drawback, while doing business costs have been higher than regional comparisons for many years. From 1980 to 2020, Japan has provided about US$346 million in loan aid to Zimbabwe, US$627 million in grant aid and US$177 million in technical cooperation assistance, official data shows.
Tanaka said Japanese companies were interested in investing in the country.
"As far as I have discussed with the Japanese counterparts, at the moment, for instance trading companies are very interested in Zimbabwe's products, especially agricultural products like cotton," Tanaka said.
He said Japanese firms were also interested in investing in minerals like lithium.
At the congress, Industry and Commerce minister Sekai Nzenza said issues around the currency and US dollars were an on- going topic for discussion with the Finance and Economic Development minister, Mthuli Ncube, and Reserve Bank of Zimbabwe governor John Mangudya.
The gap between the forex auction system and the parallel-market exchange rate has persisted, with US dollars more than twice as expensive on the parallel market.
The foreign currency retention system being pursued by the Reserve Bank of Zimbabwe has also been a major concern to investors.
Under the policy, a portion of an exporter's foreign earnings is given to them in Zimbabwean dollars.
"The authorities change these (retention) levels periodically without notice depending on the severity of the foreign exchange constraint. Additionally, businesses selling domestically in foreign currency must surrender 20% of the receipts to the central bank in exchange for local currency at the auction rate," the investment climate report says.
"Weak investment inflows and poor export growth have resulted in a perennial shortage of foreign exchange. Consequently, investors cannot freely convert funds associated with any form of investment into foreign currency," the report says.
Related Topics