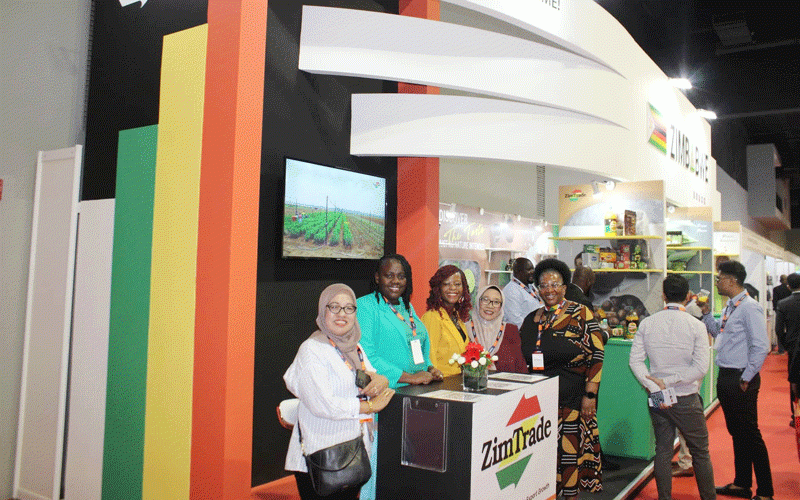 ZIMBABWEAN companies that participated at the just-ended 19th edition of the Malaysia International Halal Showcase (MIHAS 2023) in Kuala Lumpur say the show was a success and they clinched lucrative deal commitments in the halal market.
ZimTrade, the country's trade development and promotion agency, travelled with four exhibitors that showcased horticultural produce like chilies, macadamia nuts, beans, peas, teas, coffees as well as herbal products and the popular beverage, Mazoe.
MIHAS is one of the leading global halal trade exhibitions serving as a platform for industry players, businesses, and consumers to explore emerging trends, foster international trade, and exchange knowledge.
Globally, halal market is estimated at US$3 trillion, while in Malaysia, it was valued at US$68,4 billion in 2018 and is projected to increase to US$113,2 billion in 2030.
This presents a huge opportunity for Zimbabwe which seeks to diversify its exports.
A halal market is a place that provides halal foods, following all the rules permitted by Islam.
"Participation in the MIHAS exhibition proved to be an invaluable opportunity for House of Moringa, far surpassing our initial expectations," Tariro Chirewa of House of Moringa told Standardbusiness.
"This event served as an exceptional platform for our brand to showcase its offerings to a discerning Asian market.
"The exposure garnered from MIHAS allowed us to glean invaluable insights into tailoring our branding and packaging strategies specifically for this region.
"We extend our heartfelt gratitude to ZimTrade and the Zimbabwean embassy in Malaysia for extending the invitation to us, facilitating our participation in this remarkable event.
"Their support and collaboration played a pivotal role in our success at MIHAS, and we eagerly anticipate future opportunities for growth and engagement in the dynamic Asian market."
Fresh Planet managing director Blessing Chinduru said they made huge deals and they would soon start doing exports to the halal market.
"The show was a huge success," Chinduru said.
"We came here with little expectations but we are so excited by the positive response we received from the market. It exceeded our expectations.
"We have managed to get some sales leads for our products and we now need to get back home and work on fulfilling the orders as requested by the market.
"We also want to thank ZimTrade and the Zimbabwean embassy in Malaysia for inviting us to participate in this trade showcase 2023.
"We hope that they will continue inviting us to participate in such kinds of shows as this gives us exposure and great opportunities for our products in this global village."
Sweet Maungwe founder Jacquie Gowe said they secured a deal to supply 20 tonnes of honey annually.
"In terms of business, we have generated a lot of interest. We estimate an average of 20 tonnes of honey annually.
"The value-added products are fairly new to this market and they have interest in them.
"Some would want to do more value addition for us if we provide raw material of bees' wax and marula oil.
"There is also a pharmaceutical that is interested in buying honey for value-addition into medical products. We got interest as far afield as Singapore."
ZimTrade southern region manager Jacqueline Nyathi said the potential to start exporting Malaysia was huge judging by the high level of interest received during the exhibition.
"In terms of interest, the potential is huge.
"Our fresh fruits and vegetables have quite potential in this market because the consumers are actually saying there is an increase in the importation of such produce.
"So, we are pretty optimistic that the engagements that have happened during this week will build exports for us as a country.
Zimbabwean ambassador to Malaysia Constance Chemwayi said the country stands a chance to benefit from the halal market.
"It was basically an opportunity for us to test our products in the halal market and to learn. I am happy to say on the final day we have been able to see the results," she said.
She added: "For the reports that I am getting from the exhibitors, they are excited and some have actually secured lucrative cash commitments from some companies and it is our hope that these commitments would be fulfilled."
"It is a market that we really have potential to fulfill. So far, only 20% of that demand (US$3 trillion) is being met, which means 80% is outstanding," she said, adding that Zimbabwe's strength lies in supplying horticultural, honey, and natural wellness products.
The showcase, which started on Tuesday, ended on Friday. It ran under the theme: Paving the Way of Halal.
Related Topics