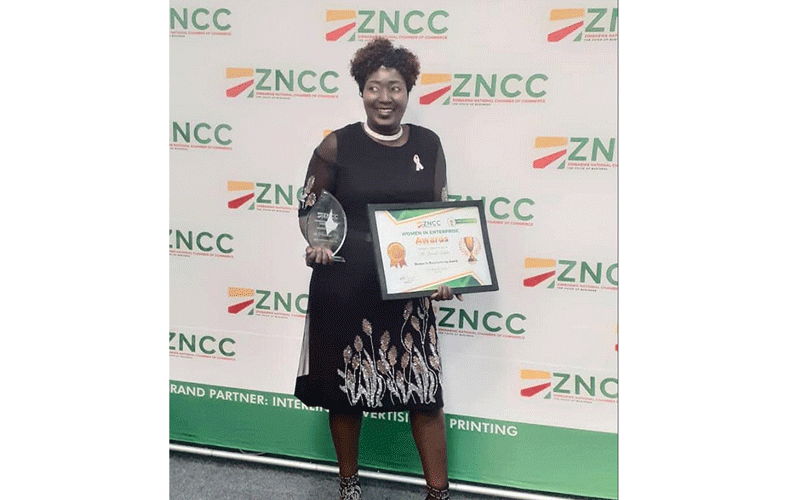 MUTARE creatives hogged the limelight at the recently held Zimbabwe National Chamber of Commerce (ZNCC) Women in Enterprise Awards held in the eastern border town.
Among the winners, under Arts and Entertainment Awards category, were visual artist Beauty Dorothy Hughes; film writer, director, actress Amanda Ranganawa and singer, model and make-up artist Lisa "Afonso" Kariyati.
The awards, hosted annually since 2013, celebrate the successes of women in business, while encouraging them to take up more space and opportunities in the business sector.
This year's awards were held under the theme: Igniting Innovative Business Resilience in Challenging Times.
Hughes was rewarded under the Manufacturing Award category for her creativity on recycling of car parts and other materials, an innovation which she started at the peak of the COVID-19-induced lockdowns.
"When I noticed lots of discarded used tyres on the streets and garages because the city council was not collecting refuse, I felt I should do something with the trash that was also becoming mosquito breeding points," Hughes explained.
"During that time, other people were even burning these tyres, polluting the air and causing harm to the environment and lives. It is against this backdrop that I decided to impact lives using 'garbage'."
She added: "I started collecting tyres, rims and other scrap metals making customised furniture, garden decor and braai skillets. My main drive is to be part of making the world better and sustainable now and for the future generation."
Hughes urged fellow women to work hard in any professions because there is no work or profession precisely meant for men.
Ranganawa was the first runner-up in the Women in Arts and Culture (film and theatre) category. She believes the award came as an honour for her prominence and dominance in film production which is now a regular feature on Africa Magic.
"I believe art is business and, therefore, must be treated as such. It feels great to be the first runner up, I did not expect it. I am glad that ZNCC recognised and awarded the film and theatre works that l have been doing all along," Ranganawa said.
"The film industry is definitely growing in Mutare. We are getting a lot of support from businesses and people and it is such a great honour to work with them and merge film with their businesses."
Kariyati, who was the second runner up in the Women in Arts and Culture (film and theatre) category but failed to attend the event, later told NewsDay Life & Style that it was a great honour to have received the award.
"With such a recognition, I am honoured and motivated to do more art. I would like to thank ZNCC for this recognition and my family, friends for their support as well as all those who continue to push me forward in this competitive industry. Above all, I thank God for holding my hand and giving me strength to keep going all the way," she said.
Follow us on Twitter @NewsDayZimbabwe
Related Topics