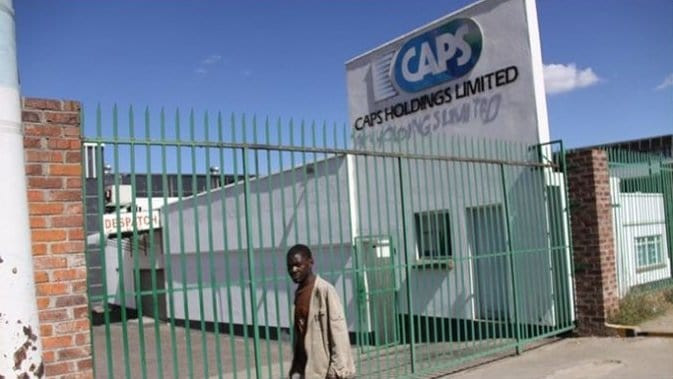 SEVERAL reports have been written regarding the tussle over control Caps between government and businessman Fred Mutanda (FM). This week the Zimbabwe Independent (Zimind) engaged Mutanda to discuss various issues pertaining the CAPS transactions and related political dynamics. Below are excerpts of the interview
FM: Thank you for the questions. To put this matter into perspective, I am compelled to answer your last question first. The Zimbabwe Independent recognises the public and historical interest on CAPS, yet, you published an article, ruining my reputation worldwide.
Zimind: You are a veteran of the liberation struggle. This means you fought to give Zimbabweans equal opportunities to wealth creation. Today, you find yourself at war with the government that you helped create. How does this feel?
FM: I am not at war with the government. Government is subjugating and marginalising ZPRA liberation war ex-combatants. I am one of the 23 950 ZPRA Liberation War ex-commandants who contributed money to buy companies, which were declared unlawful organisations by Proclamation 9 of 1982 published in Statutory Instrument 87A, in terms of paragraph (a) of subsection (1) of section (3) of the Unlawful Organisation Act Chapter 91 on February 16 1982.
Many of those comrades joined the security sector, others surrendered their weapons and returned to civilian life but did not take part in any armed confrontation with the government. To avoid any doubt, the 23 950 include the late Vice President, comrade Dr Joshua Nkomo, comrades Dumiso Dabengwa, Lookout Masuku, Report Mpoko and Kembo Mohadi, the Commander Defence Forces of Zimbabwe, General Phillip Valerio Sibanda and Commander of the Air Force of Zimbabwe, Air Marshall Elson Moyo.
Government seized properties from these 23 950 ZPRA liberation war ex-combatants for alleged insurrection and has evaded engaging us on the matter.
I am the coordinator for the 23 950 ZPRA liberation war ex-combatants. The extent of my role as coordinator is all encompassing as far as the seized ZPRA properties are concerned.
Unfortunately, I am the face of the 23 950 ZPRA liberation war ex-combatants who had economically empowered themselves before the government began its empowerment mantra and have now been targeted because of this.
It seems there are individuals with residual issues from the pre-unity agreement days and unfortunately it appears there are individuals who still harbour such ill feelings for me 35 years later. This is sad and regrettable that I am victimised in a country I fought to liberate. This frankly does not sit well with me. It is as if those in or connected to Zanu PF leadership are the only ones who must create wealth.
To answer your question "How does this make me feel?" I feel personally betrayed. The worst kind of betrayal of those who died to liberate our country and totally ignore the Constitution and the rule of law.
Zimind:May you please tell us how you acquired CAPS Holdings Limited?
FM: I bought CAPS Holdings Limited shares through the Zimbabwe Stock Exchange from 1996, to the extent of a controlling stake after the government sold its shares to CAPS management and CAPS Employees Share Ownership Trust ("CESOT") in 2002. This is a matter of public record. Here is how it all happened.
By 2004, hyperinflation was on the go, with untenable interest rates. Management and CESOT had a bank loan, which was used to acquire CAPS shares from the government. There was also a foreign currency loan from the same bank, for a truck and refrigerated trailer which was bestowed to CESOT. The bank was distressed, failed, and ordered by the RBZ to dispose CAPS shares. CAPS had acquired St Anne's Hospital from the nuns ("the Little Company of Mary").
My only crime is I saw value where others didn't. Sadly, I am paying for it.
Zimind: There were so many other investments at the time. Why did you choose the pharmaceutical sector?
FM: I believed CAPS had a lot of underlying value and thought the counter could create real value in the long term. My decision was also influenced by the realisation that apart from the need for shelter, there is an equal need for people to be well and healthy. It has always been a personal concern of mine and that is why I am in the pharmaceutical sector.
Zimind: Do you think your aspirations for CAPS were achieved?
FM: No
Zimind: Why?
FM: I was stopped and frustrated by the governor of the Reserve Bank of Zimbabwe who I feel had become a stumbling block to my vision and aspiration at CAPS.
Zimind: Walk us through the circumstances leading to the acquisition of 68% shareholding in CAPS by the government?
FM: Following on from your question on "How I acquired CAPS Holdings". In 2005, CAPS Holdings had a rights issue, which I underwrote through FBC Bank and ended up with a controlling stake of the company. Clearly, this was not what the government intended when it privatised CAPS Holdings.
Certain elements then started the narrative that I converted the late Vice President Joshua Nkomo or ZPRA properties, which escaped being seized by the government, to my personal property.
By 2007, the economy had become a national security issue, as such, the Joint Operation Command (JOC) had met companies and CAPS was one of the companies invited for a meeting. At that meeting JOC expressed interest in seeing the government acquire my shareholding in CAPS. I agreed to release 25% equity stake immediately and committed to release the rest later. JOC assigned the then Governor of the RBZ Gideon Gono, who co-chaired the meeting, to complete the transaction.
Negotiations with the RBZ were completed but nothing came out of it. Instead in 2009 to rescue the failed privatisation of CAPS, the governor colluded with CAPS management to get me out of CAPS.
At dawn, on November 26 2011, Cain Madiye and George Murwisi from the Anti-Corruption Commission lured me from my home to Livingstone House for a meeting with their general manager. At Livingstone House I was taken to a 9th floor empty office with no single piece of furniture.
My training instincts kicked in as I proceeded to sit at a corner with my back to the wall. To say those few moments in that room were most unsettling, would be an understatement. I realised I was in trouble. I was fearful that they would push me out of the window, the only one open.
They left the room and locked it behind them, leaving me to my thoughts which at that time were filled with anxiety. After some time, they returned, but without their General Manager. One minute they were saying, I was not under arrest then the next minute they were saying I was not being arrested and would be allowed to leave.
Instead of letting me go, after eight hours, only as an afterthought, they ordered me to drive myself to Mabelreign Police Station, where I was detained in police cells. The matter became sensational public knowledge.
The police station was monitored by CIO operatives under the director of external affairs, one Andrew Maringa, who at the time was also trying to occupy my farm.
The botched forced disappearance got the Zacc to fabricate fraud and theft allegations at CAPS Holdings. However, that did not pass the legal scrutiny to keep me detained without a trial.
On November 29 2011, I was taken to the Director of Public Prosecution. I was asked to account for claims that I held three other passports (which I did not), because the Zacc alleged that I would skip bail and wanted me to remain in detention.
I was admitted to bail without a charge. I was required to return on or after December 28 2011, for a charging decision and simultaneously Zacc was conducting investigations and given to December 28 2011 to complete. However, Zacc failed to complete investigations.
Instead, the state strenuously resisted my efforts to be removed from remand and forbade me to intervene to save CAPS, which, at the time, was hurtling towards insolvency and mismanagement.
Meanwhile, on February 20 2012, the presiding magistrate, mero motu recused himself citing that the "benches' feathers had been raffled". On March 1 2012, he forwarded the record of proceedings to the High Court to be placed before a judge for quashing.
OnMarch 30 2012, I sought and obtained a High Court provisional order to recapitalise CAPS. At that stage, CAPS was facing a myriad of claims as well as attachments in execution by the Sheriff of Zimbabwe at the behest of CBZ Bank whose claims had deliberately been placed in mora by the management that had become party to the attempted hostile takeover.
The provisional order was cancelled, stopping me or any other CAPS shareholder from recapitalising CAPS.
Unknown to me, without any notice, the government through the National Prosecuting Authority, Asset Forfeiture Unit seized ownership of my businesses. On May 22 2012, the criminal allegations against me were quashed by the High Court.
Yet, the same day, unknown to me, at the High Court, the government filed Requests for Mutual Legal Assistance on the same criminal claims that had just been quashed, to be presented to the governments of Botswana, Liechtenstein, Mozambique, Spain and South Africa.
In the midst of the extraterritorial criminal investigations, in a letter from the Secretary for Industry and Commerce dated September 28 2012, notified me that Cabinet at its 28th meeting of August 21 2012, recommended that the government through IDC should save CAPS from collapse.
Therefore, the answer is the 68% was forfeited by the government.
Zimind: There seems to be a big misunderstanding between you and the government. Government says it has acquired CAPS, and you have reservations. May you please clarify this part?
FM: There is no misunderstanding between me and the government. On July 29 2022, CAPS had a public announcement in the Zimbabwe Independent setting out the correct position. However, there are elements pushing their own agenda using public power.
Zimind: The most recent reports about your fallout claims that you committed fraud during the whole process. Tell us how you handled the said transaction?
FM: That report is not recent but was done in 2020. I got the report in November 2020. I am not aware of the fallout. If there is a complainant, he or she must report to the law enforcement authorities and not abuse the media to vilify my name.
On November 11 2015, the Governor of the Reserve Bank on behalf of government offered US$20 million to buy my shares in CAPS Healthcare Limited and CAPS Manufacturing Limited, companies which are to be demerged from CAPS Holdings Limited. The offer was subject to approval by the government.
On November 13 2015, I accepted the offer.
On November 27 2015, then Minister Patrick Chinamasa approved the acquisition and directed the governor to pay me the purchase consideration.
The minister's letter which was leaked from the Reserve Bank is now available publicly and shows that the minister approved the acquisition of CAPS Holdings Limited. That is what Chinamasa announced in December 2015 at the Zanu PF conference in Victoria Falls. That is a matter for the governor and the Minister.
On November 28 2015, the governor on behalf of the government offered to pay a delictual settlement of US$25 million dollars. I immediately accepted the offer. That is the extent of my transaction with the Government.
Zimind: In the years running up to the said acquisition, it is claimed that CAPS had been extensively run down, and Zimbabwe's health delivery system has been compromised.
In fact, CAPS delisted from the Zimbabwe Stock Exchange in 2011. What's your view of those claims?
FM: That assertion is nothing but vicious fiction. CAPS was a public company, and all its financial records were made public on time every year. If the Zimbabwe Independent had taken the time to go through the records, it would know the answer to the question.
Zimind: In the event that there is a truce and CAPS returns to you. Do you have the capacity to drive it back to its heyday?
FM: I would like to reiterate that a truce is only necessary where parties are at war. I am not at war with the Government.
However, there might be some individuals who misrepresent me. I cannot talk of a truce. Until November 2017, I did not know that my ownership of CAPS had been forfeited by the State.
The issue is the rule of law and of protection of property rights. While I am not a lawyer, it is not within our laws that for seven years one's business ownership remains forfeited without notice. Under the circumstances, I cannot even answer your question.
Zimind: Tell us how you will achieve this?
FM: I can only decide when there is the rule of law and protection of property rights.
Zimind: Assuming that you say CAPS was viable. Whar would be the reasons behind this planned takeover?
FM: Those who led the campaign to takeover CAPS are best placed to comment.
Zimind: Mr Mutanda, the government claims that you were paid US$21 million. Was the money paid in view?
FM: I was not paid US$21 million. Government must account for it, not me.
Zimind: Can you please shed more light on the role and existence of Themba Trust in the CAPS scheme of things?
l Full story on website.
FM: Government sold 40% of CAPS (Private) Limited to Rhallis of India. In 2005 Themba Trust bought the stake from the Indian company.
Zimind: What is your comment on the allegations that you sold 67,52% shareholding to the government for US$45 million and went on to buy 20% shareholding held by Old Mutual in the same entities for US$500 000 including Geddes?
FM: This is fiction. Government tried to pay RTGS20 million equivalent to US$28 000 at the official exchange rate. I returned the funds to the Reserve Bank.
Zimind: Considering that this dispute has stretched for some time, are there indications of a truce and agreement between the contesting parties in the future?
FM: I am not in dispute with the government and the state has not explained why my business interests were forfeited without notice. Instead of asking me such a question, the Zimbabwe Independent should hold State and public officers to account especially the RBZ.
Related Topics