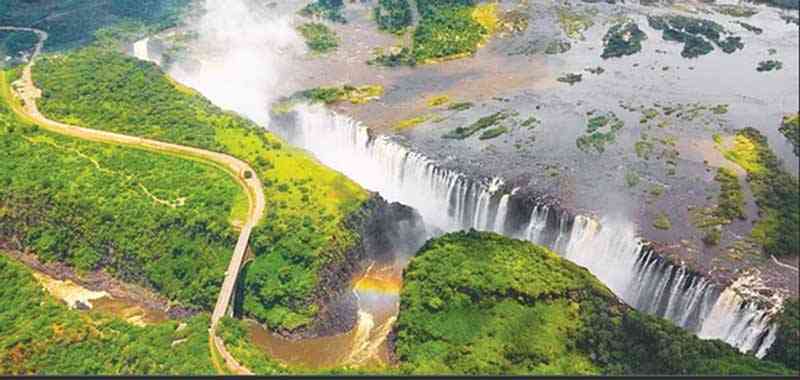 THE Zimbabwe tourism sector suffered setbacks due to the outbreak of Covid-19, which affected some sectors of the economy, including hospitality. Our reporter Freeman Makopa (FM) caught up with Hospitality Association of Zimbabwe (HAZ) vice-president Brian Nyakutombwa (BM, pictured) to give us an insight of the sector post-Covid-19. Here are excerpts from the interview:
FM: How do taxes on Zimbabwe's tourism and hospitality sectors affect local businesses?
BN: Taxes are a cost to individuals and businesses. Their quantum determines the ultimate effect on the cost of products and services, disposable incomes and attractiveness to investors of Zimbabwe as a destination.
FM: What is the greatest priority for infrastructure investment in Zimbabwe?
BN: Dualisation and expansion of major highways. This development will decongest the busy highways given the increased traffic from commodity-ferrying haulage trucks and intercity buses. The maintenance of feeder roads off the main highways, especially in national parks. There are a lot scenic areas that are found in our national parks, which need to be accessed by all types of vehicles particularly those with a low clearance, and the average domestic tourist will have one such vehicle. The feeder roads are already in place and just need some close attention.
Telecoms for efficient coverage in all areas across Zimbabwe as tourism cuts across all regions and travellers require to remain in constant touch with the rest of the world as they travel.
Hospitals in tourist destinations must be equipped with drugs and essential equipment to be fully geared to respond to health emergencies and routine medical requirements by tourists and local residents.
Regional airstrips would facilitate faster movement between destinations whilst also enabling more places to be accessed by travellers.
FM: How can private sector operators play a role in boosting local and regional tourist numbers?
BN: Refurbish their facilities to give them a modern look and in line with modern trends. Upscale skills training for staff for excellent service delivery that meets international standards.
Upscale marketing efforts to increase online and digital presence whilst also paying attention to efforts to promote domestic tourism through local media channels.
Come up with innovations that avail financial packages to both local and regional travellers so that they can invest in travelling whilst enjoying favourable payment terms.
FM: What can be done to improve the investment attractiveness of the tourism sector?
BN: We need to use different local and international media channels to feature Zimbabwe as an attractive tourist destination and attend international trade exhibitions and also host local exhibitions to showcase what the country has.
We need to offer attractive investment terms to would be investors and encourage innovative and entrepreneurial initiatives by youths and individuals aspiring to venture into business.
There is need for the operationalisation of the tourism revolving fund, which should set in motion tourism development initiatives and spur the industry forward. A revolving fund simply means the funds set aside in that facility get loaned out at concessionary interest rates and as the borrowers repay the money is availed to others and it revolves like that. It is a quick and affordable way of availing much-needed funds for capital expenditure for the industry.
FM: What is the current state of hotel occupancy this year compared to last year?
BN: Last year was greatly subdued due to the prevalence of Covid-19; but thanks to the various interventions by the government that helped to bring down new cases and deaths related to Covid-19.
The year 2022 has witnessed an encouraging rebound in occupancies, which some in the industry are calling the post-Covid-19 rush as a result of various organisations rushing to catch-up with their stalled strategic planning sessions that had been halted by the advent of the virus and associated travel restrictions. This has seen the MICE (meetings, incentives, conferences and exhibitions) business contributing significantly to occupancies for the sector. There has also been resumption in the traffic of regional and international tourists, by both road and air, as the Covid-19 port entry requirements have been relaxed in response to the positive impact of the Covid-19 vaccines and booster jabs.
FM: How much does the sector require?
BN: In terms of the financial sum required by the sector, it needs some exercise to determine that and that is work in progress. But speaking in terms of non-financial requirements, we need more awareness of Zimbabwe as a beautiful place to visit; we need a change in the perceptions of Zimbabwe as an unsafe place to visit, and the resumption of inbound air traffic from the region and rest of the world.
FM: What are some of the challenges facing the sector?
BN: Inconsistent power supply; exchange rate fluctuations; unavailability of affordable funds to retool and; low human capital skills depth.
FM: How do you intend to deal with this challenge?
BN: Operators are installing alternative power sources with a lot of emphasis on solar, which as an association we would like to see gaining momentum. We also would like to cooperate with the power and energy authorities regarding efforts to conserve power.
We are also happy with the interventions to control the exchange rate and the pricing mechanisms in industry through the now in motion due diligence exercise between service providers and government departments and agents. As an association, we await the operationalisation of the Tourism Revolving Fund so that operators can start benefiting from the facility.
Regarding human capital skills depth, as a country, we have suffered a steady brain drain over the last two decades and there is need to reconstruct the skills base.
I am happy to say that there is a manpower development plan that is in place and HAZ is closely following its roll out to ensure that it delivers the intended benefits to the sector.
In the meantime, the challenges are increasing the cost of doing business, compromising customer experience and delaying the much-needed refurbishment exercises for the hospitality establishments. On the human capital skills depth deficiency, it simply means that the levels of service and product quality are not where they should be as service delivery will be fraught with inconsistencies and frequent service failures, which compromise the customer experiences and reputation of the establishments and nation at large.
Related Topics