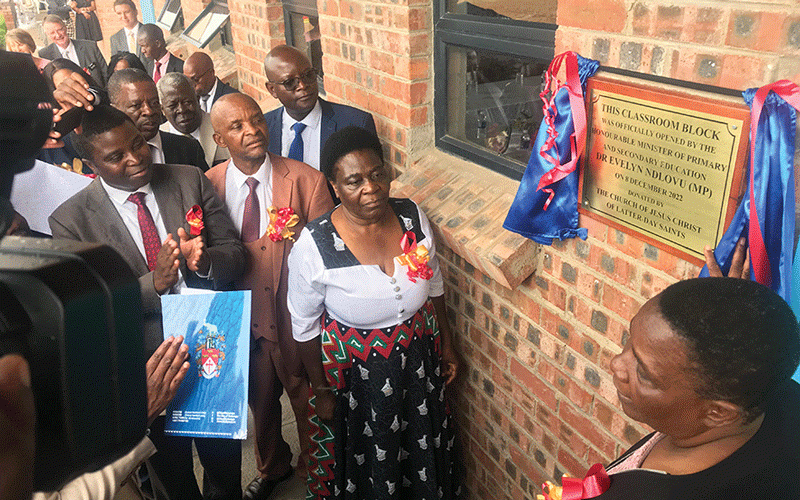 THE Church of Jesus Christ Latter-Day Saints has injected the much-needed boost into the education sector in Bulawayo by donating infrastructure that comprises two classroom blocks each to six schools across the province.
One of the beneficiaries is Cowdray Park Primary School, located in the city's most populous suburb with 17 000 residents.
Speaking at the commissioning of the facilities yesterday, Church of Jesus Christ Latter-Day Saints spokesperson Mzingayi Ndlovu said the church was not only in service of the gospel but also to men.
"One of the things we push for and encourage each other to do is charity work. We have a programme called helping hands. Every year we go into our communities and local areas to give assistance," he said.
Speaking on behalf of the Primary and Secondary Education minister Evelyn Ndlovu, Bulawayo Metropolitan Affairs minister Judith Ncube said it was up to society to develop itself.
"As parents we should not fold our arms and leave it to the educators. If there is someone in the private sector who feels that they want to help with development then they must come forth. Government is open to such collaborations," said Ncube.
"As the parents we got very worried about the declining pass rate in the province and so we sat down with education directors to investigate. We then involved the Latter-Day Saints Church. Now when we visited ingutsheni Hospital we discovered a sad situation where our school-going age children are being rehabilitated. We must come together and invest in education and fight drug and substance abuse."
"Infrastructural development is key to education, such as science laboratories, computer laboratories for uninterrupted high-tech internet connectivity. It is in this regard, therefore, that we signed a five-year memorandum of agreement with the church and it has since built classrooms for six schools and installed solar panels and installed water tanks in others."
Other schools that benefited from the programme include Pumula South High School, Mncumbatha Secondary School, Mandwandwe High School and Maphisa Primary School.
Related Topics