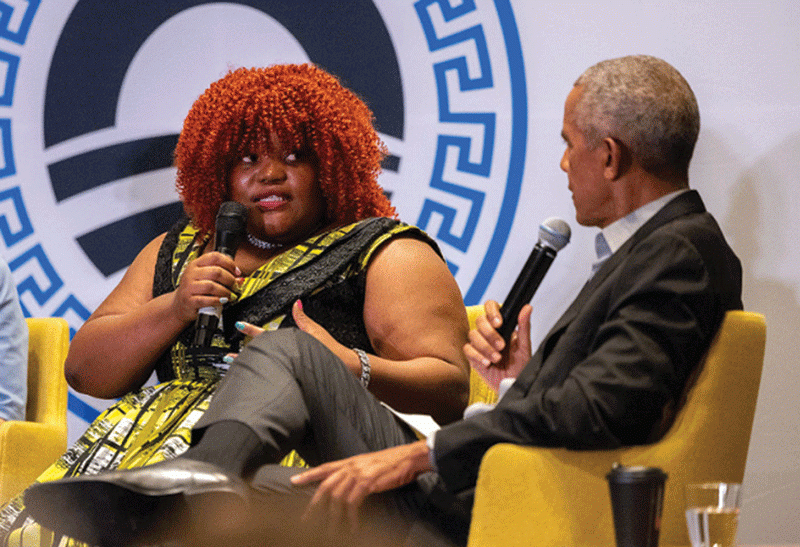 ZIMBABWE's young entrepreneur Chipo Zhou was among 100 other change-makers from across the world who this week met with former United States President Barack Obama under the latter's leadership development programme in Athens, Greece.
The five-day meeting brought together change-makers from the 2023 Obama Foundation Leaders programme — a leadership development initiative founded on and inspired by the values and legacy of Obama and his wife, Michelle.
"There are no words to fully encapsulate the impact that being a part of the Obama Leadership journey has had on me," Zhou, the founder and CEO of Opihc, a communications strategy company based in South Africa, said in a statement.
"I am not the same person I was six months ago, personally and professionally. I am so much richer for it. One of my biggest takeaways has been that I am enough, that we are sufficient, and that we are the ones we need.
"As a country, we've often looked to other countries for support in various ways, which is notable. Still, it is equally important to look at the abundant resources we already have — working from a position of strength, as it were."
She said Zimbabwe was blessed with mineral wealth, a rich wildlife and tourism ecosystem, and a brilliant crop of human capital, as has been seen through the brain drain and the number of citizens taking up space in leadership positions globally.
"We have no shortage of incredible impacts in a variety of sectors worldwide. And as long as we exist, there is hope, and with hope comes the energy to see ourselves thrive and positively contribute to the global ecosystem as the powerhouse we are," she said.
She is an entrepreneur and film festival curator with over 15 years experience in the arts industry. Chipo is motivated by her desire for an open-minded, equitable, and inclusive society.
As a result, she advocated for the transformation of the film industry in Zimbabwe early in her career at the andInternational Images Film Festival for Women, more recently in South Africa through her work at the Durban International Film Festival (DIFF).
She delivered five consecutive iterations of the DIFF and increased African and LGBTQ+ representation from 20% to more than 50% during that time.
She has, over the years, created various platforms to develop South African films by providing support for zero-budget filmmakers. She owns Mupfuti Garden's Restaurant and Outdoor Venue, which she now uses for arts-related events and initiatives in Mashonaland West province, Zimbabwe.
Follow us on Twitter @NewsDayZimbabwe
Related Topics