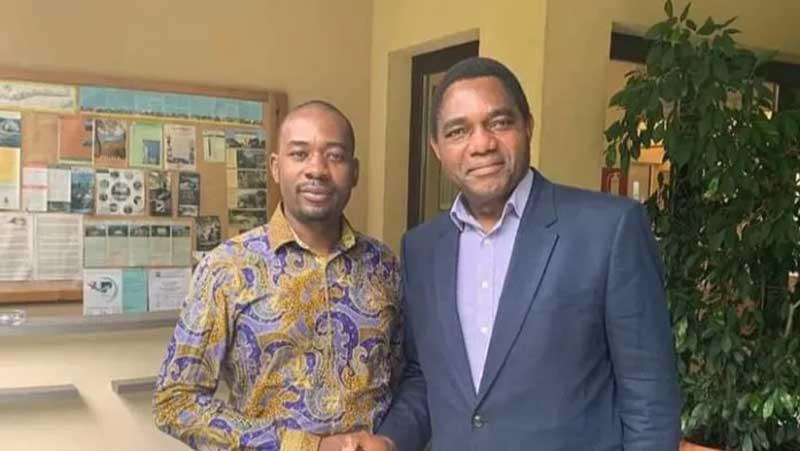 A MOVE by Zimbabwe's main opposition party, Citizens Coalition for Change (CCC), to petition the Southern African Development Community (Sadc) to stop President Emmerson Mnangagwa from assuming the bloc's chairmanship will be futile, analysts said this week.
They warned that Mnangagwa was likely to be backed by the region's liberation movements, some of whom were still holding forte in their countries.
Mnangagwa assumed the Sadc deputy chairmanship last month, and is expected to take over the chair's position in August 2024, when the bloc holds its ordinary summit in Harare. However, the Zimbabwean leader has been in the eye of a raging political storm since winning last month's elections, with Citizens Coalition for Change (CCC) leaders rolling out multi-pronged approaches to push through a re-run.
Pro-CCC member states this week warmed up to its push for an extraordinary summit to resolve the crisis, as the Nelson Chamisa-led party aggressively moved to petition the bloc to tell Mnangagwa to step aside from the deputy chairperson's position.
The Zimbabwean leader garnered 52,6% in elections held on August 23, against his rival, Chamisa's 44%. CCC's impetus to take Zimbabwe's post-poll dispute to Sadc has been bolstered by several election observer reports, which cast doubts over its credibility.
Their reservations ranged from a pre-election delimitation report to election day logistical gridlocks, which saw many urbanites failing to cast their votes.
Staring a global backlash, authorities extended the poll to August 24.
But CCC leaders claimed everything had already been carefully planned to frustrate their supporters in urban strongholds.
The deadlock took a dramatic twist on Thursday last week when CCC leaders hinted they were petitioning Sadc over Mnangagwa's current and future roles in the 16-member bloc. They want Mnangagwa not to be involved in Sadc assignments until matters arising from the elections are dealt with by the bloc. International relations experts said Sadc, while already divided, were unlikely to overturn the election of Mnangagwa to the chair's position.
The Sadc Treaty forbids the bloc from interfering in member states' internal affairs.
Alexander Rusero, an international relations lecturer at Africa University, said petitions were ineffective.
"Filing a petition at Sadc is pretty idealistic," Rusero told the Zimbabwe Independent.
"In politics, the best way to negotiate is to fight from within, not outside. It is unfortunate that each opposition in Zimbabwe has got the momentum and that momentum is pushed to other countries. That is how the momentum fizzles out. Petitions are normal routines in politics but they are not as effective," he argued.
Rusero said instead of canvassing regional support, the CCC should return to its supporters to find a way forward. He said the best that Sadc could do was complement home grown decisions towards tackling Zimbabwe's political crisis.
"I don't know what it is the CCC is trying to seek salvation coming from outside. Diplomacy takes place in the context of the internal dynamics," Rusero added.
Ricky Mukonza, a public affair associate professor at Tshwane University in South Africa, said by approaching regional blocs, the CCC was highlighting on record that there was a crisis in Zimbabwe. However, he said the CCC had spoiled the pasty by filing their petition late.
"Maybe it took a long time to gather evidence of election fraud and they are now sure of what they possess as evidence. They want to generate a public record of their claim of election fraud," Mukonza said.
Arthur Chikerema, a governance and public management lecturer, said the outcome of CCC's regional offensive would depend on whether Sadc was pulling in one direction or not.
"It depends on Sadc's cohesion and their commitment to help Zimbabwe," Chikerema said.
"At the moment there are already fault lines and suspicion between members. For the first time, we should applaud Sadc for being bold on the Zimbabwe crisis not just to rubber-stamp these rituals of disregarding Sadc principles and guidelines that inform the holding of democratic elections.
"Sadc's commitment to resolving this crisis has been put to the litmus test, as we know revolutionary parties, such as Swapo (of Namibia), ANC (South Africa's African National Congress) and Flerimo (in Mozambique) just to mention a few will support Zanu PF," he added. However, Chikerema said disbanding what Mnangagwa has built since his inauguration over a week ago would be difficult.
On Monday, Mnangagwa sounded relaxed at State House in Harare, as he announced a 26 member Cabinet, which assumed the difficult mandate of rebuilding an economy that has been in perpetual crises since the first currency crash in 1997.
Before that, he had appointed his deputies, Constantino Chiwenga and Kembo Mohadi.
"The president and his vice-president, MPs and councillors are all inaugurated and the speakers of both houses sworn in," Chikerema said.
"This will be very difficult to disband. It may be too early to brush aside CCC's strategy for now, but let's wait and see if they will manage to push for the convening of an extraordinary Sadc summit on Zimbabwe's harmonised election.
"For now, the elections seem to have divided the bloc and we brace ourselves for a bruising encounter."
Related Topics