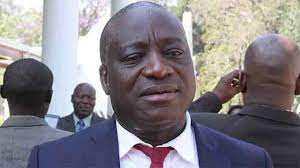 Vice President Constantino Chiwenga's personal physician, John Mangwiro, has been taken to task over a nurse who administered wrong drugs to his patient.
The lawyer for Chiwenga's ex-wife Mary Mubaiwa, Beatrice Mtetwa, asked Mangwiro why he did not remove a nurse, Warren Sibanda, who was allegedly secretively administering the wrong drug to the vice president.
Mangwiro, who was under cross examination in Mubaiwa's attempted murder trial, told the court that he could make a decision on a suspicion.
He also said Chiwenga would be better whenever he left the hospital but would relapse soon afterwards leading to the suspicions.
Mtetwa, however, quizzed Mangwiro on why Mubaiwa failed to kill Chiwenga when they were home without security.
He, however, argued that Chiwenga would become unconscious whenever Mubaiwa visited him at the South African hospital where he was admitted.
Mangwiro said he was alerted by Dr Seiling that Sibanda was administering the drug leading to Mtetwa asking why he did not take action.
Chiwenga's doctor told the court that he asked for the backup of CCTV cameras but it was not done leading to blood sample tests.
Mtetwa also argued that Dr Seiling said he was suspicious of the drugs being administered to Chiwenga.
She also argued that the doctor advised a security detail that Chiwenga was getting pethidine from a body guard challenging Mangwiro on why the aide did not name Sibanda.
Mangwiro said he do not know and was only told by Dr Seiling while Mtetwa told the court that the urine samples were changed by Sibanda who was kept on Chiwenga's entourage.
Mangwiro also distanced himself from the nurse Sibanda's testimony saying he did not speak to him.
The doctor also told the quote that he was told that Mubaiwa had chased security aides from the hospital.
He also admitted that he was not there when Mubaiwa violently removed Chiwenga's IV tubes adding that he heard him screaming for help.
The doctor also said he found Mubaiwa holding the tubes with stitches dropping blood.
Mangwiro also told the court that saw the T-shirt with blood stains denying that he had it cleaned instead of keeping it as an exhibit.
He told the court that the hospital had a patient running chart where the incidents are recorded adding that these were hospital properties given to patients on request.
Mtetwa, however, argued that the hospital manager had indicated in a court statement that the investigating officer could have requested CCTV footage.
Magistrate Feresi Chakanyuka postponed the matter to November 27 for continuation of trial.
Related Topics