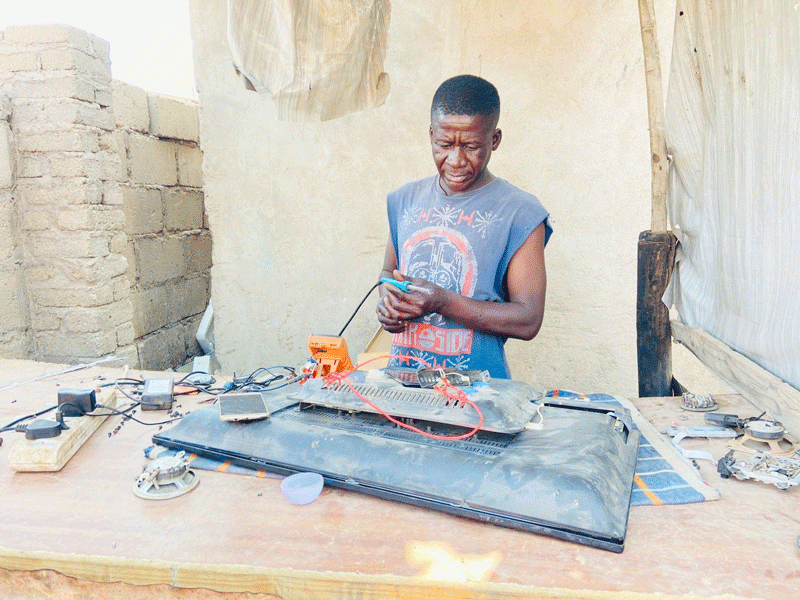 For a passerby, Beitbridge looks captivating with ultramodern architecture, thanks to the ongoing modernisation of the Beitbridge Border Post being undertaken by the government, which is changing the face of the border town.
However, on the flipside lies Dulivhadzimo — the oldest and most populous suburb in the border town — a melting pot of poverty, HIV and gender-based violence.
Residents of this forsaken settlement have to cope with age old dilapidated ancient houses in an area which appears to have long gone outside the local authority's radar as running water and burst sewer have become the order of the day.
In fact, Dulivhadzimo has over the years become synonymous with poverty, disease and crime.
Many families here live below the poverty datum line and are susceptible to infectious diseases such as TB, cholera, dysentery and sexually transmitted infections (STIs), including HIV.
Beitbridge has become susceptible to recurrent cholera outbreaks over the years and according to Health ministry data, as of August 28, the district had recorded 323 suspected cases, 132 confirmed cases and three deaths this year.
The 2008 cholera outbreak in the country, which recorded 98 596 cases and 4 369 deaths had its highest attack rate in Beitbridge.
Experts said the outbreak was caused by widespread infection with the bacterium vibrio cholerae, which is spread through water contaminated with human waste of infected individuals.
According to data from the National Aids Council (NAC) the HIV prevalence rate for Beitbridge is 11,67% while the incidence rate is 0.3%.
"We live here in Dulivhadzimo by the grace of God," said a resident Clifford Bvindi.
"Our area faces a plethora of challenges, chief being erratic water supplies and sewer bursts.
"Sanitation and hygiene never liked this place.
"It's a dog-eat-dog scenario in this suburb."
Bvindi, who repairs radios and TVs at a backyard shop behind his lodgings, said most people in the area were out of employment and live in abject poverty.
The roads in the area are littered with potholes and rubbish.
When it rains, they turn into streams of mud and sewage, Bvindi said.
"Council is not helping either. The roads are poor, garbage is rarely collected and sewage flows have become the order of the day. It is hell living in this area," he said.
Bvindi, who early this year contracted cholera, said four families were living at one house.
At several shopping centres and open spaces fish and meat are sold in the open even as uncollected rubbish litters the area and sewage flows everywhere.
"Meat and fish here are cheaper than in the butcheries and it's affordable for most of us," a resident Absalom Muleya.
"We can't afford to buy meat in butcheries or even across the Limpopo (River) because there is no money."
Muleya is out of employment and his frequent visits to South Africa to search for a job have yielded nothing.
"Beitbridge is not what many people think, it's just a hot and drought-prone area which also translates to 'drought' in terms of job opportunities," he said.
"I know no other area except Dulivhadzimo, I was born there and poverty is written all over the face of whoever resides there."
A few houses away from Muleya lives 29-year-old Hezel, who shares a single room with three other female colleagues.
"We share a room the four of us and we are all sex workers," she said.
"I came to Beitbridge in 2009 with the hope of finding a job so that I could take care of my family at our rural home in Shurugwi.
"However, there was no job and I ended up selling wares outside clubs and bars.
"Due to shortage of accommodation I ended up sharing rooms with friends."
Hazel said poverty compelled her to join the oldest profession.
"It's not that I wanted to be a sex worker in the first place, but I couldn't get a decent job and selling my flesh was the only option," she said.
"I stay with my eight-month-old daughter and friends in a room, but at the lodgings there are four other families."
Hazel's life has not been a bed of roses as she is exposed to many trials and tribulations that make her chosen career path grim.
She is among hordes of sex workers who are most vulnerable to GBV and HIV infection in the country.
"It's difficult being a sex worker, more so when you compete with these young girls coming from school," Hazel said.
"Some men pick you from the club and take you to their place or yours and when you get there they refuse to pay and then at times that's when beatings happen and you go and report to the police and they [police] say they are not part of sex workers issues."
Hazel said their predicament is heightened by the fact that sex work is highly stigmatised in the country and sex workers are often subjected to blame, labelling and discriminatory treatment.
There are no laws governing sex work and law enforcement agents rarely do anything to stop the violence experienced by sex workers.
She also said that sex workers were not able to negotiate safe sex with some clients.
"We cannot negotiate the use of condoms with most of our clients. Some opt to double the prices that we would have charged for unprotected sex," Hazel said.
However, Hazel said not all women involved in sex work were sex workers, but married women.
"There is a high infidelity rate here in Beitbridge because most couples stay apart," she said.
"A partner would be in South Africa and the one left here might try to cheat which might result in couples fighting.
"We have attended GBV counselling sessions with some women who admitted to have and were beaten by their husbands.
"They said they pushed them to do so."
According to the United Nations Population Fund, about one in three women aged 15 to 49 in the country have experienced physical violence and about one in four women have experienced sexual violence since the age of 15.
Beitbridge-based social worker Babongile Mudau-Gora, who operates Mudi wa Pfulufhelo (Home of Hope) Safe Haven, a centre that supports rape victims and GBV survivors conceded that GBV was prevalent in Beitbridge.
"I would say infidelities as well as the high number of child-headed households in Beitbridge are the major drivers of GBV," Mudau-Gora said.
"The fact that Beitbridge is a border town means many parents and guardians cross the border to look for greener pastures thereby leaving their children alone and this exposes them to GBV.
"There is need to do awareness campaigns and come up with rehabilitation programmes for perpetrators as well as empowering women."
Mudau-Gora said her organisation was empowering women through life skills and income- generating projects.
"At Mudi wa Pfulufhelo, women are provided with psycho-social support and encouraged to speak out when they are being violated," she said.
Beitbridge district Aids coordinator Edward Mulaudzi said the high HIV infection rate confirms that the border town remains a significant epicentre of HIV and Aids.
"We have roughly 400 to 800 sex workers in the district," Mlaudzi said.
"Beitbridge is the busiest port of entry in the country and we have some sex workers coming from as far as Mutoko, Murewa and Victoria Falls.
"We also have about 300 to 350 workers that are ART in the district and we realised that if we don't offer them this service they will go on to infect those that they interact with."
Mulaudzi said the National Aids Council was working with Centre for Sexual Health and HIV and Aids Research Zimbabwe and other partners to address the challenges faced by sex workers in the district.
Beitbridge town clerk Loud Ramakgapola said the local authority was doing everything possible to avert recurring cholera outbreaks.
"We are working hard to ensure that servicing of stands with sewer and water reticulation is done," she said.
"There are areas which are behind in terms of servicing and that is where we are putting lots of effort.
"We are in a partnership with a non-governmental organisation to rehabilitate boreholes within the town and we hope that this activity should be done by end of September."
Ramakgapola said Beitbridge Town Council was also working with Zimborders/Raubex to ensure the new water reservoir is connected to the council water reticulation system.
Development practitioner Takemore Mazuruse said disease, GBV and poverty were intertwined.
"There is no doubt that diseases increase when poverty deepens," Mazuruse said.
"The diseases that are mostly related to poverty include Aids, malaria, TB, cholera and typhoid."
Related Topics