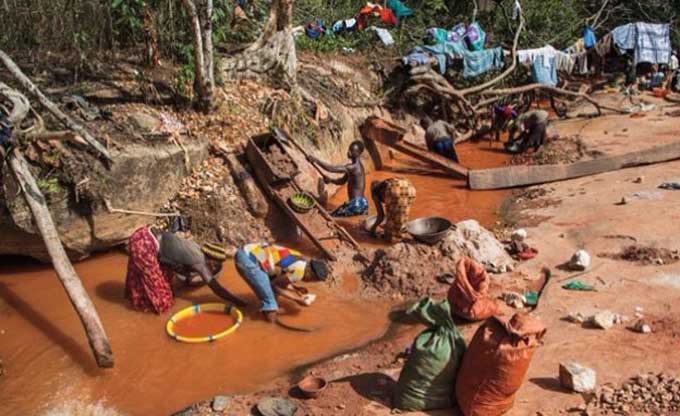 BY VUSINDLU MAPHOSA Gwanda is endowed with vast gold deposits, attracting artisanal and small-scale miners but after failing to get the yellow metal, some illegal miners quickly turn into criminals.
A local resident, Melusi Nkiwane says an increase in criminal activities in the town is linked to illegal gold miners.
"We are not safe these days," Nkiwane says.
"There are a number of incidents in which these gangs have attacked some residents and robbed them of their belongings."
Locals say they are witnessing an increase in robbers believed to be perpetrated by illegal gold miners.
"As we speak, a few days ago they attacked one Phakama resident and robbed him of cash amounting to R2500. What we know is that these gangs are not composed of locals, but people from outside Gwanda."
To counter the criminals, locals have formed vigilante neighbourhood watch committees.
The neighbourhood watch committees scored successes recently after tracking down two armed robbery suspects leading to their arrest.
On July 6, police in Gwanda gunned down four armed robbers who had robbed a woman of her vehicle.
Gwanda Residents' Association member, Siduduzile Masilela says the neighbourhood watch committees are necessary to assist the overstretched police force.
Neighbourhood watch committees help reduce crime in communities.
"These people (illegal miners) come thinking that there is a lot of gold. When they arrive, they discover that it's the opposite and start engaging in criminal activities for survival."
The central government put about 95% of mining land in Matabeleland South under Exclusive Prospective Orders (EPOs), a development causing conflict between artisanal miners and authorities.
The license means that small-scale players in Matabeleland are left with no room to prospect for gold, forcing them to bribe government officials to get gold claims or mine illegally and engage in other criminal activities.
* This article was originally published by The Citizen Bulletin, a hybrid news organisation that produces hard-hitting, hyperlocal reporting and analysis for the greater region of Matabeleland.
Related Topics