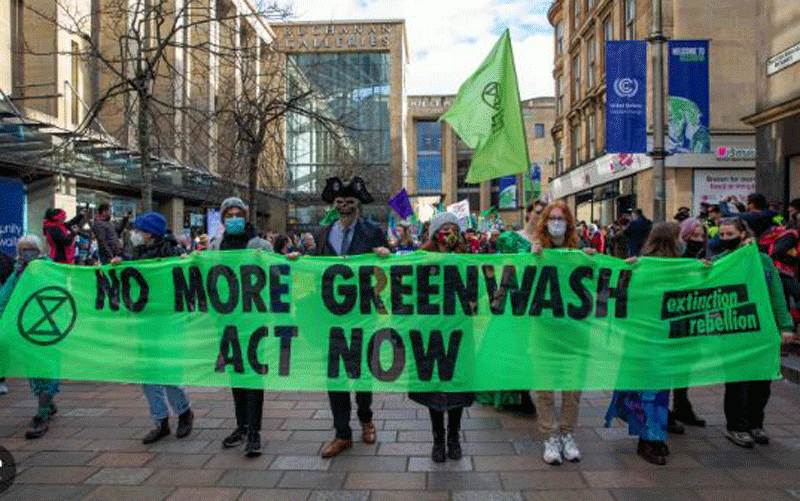 AS the fight against climate change rages on, every stakeholder wants to be actively involved, whether through accountable, ethical and sustainability means or regrettably through greenwashing.
Considering the unfolding climate mix, regarding its positives and challenges, many corporates and organisations always try to seek the deceiving route of greenwashing to escape accountability, but the environment cannot be deceived.
Greenwashing is when organisations invest in vague and confusing linguistic debris of complex climate change jargon, bordering on false promises, victories and own goals, among others. This also include, appearing to sound credible, but using language to hide unethical and unsustainable behaviours and practices, that have negatively contributed to the natural environment being mortgaged on the altar of monetisation.
Throughout the world, many co-operates are fraudulently finding their ways out of their unsustainable behaviours and sanitising their tainted reputations through green washing.
Therefore, some of these corporates are found wanting, when it comes to walking the talk and this normally becomes disastrous, especially in the context of emissions, pollutants, toxic mind-sets, systems and lack of sustainability reporting, to be sustainably managed.
Greenwashing, no matter how glossed and massaged, is an unethical business practice, deeply rooted in corporates falsifying information, make unverified claims, misinform and mislead unsuspecting stakeholders and publics, thereby sacrificing their livelihood options and sustainability issues.
In the context of ongoing climate challenges, companies are called upon to be transparent and impartial in their dealing with stakeholders and publics, since they are supposed to be at the heart of sustainable development and corporates social responsibilities.
These include the amounts of carbon footprints, emissions and carbon neutrality or positives involved, in attempts to regulate environmental harm.
In this regard, people are made to believe that some of these corporates are doing more to protect the environment, yet they do so using faulty lenses. These give wrong views, images and pictures about blundering corporates. In this regard, quite a number of misfiring corporates are not worried about the essential means of doing business, but they are mainly interested in the end products.
How they get there and achieve their goals is something else and does not matter much to them. As a result of this, climate action strategies and solutions are missed in the process.
Companies and corporates are mostly worried about improving their images or brands through enormous and robust advertising, while paying little attention to the impact of their businesses on the environment.
This also includes profits and dividends, which can be displayed on spreadsheets in newspapers and magazines, in order to hoodwink stakeholders. Therefore, there are quite a number of attributes underpinning sustainability endeavours in order to avoid or manage the green washing onslaught.
These are deeply-rooted in sustainable universal ethical business practices, hence corporates need to be honest and accountable. These become torrid tests to measure one's utmost good faith and honesty. For these reasons, the manufacturing industries are now producing counterfeits and sub-standard goods, that have flooded world markets. It is also important for corporates to always monitor and manage their carbon footprints, including using internationally-acclaimed labels and standard procedures.
Walking the talk is also very essential for corporates as they try to lead by example and also taking immediate action. Communication is very important as it reveals what happens behind the scenes. Some corporates bribe unsuspecting communities with donations and sponsorships, but without satisfying sustainability issues, while the environment continues to be harmed.
Many companies also operate in isolation, in the absence of critical sustainable development goals, which are designed to guide and affect their operations. Therefore, it is significant in this regard, to avoid and manage greenwashing at all costs by improving the attributes of sustainability reporting for their stakeholders in order to minimise the danger of greenwashing.
Indeed, yes, sustainability reporting is key because it strengthens and transforms environmental social governance.
Peter Makwanya is a climate change communicator. He writes in his personal capacity and can be contacted on: [email protected]
Related Topics