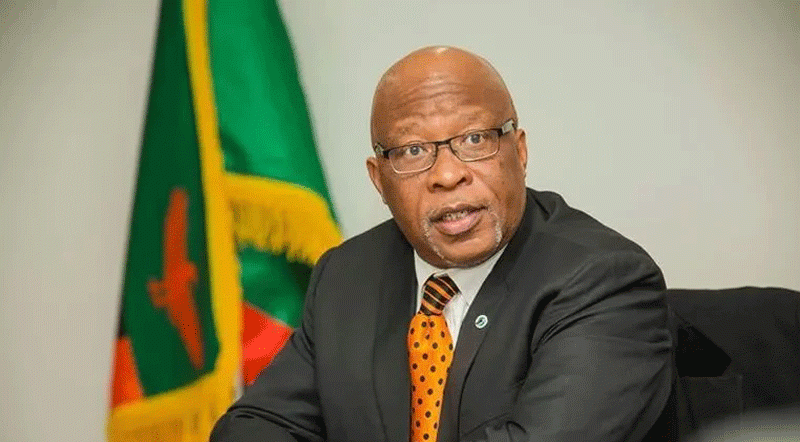 FOLLOWING decades of contested electoral outcomes that have destroyed an economy that was once southern Africa's breadbasket, Zimbabwe was this week in the eye of another storm after its major opposition disputed the August 23 polls.
In last week's polls, incumbent President Emmerson Mnangagwa garnered a disputed 52,6% of the vote, against the Citizens Coalition for Change (CCC) leader Nelson Chamisa's 44%.
But in an unprecedented move, an observer mission dispatched by the Southern African Development Community (Sadc) broke tradition, taking a tough stance against authorities, and casting doubts over the polls' credibility.
Nevers Mumba, a former Zambian vice president, who led the mission, said in his frank preliminary report the Zimbabwe Electoral Commission (Zec) failed to run the election in line with the Constitution.
The report fired a broadside at Zec for falling short of Zimbabwe's electoral Act and Sadc's guidelines, as it raised concerns over intimidation on opposition supporters by Forever Associates Zimbabwe (Faz), a ruling Zanu PF linked organisation.
Sadc missions had previously been slammed for rubber-stamping polls in the 15-member regional bloc.
It was a tough week for Zec, Mnangagwa and the ruling party.
They came under pressure as more reports filtered through from the African Union (AU)/Comesa, European Union and others missions, who took turns to blast the results as stunned authorities fired back.
Chamisa claimed he won the polls but says he was denied victory. The Zambian government, which currently heads Sadc's Troika, also took the flake.
Opposition Zambian Socialist Party leader Fred M'membe accused President Hakainde Hichilema of influencing the mission's report. But its Foreign Affairs and International Cooperation Minister Stanley Kakubo dismissed the allegations, which mounted amid calls for combined efforts to block Mnangagwa from assuming a second term.
However, international relations experts said there were no mechanisms for Sadc, or the AU, to interfere in a member country's internal politics.
"At law, observer missions typically do not have the power to overturn election results but provide evidence to do so," Sharon Hofisi, a leading global governance and legal analyst, said.
"Instead, their main purpose is to offer actionable recommendations and guidance based on their findings."
International relations experts also said the Sadc Tribunal only arbitrates inter-state trade disputes.
At AU level, experts said members agreed to a universal diplomatic protocol of non-interference. However, they note that the AU may only intervene where there is an unconstitutional transfer of power, such as after military coups.
In the case of last week's polls, Sadc and AU's wings were clipped. They cannot do anything beyond declaring Zimbabwe's polls as not "free and fair".
South Africa, Tanzania, Botswana, Namibia and Mozambique have already congratulated Mnangagwa on his re-election.
Those campaigning for a reversal say the AU must remember that incumbents were often manipulating state machinery to retain power.
The only intervention tools at the disposal of Sadc and AU, where there was an "unconstitutional transfer of power", will be to mediate, or apply pressure mechanisms like suspension of a country's membership.
The blocs may also slap a transgressor with economic sanctions. This was the case in countries like Sudan, Burkina Faso, Guinea, Mali and Niger.
Hofisi said observer missions play a crucial role in monitoring and assessing how elections are conducted.
"They provide an independent and impartial assessment of the electoral process, ensuring transparency, fairness and credibility," Hofisi told the Zimbabwe Independent.
"The same occurs with other external and local observers as contemplated by the Zimbabwean Constitution."
The experts said recommendations were 'soft laws; that can be accepted by regional blocs, supranational actors or national courts.
"In the context of Sadc, observer missions contribute to strengthening democratic processes within member states like Zimbabwe," Hofisi said.
"They support the principles of good governance and help promote peaceful and inclusive elections.
"These missions assist in building trust among member states by providing an external perspective on national electoral proceedings. They are the first port of call in helping the Sadc fact-finding mission, troika and other Sadc institutions" he said.
Political analyst Augustine Tirivangani said observers' rolls are to observe, assess, evaluate the electoral process and make recommendations.
"They do this by engaging citizens in the election process, deterring fraud, exposing irregularities, providing an accurate and unbiased measure of the quality of the election, providing recommendations for improving the process for the next election based on verified facts, not hearsay," he said.
Tirivangani further argued that observer missions were accountable to the inviting government. "To this end, observers cannot overturn results, especially certified results. They have no such mandate. Their job is to observe, advise and leave the rest to the host country and its sovereign institutions," he said.
Another political analyst Hamadziripi Dube said the role of the observers was not subjective but a mission of authenticating the process of an election.
"Observers report how the election process was handled by the local election board. They observe if the election board followed the laws of that country, as well as if the practice is independent of the judiciary and government of that country," Dube said.
"The observers analyse if the election process is transparent, check the eligibility as well as the authenticity of the conduct on the election."
Reports from observer missions have quoted controversy in Africa with Nigerian elections earlier this year also attracting adverse reports across the world.
Related Topics