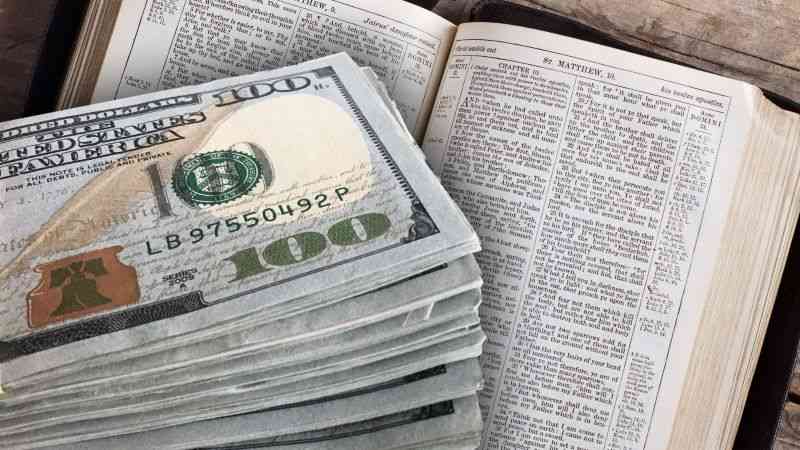 There is an "anti-prosperity teaching" attitude in the church today, and yet most of the people with that attitude want to prosper. There are reasons this attitude is so prevalent.
Some prosperity teachers, live lifestyles that accommodate criticism. Furthermore, some of these teachers tend to be very abusive in the way they demand their congregants to give "to the Lord". They usually misquote scripture and intimidate their followers about curses that will haunt them if they don't give.
It is this kind of abuse which causes some people to disdain teachings on prosperity and I fully appreciate that. However, faith comes by hearing God's word (Rom. 10:17), and faith for prosperity comes by hearing teaching on prosperity. We need to know what scripture says about prosperity.
1 Chronicles 29:12 says,
Both riches and honor come from you, and you rule over all. In your hand are power and might, and in your hand it is to make great and to give strength to all".
The Lord said those who trust in Him would not lack any good thing (Ps. 34:10). Trusting in yourself or this world's system is a recipe for disaster. It's not in man to direct his own steps (Jer. 10:23). There's a better way, and that's God's way.
"But you shalt remember the Lord your God: for it is he that gives you power to get wealth, that he may establish his covenant which he swore unto you fathers, as it is this day" (Deuteronomy 8:18).
God is the One who gives us power to get wealth. Notice He doesn't give us wealth directly. He gives us the power, or ability, to get wealth. Whether you realize it or not, God is the source of your prosperity. You might say, "But I worked for this money. God didn't give this to me. I earned it."
It is very important for you and I to realise that, there is nothing we have that we haven't received (1 Corinthians 4:7). We didn't give ourselves talents and abilities. We can develop our talents, but each one of us has gifts that were given to us by God. We can't develop what God didn't give us.
If the chemicals in your brain were just a little different, you could be stark-raving mad. If you had some debilitating handicap, you would not be able to work. So, again I say, whether you realise it or not, God is the source of your prosperity.
Financial prosperity isn't God giving you money; He gives you an anointing that enables you to prosper. The real asset is not the money, not the house, not the car, not the physical tangible things, it is the anointing from God to produce wealth. The real asset is the favor of God. Money isn't prosperity; money is the byproduct of prosperity. Many Christians fall into the trap of measuring prosperity by the amount of things they have. Being prosperous is relying on God as your source.
There are people who prosper without trusting God, but it usually destroys their lives (1 Tim. 6:9). They have hardship, stress, marital problems, and so on so and on (1 Tim. 6:10). They might be rich, but it cost them in other areas. If you prosper in God's way, the blessing of the Lord will make you rich, and no sorrow will be added to it (Prov. 10:22).
I believe that the first step to prosperity is recognising that you are a steward of God's finances. This requires a huge mindset shift from the way the world views money. The world encourages you to be an owner and not a steward. But it's not up to you to pick and choose what you do with your finances. God has given you finances so that you'll trust Him with them. Then He will cause you to prosper. I know that sounds too good to be true, but it is.
God has a plan for your life. Start from a position of stewardship, and let Him be the owner. You will be blessed beyond measure.
When God is your source, He will supply all of your needs. And it won't be according to this world's economy, with all its depressions and recessions. But your needs will be supplied according to God's economy. That's powerful.
Philippians 4:19 says, "But my God shall supply all your needs according to his riches in glory by Christ Jesus".
God says He will supply all your needs! And it's not going to be according to the Zimbabwean economy or this world's system. When God is your source, you will have not only a supernatural prosperity but also a peace that people of the world don't have.
When people tithe, many of them feel that they're giving from what they have earned. After all, they are the ones who put in the work to get a paycheck. But everything would change for them if they saw themselves as handling God's resources. Stewards are ones who see themselves as accountable for what God has entrusted to them.
Trusting God in the area of finances is the baby step of faith. And if you can't trust Him with that which is least, then according to what Jesus said in Luke 16, He can't trust you with heavenly riches:
"He that is faithful in that which is least is faithful also in much: and he that is unjust in the least is unjust also in much. If therefore ye have not been faithful in the unrighteous mammon, who will commit to your trust the true riches?" (Luke 16:10-11).
Some people aren't healed because they never develop their faith in the area of finances. Please don't misunderstand me. I'm not saying that you can buy your healing. That's wrong. But there are people who aren't seeing their healing manifest because they never trusted God "in that which is least" (Luke 16:10). That may not be true in every case, but it is often the problem. This is the starting place. You can't skip this.
If you understand financial stewardship properly, it will enable you to be a blessing to others.
And just like 2 Corinthians 9:8 says – "God is able to make all grace abound toward you; that ye, always having all sufficiency in all things, may abound to every good work".
The reason God makes grace abound toward you is so you will abound, give, to every good work. The real motive behind finances shouldn't be to get, it should be to give. This is a critical point.
Many people who reject teaching on biblical prosperity do so because they see it as selfish or greedy. They say, "I have got enough. I may not be rich, but I have a roof over my head and my basic needs covered. I don't want or need anymore." But that is the selfish attitude.
If you have all you need, trust God for more so you can help others. The thinking that says "I have got enough, forget everyone else" is the truly selfish attitude. We need to prosper, not so we can have more, but so we can be a bigger blessing.
The Lord told Abram that He would bless him and make him a blessing (Gen. 12:2). You can't give away what you don't have. Abram couldn't be a blessing to others until he had been blessed.
Likewise, you and I cannot fulfill God's purposes for our lives without receiving His prosperity. God's kingdom cannot advance without God's people prospering. We need this revelation. We need to know how to prosper God's way.
Prosperity is one of the benefits of the finished work of Christ. The Bible makes it very clear in 2 Corinthians 8:9, that though He was rich, yet for your sake He became poor so that you and I would become rich". We can only advance God's kingdom if we are loaded. It is important that you and I should prosper God's way so we can make a big difference in God's kingdom.
Related Topics