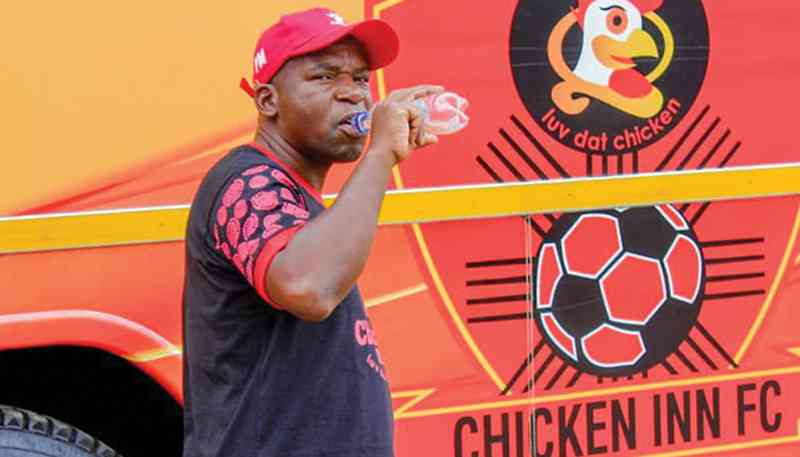 CHICKEN Inn coach Prince Matore has urged his players not to be intimidated by the multitudes of Highlanders fans expected to fill up Luveve Stadium when the two teams clash in a Castle Lager Premier Soccer League derby this afternoon.
More than 11 000 fans paid to watch the Highlanders/FC Platinum game over the weekend and with Bosso hitting top form, another bumper crowd is expected to rock Luveve Stadium.
Although they have not lost a match so far, the GameCocks have started on a lower note, where they have notched up just one win from the first three matches.
Highlanders on the other hand started off with a draw before they stitched two wins together.
But a win for Chicken Inn this afternoon could see them fly above Highlanders and Matore wants his lads to plug their ears and ignore their noisy neighbours.
"What is important is being focused. We have always told our young players if they focus on the game, they will not pay attention to the crowd. If you don't focus on the game, you will listen to the crowd. Highlanders are playing good football. They are competitive and with the support from their fans, they are doing well so we have to raise our tempo to match them," Matore said.
Matore, who took over from the veteran Joey Antipas, who is now technical advisor of the club, believes his charges are improving with every game.
"The guys are looking sharper and sharper with every game which is an encouragement, so as we go into the next game, we are expecting a good match. It's a derby and everyone will be fighting for a win but for us it is important because it is a home match and we have to try and collect maximum points.
"Richard Hachiro, Itai Mabunu, Vincent Moyo and Clive Agusto have recovered from injury while Calum English-Brown and Munashe Pini are still out injured."
Highlanders gaffer Baltemar Brito has warned of complacency and over-confidence after last week's success.
"The last game was a good game in terms of breaking the jinx, but breaking a nine-year jinx means a creation of anxiety and a lot of boastfulness but we try to put that out of the players," he said. "Doing well against FC Platinum was not so easy, but we did not have that much possession of the ball and we need to fix that for this match. The analysis of the last game is that these boys are capable of doing good things but they have to believe in themselves and stay humble because we only have seven points.
"It's a derby and it will be tougher than the FC Platinum game because derbies are hard. Right now the levels of confidence after the victory are high, but what is more important now is to stay humble because too much confidence will make you relax and think that you are the best."
Related Topics