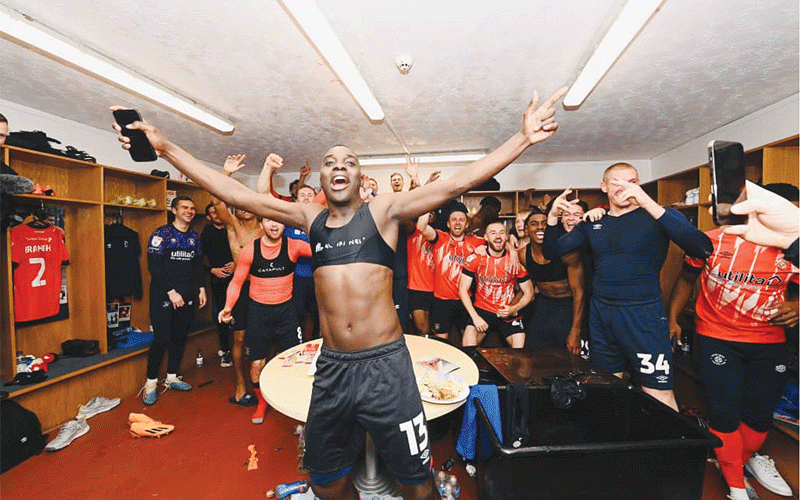 "IT'S not how you start that is important, but how you finish," goes a famous saying by American author Jim George.
It aptly applies to Marvelous Nakamba, who endured a torrid start to the 2022 season, failing to get game time at his parent club Aston Villa, but is now on the brink of a flourishing finish, looking to drag Luton back into the English Premier League (EPL).
The Warriors midfielder, who fell out of favour at Villa Park once Unai Emery arrived as manager and was allowed to depart, has been a revelation since joining Championship side Luton Town.
The 29-year-old has played a crucial role in the side's promotion push, where they are just one win away from returning to the topflight of English football for the first time since 1992.
The Haters, as the club is affectionately known by its supporters, overturned a first-leg deficit to beat Sunderland on Tuesday night and reach the Championship play-off final.
Trailing 2-1 following Saturday's game at the Stadium of Light, Luton produced a stunning performance to beat Sunderland 2-0 on the night and 3-2 on aggregate at Kenilworth Road.
First half goals from centrebacks Gabriel Osho and Tom Lockyer ensured a play-off final trip to Wembley Stadium on May 27, with a place in the EPL at stake.
They will date either Middlesbrough or Coventry City, who were set to play their second leg last night with the tie level at 0-0.
Nakamba will be making the trip to the prestigious Wembley Stadium with a spring in his step, having been credited with improving Luton's prospects after joining on loan from Aston Villa.
He has made 18 appearances for the club so far, featuring in all but one game since his arrival when he was rested against Hull City on the final day of the season as coach Rob Edwards prepared for the play-off matches against Sunderland.
Nakamba played the whole match against Sunderland, and took to social media to express his joy for helping the team to the finals.
"A massive win and amazing atmosphere at Kenilworth Road. See you soon at Wembley," posted Nakamba on his social media network pages after the match.
Luton coach Edwards has previously praised Nakamba, saying his arrival greatly improved the squad in their push for a playoff spot when they eventually finished third in the championship log table.
"He's been brilliant, I keep joking about it, but I'm serious as well, I keep telling everyone and I say it to the lads, he's my favourite player in world football at the moment," Edwards said earlier this month.
"He can do what he wants, he's been great, so humble, the charity work he does back home.
"He came into our club, so humble, he smiles every day, he trains exactly how he plays.
"He will kick people in training, he will train like that, but he's been the real bit of glue that's brought us together.
"He's made us even more resilient. We were doing well before he came in, but he's been a fantastic signing, no doubt about it.
"His human qualities as well and what he does on the pitch, he's been top."
Victory at Wembley, in a game dubbed "the richest match in the world", would cap a remarkable change in fortunes for a club that dropped out of the English Football League (EFL) in 2009 and only reclaimed their place five years later.
If successful, Luton will not only get the ticket to play EPL football next season, but they will also hit a massive financial jackpot with a lot of incentives which include a US$125 million prize purse for the winners.
It's reported that the financial injection does not come directly from either the EFL or the Premier League, with the Championship title-winners Burnley receiving £100 000 (US$125 000) and second placed Sheffield United pocketing £50 000 (US$62 000)
The play-off winners' monetary motivation comes from TV rights, sponsorship deals and new revenue streams as a result of their new status.
Previous estimates broadly place the figure at £100 million (US$125 million) as an "immediate" cash win, but figures vary year-on-year.
TV revenue alone is estimated at £3,1 billion (US$3,9 billion) a season in the Premier League, with a minimum payment of £100 million (US$125 million) for the lowest-ranked team in the division, in comparison with £7m (US$8 million) per club in the Championship.
Figures from Deloitte in 2020 estimated an increase in overall club revenue from £135 million (US$170 million) to £265 million (US$333 million), depending on non-TV agreements, with 2022 calculations placing it closer to £200 million (US$225 million) as a base line.
Luton fans will not be looking at just winning the play-off final, which comes with an EPL ticket and huge financial rewards, but they are also hoping that Nakamba, who has transformed the club's fortunes, will sign for the Hatters on a permanent basis.
Related Topics