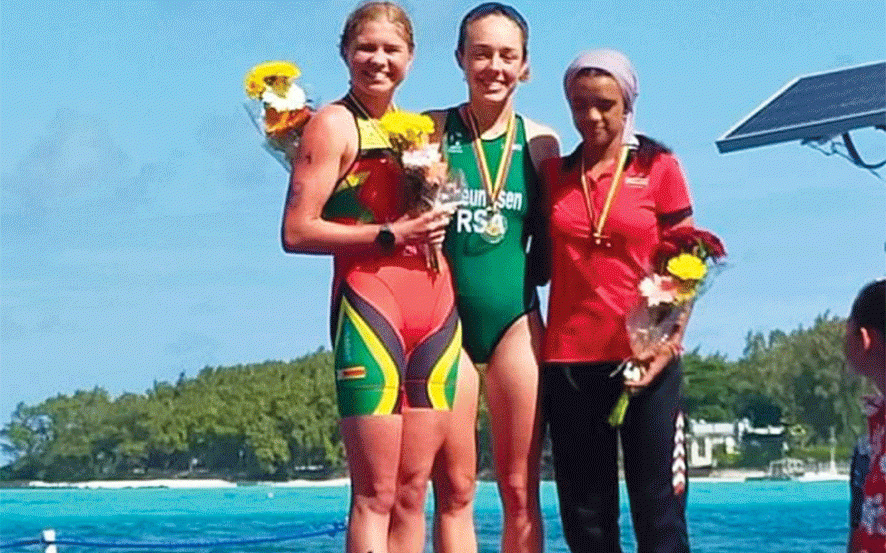 ZIMBABWE'S leading triathlete Andie Kuipers kept alive her dream of making it to the Olympics with a deserved second place finish in the U-23 Women's Africa Triathlon Cup Blue Bay, Mauritius on Sunday.
The United States-based star is working on a two-pronged approach and is keen on making it to the global sports showcase in Paris, France 2024, and if not then the Los Angeles Olympics scheduled for 2028.
Kuipers finished in a time of 01:06:04 behind South Africa's Bridget Theunissen who was three minutes faster.
Kenya's Aisha Nasser finished in third place.
She was second coming out of the 750m swim in 11 minutes 13 seconds, and maintained her position in the four-lap 20km bike registering a time of 32 minutes 29seconds .
Kuipers ran down the two-lap 5km run in 20 minutes 25 minutes bagging a silver medal in the process. She was fifth overall in the Elite Women category which was won by Vicky Van Der Merwe of South Africa in 01:01:51.
Theunissen claimed silver while Algerian pair Kahina Mebarki and Imene Maldji teamed up to push the Zimbabwean to number five in their respective third and fourth place finish.
"Sunday's result is a testament of the work that we put in over the last three months.
"I travelled to Switzerland to train with my coach there and really benefited a lot from that. Having won the African Cup in Kenya last month, I really wanted to back it up with another good performance at Africa champs and I'm proud I could do that," Kuipers told NewsDay Sport.
"The lead up was not perfect. Having to travel from the US, it took me three days to get to Mauritius as well as getting sick when I arrived. But considering this I had a race I am proud of and got some valuable points toward Olympic qualification.
"As far as Olympic qualification is concerned, I am confident in my ability, but the logistics of getting to the races to earn points and finishing my degree along with racing for my university make this challenging, but as my coach always says "we make a way" so I will continue to do everything I can to perform my best when I need to."
Meanwhile, junior ace triathlete, Duwan Botha placed a commendable 10th place at the same championships in the 2023 Africa Triathlon Junior Cup. Botha finished his race in a time of 01:08:35 with France's Thomas Naboudet-Alexis winning gold in 01:00:59. Another French athlete Vincent Auguste won silver, while South Africa's Nathan Foster took bronze.
Related Topics