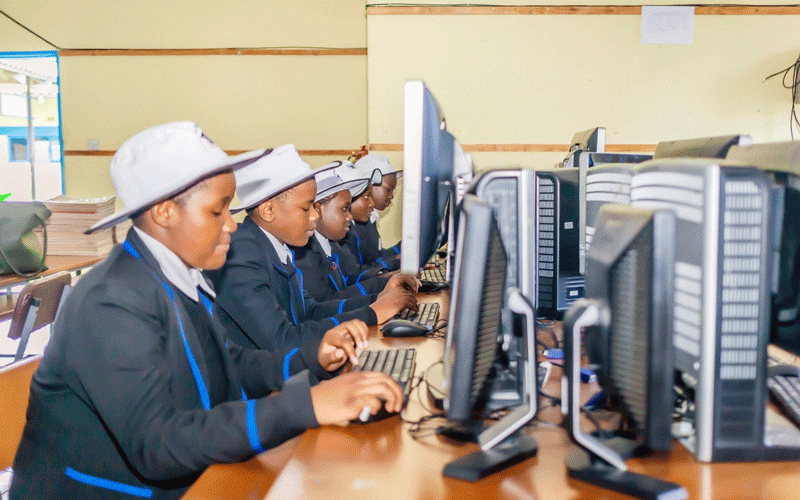 B & P Study Centre is pushing for digital transformation across the learning and teaching process as it moves to provide innovative learning experiences for students.
The learning institution operates two centres, a high school in New Zengeza 4, offering tuition to learners from Form 1 up to Upper 6 and a boarding primary school in Seke, near Unit M Extension Chitungwiza, offering lessons for learners from ECD A to Grade 7.
With an enrollment of 756 learners at primary school and 630 at high school, B & P has turned out to be the most sought-after school in and outside Chitungwiza, thanks to the innovative paths the learning institution took since its inception.
The high school head Emmanuel Tili told Standard Style that the learning institution has embraced is in embracing technology in line with its vision.
"We want to become the centre of excellence in the implementation of the national curriculum and competence-based curriculum," Tili said.
"In education 5.0, information and communication technology becomes a cornerstone."
Education 5.0 is a five-mission model of teaching, research, community service, innovation and industrialisation, established to move the country forward towards an innovation-led and knowledge-driven economy.
Tili said in light of Education 5.0, B & P Study Centre has incorporated new technologies from the rudimentary stages of education.
"We want to become a centre for excellence and I can testify that our learners from ECD to Upper 6 are doing computer science, thus world of technology in its holistic form," he said.
"We are registered with examination boards such as Cambridge and Hexco so that we expose our learners to innovative ways.
"We have two research centres within our system which are fully equipped with computers and Wi-Fi, but students' access to Wi-Fi is controlled."
In terms of the learning institution's programme, Tili described it as seven hours of learning and enjoyment.
"As of our learning programmes, we do not do hot sittings," he said.
"We have exciting learning programmes where facilitators allow interaction and self-assertion."
On the academic front, Tili said the learning centre has triumphed over others since its inception.
"Academically we have been doing well and our primary school has always been on top when it comes to final Grade 7 results in Seke district, it has been 100% pass rate since 2012," he said.
"We have been churning out a multiplicity of six units and for the high school the pass rate at O' Level hovers around 80%, while for the A' Level its 100% throughout, with a fair number of students getting 15 points and more."
Tili said 67 students will sit for A' Level examinations while 129 sit for O' Level.
According to Tili, the school has bright prospects on co-curricular activities, especially athletics where they have over the years been feeding into the province and national teams.
He said the boarding facility was established last year and they have 51 learners with hopes of increasing the number next year.
The learning centre has a staff compliment of 115, including high school and primary school teachers.
"We do refresher training courses for all our staff including the 24 highly qualified drivers that we have," Tili said.
He said the centre has a public relations committee which is responsible for keeping good relations among the school, students, parents and stakeholders.
However, Tili said the learning centre just like most organisations was facing a number of challenges.
"There are numerous challenges as the economy has not spared the education system," he said.
"We need to try to increase the resources and on the budget itself education should be prioritised.
"As private schools we mustn't be left out on government programmes, we also need assistance from the line ministry.
"We can testify that we are feeding into the same community, hence no learner should be disadvantaged because they are from a private or public schools."
Tili said the school does not segregate when it comes to enrolling.
"The history of our school started off as one of those that were labelled educational misfits and those are the ones that our director was assisting and people saw the efforts," he said.
"We don't segregate, we don't believe in taking the crème de la crème, but we assist all learners.
"We have no high fliers, but we create our own."
Related Topics