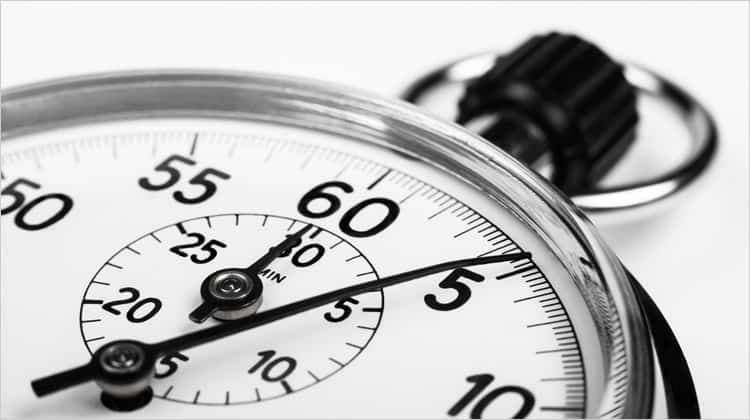 By Tim Middleton Timing in all areas of life is crucial, whether it is telling a joke, playing sport or conducting business. There is a time for everything, a right time. Interestingly, there is a website (webmd.com) that spells out the best time that we should do different things. Doing things right also means doing them at the right time. So we are advised that the best time to weigh yourself is on a Wednesday (as we tend to eat more at weekends and have to burn all of that off); the best time to have a nap is 20 minutes between 2:00pm and 3:00pm (when our blood sugar levels drop and when our night's sleep will not be affected); the best time to learn something new is before a good night's sleep (though how do we know if we will have a good night's sleep?); and the best time to sleep in is never (as we will benefit most if we get up at the same time every day)
So, now we know! We might just wonder though if such knowledge (assuming it is true) will lead us to make any changes in our lives. Leaving that aside for a moment, there is a popular Chinese proverb that says: "The best time to plant a tree was 20 years ago. The second-best time is now." It obviously is entirely accurate with regard to trees and plants as such take time to grow, as the first part of the proverb highlights. However, the second part of the proverb is most illuminating. We may have failed to plant a tree 20 years ago but there is no reason we cannot do so now. Now is the right time to do things we should have done long ago.
What is true in the plant and tree world is also true in the human world. The best time to instil learning is not simply before we have a good night's sleep but rather 20 years ago when we were young and innocent and eager. Many adults look back on their school days and wished they had done more with them, had taken more advantage of what was on offer. Instead, we messed around and wasted the years. With adult maturity we can see we should have used the time better — but that is no excuse for us not learning more now.
The best time to learn a sport is when we are young, when our body and mind adapt to the routines required much more easily and naturally. The best time to "remember your Creator [is] in the days of your youth", when we have our whole life ahead of us.
Henry Ford, who in many ways was responsible for "the industrialisation of the 20th century, the popularisation of the automobile, and an enduring business philosophy that continues to resonate with companies and entrepreneurs today", once pointed out that "Many people are busy trying to find better ways of doing things that should not have to be done at all. There is no progress in merely finding a better way to do a useless thing." His famous quote that "If I would have asked people what they wanted, they would have said faster horses" (not automobiles) underlined that viewpoint. Furthermore, he is also quoted as saying that "The remains of the old must be decently laid away; the path of the new prepared. That is the difference between Revolution and Progress."
The obvious lesson is that we cannot change our past but we can affect our future, if we correct the mistakes of the past now. In the light of our recent articles we should therefore declare that the best time to change our education system was 20 years ago (we might even add quite a few decades to that number, in truth); we did not do so then, which means that the best time to do so is now, for the same reason that Henry Ford highlighted, that there is no progress in simply finding a better way to do a useless thing. We are not making progress as a look around the world easily testifies.
Covid has provided us with this welcome opportunity to revolutionise the type of education that fails to produce responsible citizens. Academic qualifications are not key; the character is paramount. The leadership we have been following and promoting has not worked but has only served to separate people. Youngsters must learn to take responsibility for themselves and for their neighbours, not just wait for others to police them. We must inculcate far more respect and service.
We need to plan to plant now, for the sake of future generations. Change and its effect takes a long time and if we waste this time now we will not be providing our children with protection or provision. It is time, ladies and gentlemen, please! Do not let this be our last order!
Tim Middleton is the executive director of the Association of Trust Schools [ATS]. The views expressed in this article, however, are solely those of the author in his private capacity and do not necessarily represent the views of the ATS. 
email: ceo@atschisz.co.zw
website: www.atschisz
Related Topics