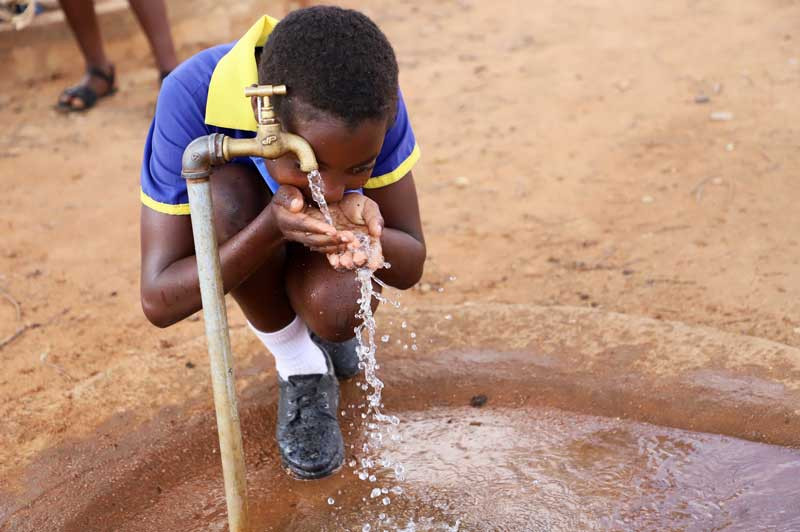 For Chivaka Primary school staff and learners to survive the dry spell, they had to fetch water from unsafe sources in the nearby villages. Lack of clean and constant water supply at the school have become an unfortunate way of life.
Chivaka Primary School in Bikita, is located on a very dry patch approximately 120 km from Masvingo city centre. The school has a staff complement of 11 teachers and a student cohort of 406 starting from ECD up to grade seven and 13 villages feed into the school.
"We had become a burden to the villagers," said the school head Tapiwa Manyama as he used his bare hands to wipe off sweat from his face as he endured the blazing heat in a classroom, supposedly a computer room with nothing to show of its ICT purpose besides alphabetical order charts on the walls with ICT gadgets.
"Imagine asking for water to serve the whole school on a daily basis from villagers.
"This had become our way of life, an unfortunate one it was.
"Our borehole would from time to time break down and we would ask for water from near by villagers, but some would tell us to stop and some would give us a schedule to come fetch water which didn't align to ours.
"In a desperate move we even asked our learners to bring 5-litre water bottles from home to use during school times, but that didn't evade our crisis.
"When Chivaka River was flowing we would ask learners to go fetch water there but that alone also brings the safety of children at risk."
The school received a US$3 500 grant under the water, sanitation and hygiene (Wash) schools improvement grant programme being implemented by the United Nations Children's Emergency Fund (Unicef) in partnership with the ministry of Primary and Secondary Education.
The programme is funded by UK AID and KFW Development Bank (Germany) to improve learning environments in schools, with a bias towards marginalised areas.
Chivaka installed electricity, a water pump, tank and pipes at the school to supply water to the learners and teachers.
"We have got a number of projects that we are doing and looking into the water and sanitation issues it had become a problem after the borehole we had regularly broke down and water became a problem for a long time till we got this donation from Unicef in 2020," said Manyama.
"We managed to install a water pump and electricity so that we pump water to supply the school and the villages.
"We want to have tapped water into the school gardens so that we can have sustainable gardening projects that will serve teachers, students and villagers.
"We are well-watered in terms of drinking and sanitation and most importantly, managing Covid-19."
Unicef has continued to increase access to water by drilling new boreholes and rehabilitating defunct pipe water schemes and boreholes in rural areas.
The United Nations agency's water, sanitation and hygiene (Wash) team works in over 100 countries worldwide to improve water sanitation services, as well as basic hygiene practices.
Last year, Unicef's efforts saw 45 million people reached with improved water supplies, improved sanitation for 22 million and 50 000 communities became open defecation free.
"Thanks to the Wash programme the locals are coming to fetch water, all those who are close by now come here and some leave their wells (unsafe water sources) for clean water we have at school," said Manyama.
"Its the locals who helped in digging of the stretches, their input was critical and we thank them."
The director of communications and advocacy in the Primary and Secondary Education ministry Taungana Ndoro was impressed by the Wash programme and other programmes being carried out by Unicef and the government.
"The ministry of Primary and Secondary Education in partnership with Unicef offer remote and rural schools improvement grant while we provide them with infrastructure and learning material," Ndoro said.
"We also do schools improvement grant in terms of Wash, providing water, sanitation and hygiene in school, thus the drilling of boreholes and making sure that there is clean water in schools in Zimbabwe.
"The impact in these projects have been phenomenal and the schools have been using these grants accordingly, we are impressed.
"Looking at Chivaka Primary School, the area is very dry and they have managed to start a nutritional garden at the school with the use of the water.
"In terms of the girl child in rural areas where many don't afford sanitary wear, the government is working hard and providing sanitary wear to alleviate the problem."
Related Topics