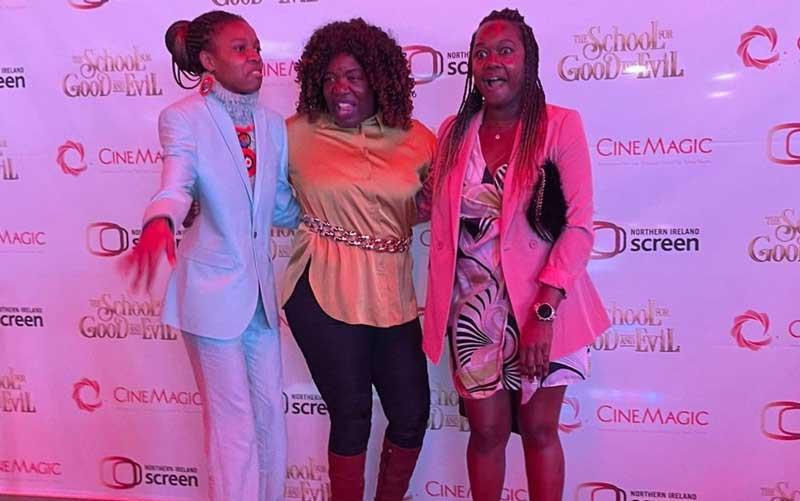 ZIMBABWEAN actress Caroline "Nyaka-Chana" Nyaka is basking in the glory of her involvement in the just premiered movie, The School for Good and Evil.
The School for Good and Evil, which was released on Wednesday by Netflix, is a fantasy film directed by Paul Feig and is based on the 2013 novel of the same name by Soman Chainani, with the screenplay written by David Magee and Feig.
The film stars Sophia Anne Caruso, Sofia Wylie, Charlize Theron, Kerry Washington, Laurence Fishburne, Michelle Yeoh, Jamie Flatters, Kit Young, and Peter Serafinowicz.
Nyaka-Chana, who has curved a niche for herself on the global film arena, told Standard Style from her Northern Ireland base that her involvement in the movie, is her first steps towards bigger things despite being part of the team that was behind the scenes.
"My main responsibility was to make sure that filming goes ahead and making sure that all Covid-19 protocols were adhered to," she said.
"Every single body that came to the studios had to report to my office first, be it the producer, director, actors or even extras.
"I had the power to shut productions down from 2021 up to 2022 September.
"I needed to be assertive as filming could not continue if too many people were infected with Covid-19.
"I have been head of health and safety and Covid-19 supervisor as well as mental health first aider on film set with a team of medics and Covid-19 attendants reporting to me too."
Nyaka-Chana said she also rendered similar service for three other series, which are yet to be premiered.
"There really is no limit, you can come from Africa and make it to Hollywood," she said.
"Hard work pays and the secret is putting that extra effort to be remembered for something good.
"Zimbabweans are exceptionally hard workers and they never wait for something great to happen while sitting or sleeping, go and join the queue and be ready when your number is called."
The versatile arts personality who seems to be following the footsteps of fellow Zimbabweans Danai Gurira, and Thandie Newton, said attitude was a virtue in the world of acting.
"One thing I have learned over the past two decades is that great attitude counts and you can be a very ordinary simple African girl, but through adorning a lovable attitude you get to meet and work with the world renowned producers and artists," she said.
"Be the best version of yourself when it comes to work ethics and you will be recommended to many greater people.
"I started off small and noticed phone calls coming saying 'Caroline we heard great things about you from BBC Studios and we want you here at Pinewood'.
"Then HBO said we heard great things about you from Pinewood Studios and BBC we want you in Ireland."
Early this year, the former Avondale Primary School student was honoured by children's television network, Disney for featuring in one of its plays as it celebrated its golden jubilee.
The 38-year-old dedicated the honour to Zimbabwe.
Related Topics