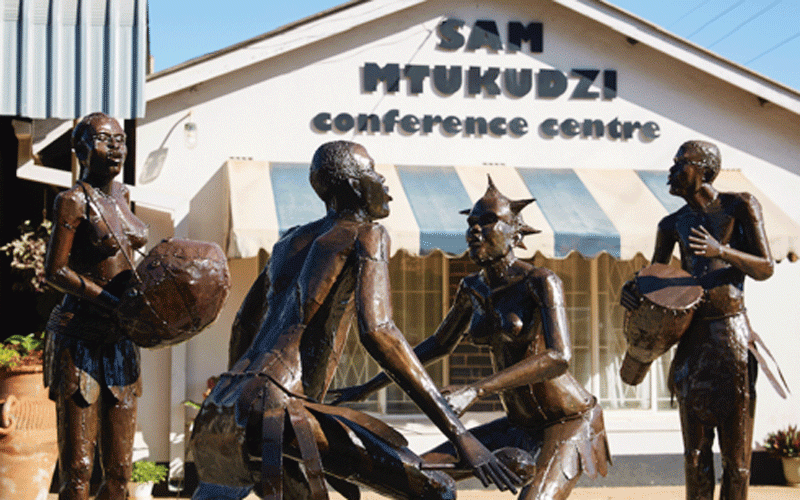 I am not a wealthy person, but at the back of my mind, I have always kept this idea of empowering others who are less privileged than me.
The thinking is that if one day I become rich, I will help to empower my society in whatever way I can. I have faith. That day is still yet to come.
In 1987, I established the Frontline Kids band with the sole aim of empowering young people to earn a living through music. Noel Zembe, Emmanuel Thomas, Filbert Marova, Forward Mazuruse, Pablo Nakappa and others who are well known in Zimbabwe's music circles, are a direct product of this philosophy.
Again in 2001, together with Fungai Malianga established and sponsored several musicians through what was known as the Jethro Shasha Scholarship Fund and The Heroes of African Music Fund at the Zimbabwe College of Music where thirty three (33) students who included Mitchell Jambo and Rose Change benefited from the free scholarships we gave them.
It is for this reason that I urge other musicians who can do it, to assist the less privileged whenever they can.
There are hundreds of African musicians who can do this.
In 2004, Dr. Oliver Mtukudzi, a renowned Zimbabwean musician, constructed Pakare Paye Arts Centre in Norton. As part of his philanthropic moves, he gave lots of Zimbabwean youngsters such as Munyaradzi Mataruse, Donald Kanyuchi, The AY Band, Munyaradzi Nyamarebvu, Charles Chipanga, Tsvete Band and Kazevezeve opportunities to develop their own skills in music free of charge. In simple terms, he empowered a lot of youngsters to become responsible members of the Zimbabwean society.
When I hear stories of rich musicians who came from humble beginnings but who decide to selfishly spend their fortune on things that do not benefit others, I get sick in the mind as I am deeply affected by their lack of concern for the welfare of others. That's just me.
For instance, when I hear stories of superstars like Nigeria's Afrobeats sensation, Burna Boy, who has developed an opulent taste in jewellery, I keep thinking that shouldn't this artist have spent his money on fostering young talent and helping the poor?
The artist recently unveiled a stunning new chain with a pendant, reportedly worth a staggering $1 million. How many people could have been fed for a million dollars? To Burna Boy, a piece of jewellery is probably more important than feeding starving people.
But who am I to question how rich artistes should spend their money? After all they worked for it. They should do what they want with their money. Shouldn't they?
Fortunately, not all Nigerian musicians have the same mentality. We know about some who have been generous with their money and have put it to good use in projects that benefit society.
One good example is that of Nigerian musician, David Adeleke, also known as Davido, who has, through his foundation, David Adeleke Foundation (DAF) donated a sum of N237million ( two hundred and thirty seven million naira, Nigerian currency) to orphans across Nigeria.
Davido, unlike other artistes who went from rags to riches, however, comes from a wealthy family. His wealth and good heart are probably what prompted him to be generous.
Davido's father, Aliko Dangote, is a well-known Nigerian businessman and industrialist. He is best known as the founder, chairman, and CEO of the Dangote Group, the largest industrial conglomerate in West Africa.
Dangote, Davido's father, is also well-known for his humanitarian efforts. In 1994 the Dangote Foundation was incorporated for its philanthropic endeavours.
The foundation has focused much effort on addressing childhood malnutrition. It has also contributed towards efforts to combat viruses, such as those that cause polio, Ebola and Covid-19. Moreover, the foundation has also provided disaster relief funds in crises situations which demanded such assistance.
Perhaps this is where Davido draws his generosity from.
In a recent speech, after donating over 200 million Naira to several orphanages in Nigeria, accompanied by an image of the donation, Davido said: "I've always wanted to use my platform to serve others. I am thankful that I've been able to do so. We recently disbursed over N200m to several orphanages in Nigeria, a tradition that started a few years ago around my birthday. Thank you to everyone who donated. With your help, we are changing lives. This is what I mean when I say We rise by lifting others. These are words in action. God bless you all!"
The foundation's efforts bore fruit as they successfully extended their assistance to 424 orphanages, providing a ray of hope to a staggering total of 13,818 underprivileged children. .
It shouldn't be wealthy musicians only who should have a sense of generosity. There are several members of our society who could use their wealth by doing good things within their communities.
Wealthy Zimbabwean artistes and other wealthy citizens could take a leaf out of Dangote and his son Davido's examples. Instead of showing off their wealth by buying expensive cars and other trinkets for themselves, they could provide their communities with basic needs.
We have situations such as the recent Floyd Mayweather debacle where politician and gold dealer, Scott Sakupwanya spent millions of dollars for the political upliftment of one person in a community where some citizens could not even afford a loaf of bread. These communities felt that instead of spending a million dollars on an already rich Mayweather, that money could have benefited them more if it had been spent on projects such as malnutrition, fixing roads, helping AIDS orphans, helping children in orphanages, or people with disabilities and other relief disasters.
Scott could have brought at least one loaf of bread for each family in Mabvuku or buy at least one lunch for each family in need. That could have been more appreciated in comparison to just making people look at a former world- renowned boxer. This is what is known as political opportunism, where the aim is to increase one's political influence at any price, seizing every opportunity to extend political influence, whenever such opportunities arise.
Scott, in seeking to make political capital with the main aim being that of gaining more influence, prestige or support, instead of truly winning people over to a principled position or improving their political understanding, met his cum-uppance when his community did not vote for him to become their representative in parliament.
Meanwhile Floyd Mayweather laughed all the way to the bank with his newly acquired fortune while the people in Mabvuku continued to struggle as they remained in their state of poverty.
As we look around the world, it's easy to see vitriol and division. However each one of us — through small acts of generosity — can change our society and change our world.
Those people, musicians in particular, who are preaching about making this world a better place should bear this in mind. There is need to find solutions to get everyone to live a better life through generosity. If one is wealthy, then they should start to think about how they can help others who are less privileged than them.True generosity is an offering; given freely and out of pure love. No strings attached. No expectations.
Related Topics