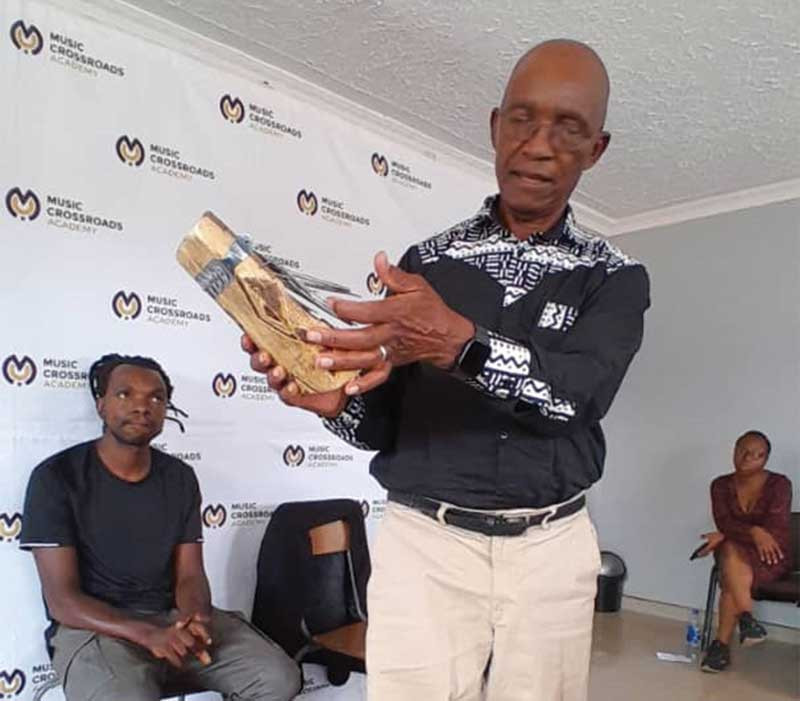 MATEPE Mbira is a cultural preservation project that documents 82-year-old Matepe master musician Chaka Callisto Chawasarira's repertoire.
The Matepe Mbira is a lamellophone originating from north east Zimbabwe and is primarily played by the Sena Tonga and the Kore-Kore peoples. It can also be traced to adjacent areas in Mozambique. It is arguably the most sophisticated instrument of its kind.
To prevent its erosion, Music Crossroads Academy Zimbabwe (MCAZ) hosted a historical moment of knowledge exchange in the form of a Matepe masterclass led by Chawasarira in collaboration with Othnell 'Mangoma' Moyo.
The master class hosted on November 9 was graced by representatives from the cultural department of the German embassy in Harare as well as some of the academy's regional partners. It also encompassed a class of 40 MCAZ students who previously underwent a certificate in professional music which enables young talented musicians to turn into professionals. Chawasarira and Mangoma lectured the participants on how to play the intriguing Matepe Mbira.
Earlier this year, Stefan Franke, a German cultural activist and creator of the mbira learning platform symres.org teamed up with Moyo and digital media expert Kuda Nyaruwabvu to document the entire repertoire of Chawasarira, an experienced Mbira maker and player in a bid to preserve the Matepe Mbira Music.
Approximately 50 hours of Matepe songs were recorded and several illustrative files of how to play and build the Matepe mbira were produced.
According to Chawasarira, the Matepe playing tradition is almost dying as there are only a handful of players in the country. "We should now try to revive the playing of the instrument," said Chawasaria.
"We have to learn about our music using our lenses. It's better to educate the people to know about the intricacies of our music although we shun it because we are afraid," Mangoma told attendees. The internationally touring artist is an ethnomusicological researcher and preservation artist who makes 75% of the instruments that he plays. He is also a student under the tutelage of Chawasarira.
To showcase the results of their documentary efforts, an end-of-year Mbira concert is scheduled for December 15 at the Zimbabwe German Society from 6 pm. The German embassy will also use the occasion to hand over the documented files to MCAZ.
The school, located in Belvedere is renowned for documenting traditional Zimbabwean music to enhance students' knowledge of indigenous sounds. The concert repertoire will be presented by Chawasarira, Mangoma, and other surprise Matepe mbira players from Nyamapanda and Chiweshe. The concert will present some songs which will be a fusion of Matepe, Nhare, and Nyunga Nyunga by local greats who are yet to be announced.
This cultural preservation project is funded by the German Federal Foreign Office and is supported by the cultural department of the German embassy in Harare.
Related Topics