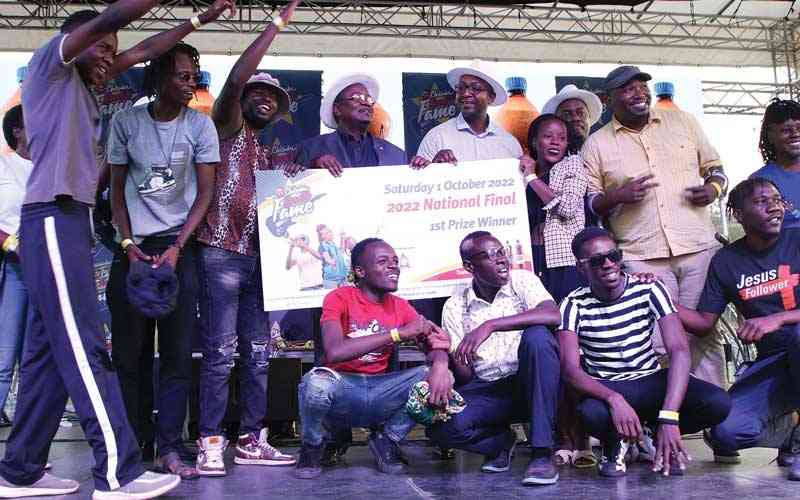 WHAT a triumph for versatile jazz musical group, Grade 2D, which will pocket US$15 000 plus a recording contract after emerging the national winner of the Chibuku Road to Fame talent search competition at the weekend.
It was pomp and funfare at Harare's Glamis Arena at this year's edition of the competition which is a collaborative effort between Delta Beverages — through its Chibuku brand, and the National Arts Council of Zimbabwe.
Making a return from the jaws of COVID-19, the competition ran under the theme Jambisa Asingajambe! Vusa Abelele and this year the sponsors, Delta Beverages, were celebrating their 60th anniversary.
"We are very excited to have emerged the ultimate winners of this competition. We were not expecting it," an elated Grade 2D leader Reginald Kamuchanyu told NewsDay Life & Style.
Formed in 2014, the Mashonaland West province-based eight-member Grade 2D had its first dance in the competition a year after and emerged third at the national finals.
It, however, failed to make the grade in the top three the following year, but it did not lose hope.
"This is how competition is like, I want to encourage aspiring Chibuku Road to Fame competitors not to lose hope, but to remain focused as we have done over the years," Kamuchanyu noted.
Midland province's representative, Groove, came second, while Matabeleland North province champions Shantani, an Afro-fusion music outfit, clinched third position, pocketing US$10 000 and US$7 000, respectively.
"We look forward to expand our careers with the money we have just won. We thank our fans for the support and we promise them new projects soon," Shantani group spokesperson said.
All the 10 provincial representatives participated at the competition that was graced by guest performers across genres, dancehall president Winky D, sungura singer Mark Ngwazi, Tocky Vibes, Identity Band, urban groover ExQ and Jiti singer Baba Harare.
Also, top wheelspinners Godfather Templeman and DJ Mbale took turns to rock it on the turntables as part of the performers at the competition's after party.
It was, indeed, a fun-filled event for revellers as they danced to music and socialised.
Launched on October 27 in 2001, Chibuku Road to Fame is considered the country's largest grassroots talent identification competition that has unearthed unheralded music gems.
The competition starts at provincial level and winners from the country's 10 provinces compete at national level for the monetary prize, plus a fully-paid recording contract.
To date, sungura musician Romeo Gasa who fronts Extra Valembe remains the notable product of Chibuku Road to Fame after he won the competition in 2007.
Follow Rejoice on Twitter @rejoicephi1998
Related Topics