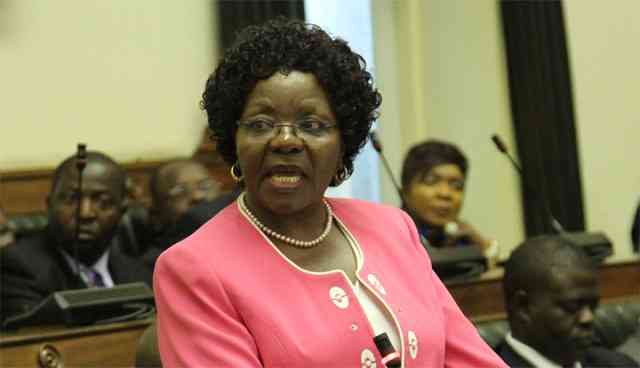 SMALL and Medium Enterprises Development minister Sithembiso Nyoni has urged stakeholders to stop abusing desperate vendors in Bulawayo for political mileage.
Nyoni made the remarks yesterday while addressing various stakeholders during a workspace engagement programme at government's Mhlahlandlela building in the city.
She said the Bulawayo City Council (BCC) must take charge and reinforce its by-laws to enable cleanliness and legal operations in the city.
"Mayor! (Bulawayo deputy mayor Mlandu Ncube) me and you are politicians, but let us not then disadvantage the vendors just to spite each other. When allocating stands, let us be rational," Nyoni said.
She also called for partnerships with the Ministry of Home Affairs, city council and the Ministry of Environment, Tourism and Hospitality.
"We can't have women working in such environments. When I go to town I see a mother sitting with her child on the street trying to raise money to feed her children. You see pampers there next to tomatoes. Where does she go to change them? Where does she go to relieve herself? Why aren't there taps and toilets built there for them? That is why I am saying we must not compromise our people for politicking," Nyoni said.
"Bulawayo was once the cleanest city. It can only be brought back to that status by its own people and not anyone from elsewhere. City fathers must be strict. You are now allowing the development of street communities and we don't want that. Let us not politic on the dignity of our people. We have more than 15 000 people in the streets of Bulawayo. For me that's unacceptable. Let us organize and assist to construct proper work spaces for SMEs."
Informal Working Group chairperson Dumi Ncube said it was important to have a genuine engagement and not have speeches read just to please the minister.
"We are not saying that is what happened here today, but maybe if we had been told about the meeting way ahead of time, we would have brought solutions. Minister, we once went with you to Dares Salam (Tanzania) because they wanted to learn how to maintain a clean city and organise SMEs from Bulawayo," he said.
Ncube also called for speedy completion of Egodini Mall and prioritise former vendors in the allocation of vending stalls to cut out space barons.
Bulawayo Metropolitan Affairs and Devolution ministerJudith Ncube said if there is no accountability, drug peddlers will take advantage and distribute their illegal products in the city.
Related Topics