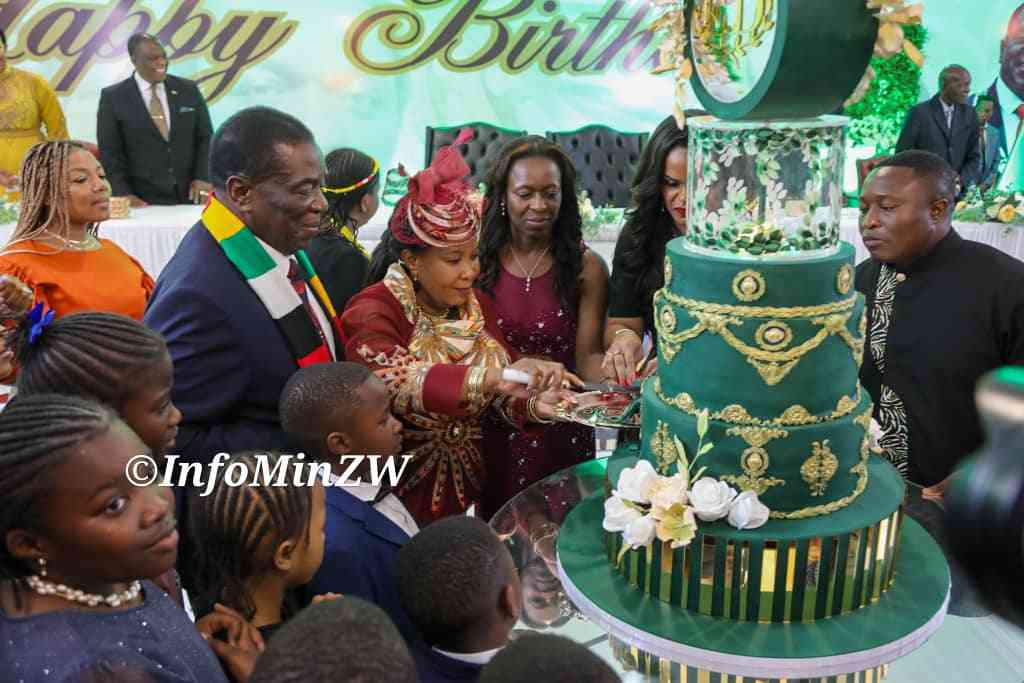 PRESIDENT Emmerson Mnangagwa celebrated his 81st birthday in style on Friday last week with a sumptuous dinner held at State House, hosted by First Lady Auxillia Mnangagwa.
The extravagant event, complete with glitz and glamour, took place against the backdrop of widespread poverty and the ongoing struggles faced by ordinary Zimbabweans.
The opulent affair, attended by high-ranking government officials among them Vice-Presidents Constantino Chiwenga and Kembo Mohadi, Cabinet ministers, diplomats and prominent business figures, highlighted the stark contrast between the lavish lifestyles of the ruling elite and the dire living conditions of the majority of the country's population.
As the evening unfolded, State House was transformed into a haven of luxury, with extravagant decorations and fine dining to slow music.
Three huge cakes were devoured during the birthday festivities.
Mnangagwa's daughters-in-law wore exquisite and expensive outfits, adorned with intricate embellishments and explicit detailing.
In a rare praise for his deputy,Mnangagwa thanked Chiwenga for saving his life after he was poisoned at a rally in Gwanda in 2016.
"God has been very kind to me because most of my colleagues are long gone. I had a taste of death several times including recently when I was poisoned in Gwanda," Mnangagwa said.
"I am still here and I want to give credit to VP Chiwenga. Him and the First Lady were able to rush me to hospital in South Africa and I survived. I want my family to know that Chiwenga saved me, he took it upon himself," he said.
Mnangagwa, who was controversially re-elected last month, was pampered with gifts among them a fishing trip with all his sons.
While the Mnangagwas and their guests indulged in a sumptuous feast, many Zimbabweans had to contend with living on a less than U$2 per day, while many others went to bed on empty stomachs.
The country's economy has been mauled by hyperinflation, unemployment and a lack of access to essential services, which hardly affects the governing elite who are insulated by their riches and power.
Citizens endure long hours without electricity, making it difficult to carry out basic tasks and impacting businesses and industries. The scarcity of clean water has also become a pressing issue, with many communities forced to rely on unsafe sources or travel long distances to access potable water.
Political analyst Romeo Chasara said the extravagant display of wealth further alienated Mnangagwa from the citizenry.
"For many Zimbabweans, the extravagant display only serves to deepen their disillusionment with a leadership that appears disconnected from the everyday challenges faced by its citizens," Chasara said.
"As the nation grapples with economic hardships and lack of basic services, the Mnangagwa administration faces mounting pressure to address the pressing needs of the people."
Related Topics