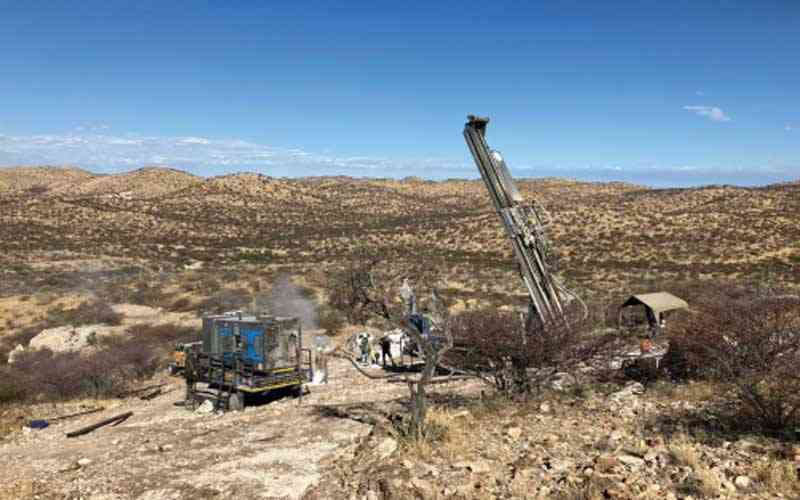 Sometime in October last year, a group of Zimbabweans living in South Africa met in Polokwane to attend a popular colleague's funeral.
Funerals in South Africa are somehow tedious and cumbersome.
At the week-long funeral, the Zimbabweans had all the time to discuss the situation back home and their present circumstances in the neighbouring country.
They all agreed that the situation in South Africa had become difficult and untenable and that Zimbabwe was slowly getting up on its feet, with many opportunities for everyone.
That is how the issue of the newly found lithium in Mberengwa became part of the discussions.
Lithium is a rare mineral that is currently being mined in only eight countries, with 85% of the global supply coming from Australia, Chile and China.
Zimbabwe is the world's fifth largest lithium producer with its output rising steadily in recent years from 1 200 tonnes that was being produced in 2021.
Government believes Zimbabwe has the potential to account for 20% of global lithium output when all known reserves are exploited.
It was one Zimbabwean from Mberengwa and now based in Cape Town who gave an interesting account on the lithium discoveries.
"People are literally picking up lithium ore from their fields. It is everywhere," he said.
There was consensus from the group that the growing opportunities back home were worth going after.
In October, 30 tonnes of lithium ore fetched around US$21 000 in South Africa, an indication of potentially rich pickings.
But the lithium ore was finding its way out of Mberengwa and across the border into South Africa illegally.
In South Africa it fetched between US$800 and US$1000 per tonne, but villagers and artisanal miners who mined the ore were getting between US$150 and US$200.
While the debate at the funeral in Polokwane was raging, groups of buyers were setting up camp in Mberengwa, collecting hundreds of tonnes of lithium and paying peanuts.
There was a hive of activity at Sandawana Mine where over 5 000 artisanal miners joined local villagers in digging up the mineral.
Lithium deposits are virtually everywhere in the area. Unconfirmed reports say when Jeka Bridge was swept away in a tropical storm in recent years, villagers used lithium rocks to fortify it.
But this is not the first time that Mberengwa has sat on top of precious minerals without benefitting from the resources.
When Sandawana Mine opened for emeralds, community and political leaders told them that there was no need to build roads because the precious minerals would be stolen.
They advocated for an airstrip to safely transport the emerald.
Today it seems the curse has returned to haunt Mberengwa communities once again.
It began with the arrival of Chinese nationals, coming from nowhere and playing the good guys, 'advising' locals to pick and load into waiting big trucks the many 'useless stones' scattered in their fields.
"Sometime last year we saw a number of Chinese businessmen visiting Sandawana and before long 30-tonne trucks started parking at Jeka and Chingechuru Business Centres," a villager, Knowledge Manokore, said in an interview.
In no time the business centres turned into bustling trade centres as a growing number of buyers thronged the area to collect lithium ore.
"Slowly it dawned on the locals that the stones that they were carrying on their heads were actually valuable minerals. That was when they started demanding payment.
"But even when we demanded payment, what we were offered was peanuts compared to what we later learnt was the value of our stones," Blessed Honhera said in an interview.
Villagers spent many hours on the mountains, digging up rocks and transporting them downhill in sacks and they got peanuts for it.
"The buyers just look at one's load, make an estimation from their heads and decide how much to pay you, without any negotiation," said a villager.
"Because the villagers wanted the money which they got from what were hitherto useless stones, they continued to bring the ore downhill until government officials moved in sometime in November."
Authorities first deployed police officers from the ZRP Support Unit in Buchwa and later reinforcements arrived from Harare.
The police were armed to the teeth and pushed all the miners off the mountains.
The villagers were told that the claims belonged to Kuvimba Mining House that owns Sandawana Mine.
Mines and Mining Development deputy minister Polite Kambamura was also dispatched to the mine.
He was accompanied by officials from Kuvimba and members of the Zimbabwe Miners Federation (ZMF).
Kambamura said the government wanted to bring sanity on the ground while ensuring there was accountability in the mining activities.
"We noticed that there is a lot of illegal mining going on," he said.
"Illegal buyers are also taking away minerals under an umbrella name of lithium yet the ore here contains a lot of other minerals.
"It's a multi-element mineral and it's not only lithium found on these mountains.
"So buyers were coming in to buy lithium and smuggling it out of the country.
"When they smuggle it out of the country, they will go and further process it to extract other minerals unknown to the miners, so we had to bring sanity to this area."
Government owns a 65% stake in Kuvimba Mining House with other investors owning the other stake.
Kambamura promised the locals that Kuvimba would register the artisanal miners and formalise their activities.
"Kuvimba House is also going to be the sole buyer of lithium ore that is being mined here because they are the owners of the claims," he said.
"We have agreed that we are not going to chase people away from here, but we need now to formalise their activities so that they can mine and get paid to earn a living."
In the long run, Kambamura said, Kuvimba would move in to explore and exploit all the deposits while opening up and developing full operations.
He said the government would also push for full operations and restoration of mining activities at Sandawana Mine.
The ZMF started registering the miners as their members, charging a registration fee of US$5 each while pledging to assist in negotiations for equipment and formal jobs.
According to sources, Kuvimba started paying the miners but they paid even lower rates compared to the $200 per tonne paid by the dislodged informal buyers.
"They started paying as little as US$50 per tonne. That is when we realised we had been conned," said a local artisanal miner speaking off record.
The lithium ore also became a source of conflict between Kuvimba, police, villagers and other miners.
Sandawana lithium claims are found in Gwamakudo, Westgate and Varichem.
"We all acknowledge that these claims are owned by Kuvimba, so we moved to look for our own claims," the artisanal miner said.
Some of them found claims in other fields and got the necessary papers from the government.
"We are getting the ore on other claims including fields that were being used for agricultural purposes by the villagers," said an artisanal miner.
"Unfortunately, it's difficult to transport or even sell the lithium because Kuvimba instructed the police to arrest and impound anyone with ore."
They said even other miners with gold claims in Mberengwa, had also suffered the same fate as lithium miners.
On December 31 last year police descended on the mountains and villages and chased miners who fled, leaving their ore.
"The miners fled and left stockpiles of lithium ore, but when they returned, they found it all gone," the sources said.
Kuvimba has been accused of stealing the ore.
In an interview, Kuvimba chief executive Simba Chinyemba denied the allegations.
"Kuvimba met all its agreed obligations for the ore that was legally mined on its claims under the necessary agreements," Chinyemba said.
"All illegal activities were referred to authorities.
"It is our belief that they were dealt with in accordance with the necessary provisions of the law."
He said Kuvimba was committed to the empowerment of local entities and communities.
"Extensive stakeholder engagement is being carried out to implement this in a manner that is fair and which brings benefits to the local community and all legally and appropriately organised artisanal miners," he said.
Chinyemba said Kuvimba was also engaged in a full exploration, mining and development programme to fully beneficiate the potential minerals under its claims.
However, disgruntled villagers say management at Kuvimba in Harare could be unaware of what their officials in Mberengwa were doing.
"When the villagers were chased away they left stockpiles of ore that belonged to them," said a villager.
"What officials here (names supplied) did was to collect and register details of all the artisanal miners, including tonnage but there was no one to account for the ore when it disappeared," they said.
They claimed that officials in Harare could have been given details that were recorded before the miners were chased off the mountains.
"It's very difficult to get back onto the mountain," said a displaced miner.
"We are not sure if the trucks that came on December 31 last year carried everything.
"The whole area is sealed by the police who are patrolling the area with trucks that we have never seen before, so everything just stopped."
They revealed that police under instruction from officials at Sandawana had unleashed a reign of terror on business centres near the mine.
"People are not free to move anymore," another villager said.
"If the police come across you at Jeka or Chingechuru, you have to convince them of the reason to be at the shops."
Investigations, however, revealed that lithium was still being smuggled out of Mberengwa on trucks and patrolling police were being bribed to allow them to pass.
"It's very difficult to sell the lithium unless you have buyers with deep pockets who can bribe their way out of Mberengwa, but it has become very difficult," the villager said.
Police patrolling the area allegedly demand up to US$800 for a lithium-laden truck to leave the area.
The villagers who had celebrated the discovery of lithium in their area could be regretting their good fortune. They have been robbed of their natural resource.
Meanwhile, the roads in the district are in a very bad state having been worsened by the trucks carrying their ore away.
That is the curse Mberengwa suffers; for all its natural resources.
Related Topics