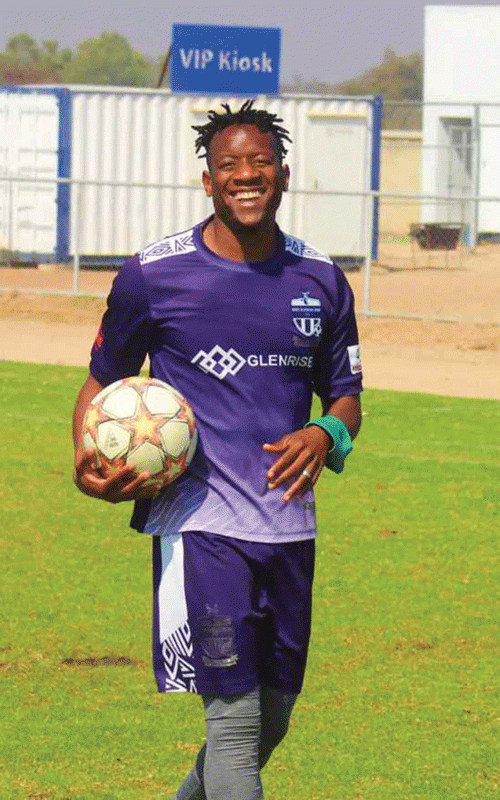 NGEZI PLATINUM STARS. . . (2) 3
GREENFUEL . . . . . . . . . . . . . . . . . . 0
NGEZI Platinum Stars maintained their lead at the top of the Castle Lager Premier Soccer League with a dominant win over GreenFuel at Baobab Stadium yesterday.
Captain Qadr Amini smashed in the opener from a freekick inside the penalty arch just after 16 minutes, with the goal taking his tally to eight for the season. He is now third in the race for the golden boot award, two behind leader Obriel Chirinda while second- placed Fortune Binzi is on nine.
The veteran, versatile winger then provided the assist for the second goal in the 24th minute, scored by striker Delic Murimba who turned home a perfect cross from the left.
Bruno Mtigo expertly curled in the third with a left foot just after the hour mark as Ngezi Platinum Stars pulled four points clear at the top of the log standings with 11 matches remaining.
They have 45 points although second-placed Highlanders have a chance to reduce the gap back to two points when they host Yadah at Barbourfields this afternoon.
GreenFuel, who had only one chance the whole game, wasted by Collins Duwa early in the second half, are in ninth position with 29 points.
Their position in the league remains precarious though, as they are just six points clear of the relegation cut-off point.
Ngezi Platinum Stars coach Takesure Chiragwi was happy with the victory which was their second on the bounce after their 1-0 win over title challenger Manica Diamonds last week while he was coy about his team's chances of clinching the title.
"We are building the team to compete for a long period. That is what matters most. We are not worried about being on top of the log, that is not important. What is important is to build the brand so that Ngezi Platinum can have dominance for a long period," he said.
GreenFuel coach Rodwell Dhlakama who is credited for building this Ngezi Platinum Stars team before he was pushed out, was naturally deflated by the defeat.
"It's quite deflating, and I feel the first goal was the turning point. The free kick was a soft call by the referee,but I can't comment much on that one. We played a very organised team with massive talent.
"We couldn't cope with their wing play but what is important for us is to keep the team's status in the league," Dhlakama said.
The hosts were truly the better team throughout and deserved their three goals which in all honesty, was a flattering score to GreenFuel.
Once Madamburo went ahead, it was just a matter of how many they would rack in, and the second goal made things even easier for them down the stretch.
Teams
Ngezi Platinum Stars: N Chadya, K Chigwida, P Moyo, V Kadonzvo, T Benhura, G Madhake, M Mushonga, L Kashitigu, B Mtigo, Q Amini, D Murimba
GreenFuel: D Bizabani, T Pfende, T Gora, R Chinemo, H Moyo, R Muchena, X Moyo, C Dhuwa, J Ngulube, N Ndlovu, W Mapuwa
Related Topics