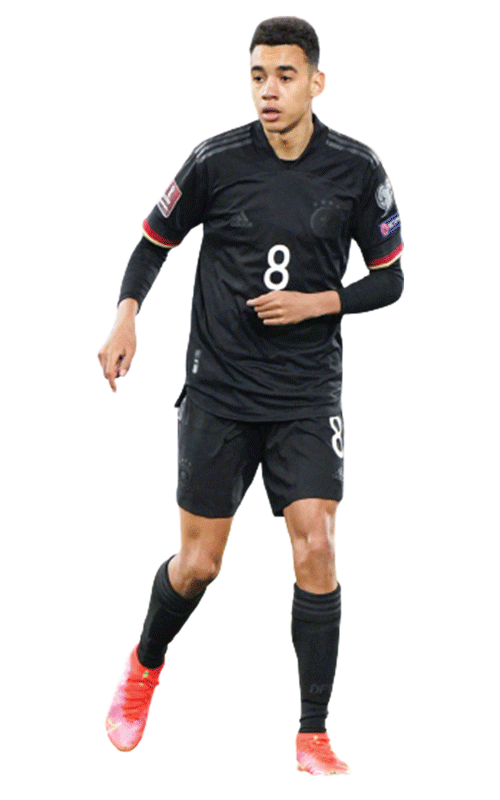 WATCHING the ease with which the German national side was shamefuly dismantled 4-1 by the fleet-footed Japanese in their recent friendly fixture got me thinking.
After all, this is Germany we are talking about.
This is a nation who after Brazil, rank as the greatest national side in the history of the game but currently I doubt that there has ever been a weaker, more unproductive German side ever.
A cursory glance at their recent spate of results will provide you with a clear picture of what I'm getting at and why German football has never been at such an all-time low.
In the last twelve months prior to and after the World Cup, Germany have lost to Japan (twice,) Columbia, Hungary and Belgium.
It's poor, it's pitiful and quite honestly, it's pathetic.
This 2023 version of Germany would have without question failed to qualify for previous World Cups and Euros when the amount of nations able to qualify was significantly lower.
The sacking of Flick who is incidentally the first German national team manager in history to be sacked was inevitable.
It was also vitally necessary given the team's recent run and the meek manner in which they capitulated so cowardly against Japan.
The question remains how on earth Germany has reached such diabolical deplorable depths and what is the way forward for a distressed nation who have always been a footballing powerhouse, but who now find themselves embarrassingly struggling even against lower ranked opponents.
When I was growing up, the English media always downplayed the German achievements and excellence.
I surmised that there was lurking underneath an undercurrent of jealousy based on England's failure to add to their solitary World Cup win of 1966.Guess what folks!?
Fifty years later and England still has a grand total of one single 1966 success while Germany has accumulated four World Cup crowns (plus three times runners up) and three European Championship successes (plus three times runners up!).
The Germans have been able to compile this extraordinary haul of titles due to a remarkable knack at every major tournament of somehow and sometimes out of very little, fashioning a side capable of going all the way.
Their trophy grip started way back at the 1954 World Cup held in Switzerland and it was a victory against all the odds.
This was a triumph not based on exceptional skills or strategy; but rather it was based on a side that simply buckled down, tightened up, did the basics right and who literally died for their country.
In the final they lined up against the almighty supreme world footballing power of the time,the Magyars of Hungary led by the world best Ferenc Puskas.
It was the very same Hungarians who had thrashed Germany by eight goals to three in the group stages and it was a massive shock to say the least when the news broke out that the Germans had surprisingly won the final 3-2.
Coming as it did with memories still fresh after the World War, their success evoked images of German physical strength and was for some a timely reminder that while the Germans might have stopped fighting in the trenches and battlefields, their fight would now be reignited instead on the football fields of the world.
This war style preparedness, toughness, grit, defiance and organisation gave them an obvious added advantage,(teams commented that it was like Germany had an additional player on the pitch)and was to become their trademark, synonymous with all German national sides.
The German winning World Cup side of 1954 was to be the first but not the last example of German superhuman teutonic strength on a football pitch.
The 1954 World Cup victory was no flash in the pan and Germany would go on to become potential challengers at every international tournament they participated in; where they would regularly illustrate the ruggedness, unity and mental resilience of a national side who consistently over achieved in reaching finals they often had no right to.
They would lift the coveted trophy twice more, in 1990 and 2014 both against their arch rivals Argentina and yet again they were not the best team on display.
Their victories were far from vintage but obtained when the odds were stacked heavily against them.
In every one of their four World Cup victories, they were up against a side containing the best player in the world. In 1954,it was Puskas, in 1974 it was Cruyff, in 1990 it was Maradona and in 2014,it was Lionel Messi.
Come to think of it, I doubt any of us have a name on our lips of a single German World Cup winner from 1954!And yet we know Puskas, we know George Best, we know other clutch players in history.
These inner core special attributes have been behind much of the German success historically.
They have never been the most flamboyant, never the most entertaining or swashbuckling and they have never had the most star studded squad.
They have however always had a fighting spirit, a will power, a mental toughness and a winning tactical mindset.
Where and why then have these key elements of their game disappeared and is there a quick fix now that Flick has been given his marching orders.
The 2-1 win over an Mbappe less France the other night was encouraging although it's obviously too early to tell if the cracks have been repaired.
The right attitude and spirit are all well and good and vital but at some stage, Germany will need to take a thorough examination of itself though and ask if they are regularly producing enough world class talent necessary to reposition itself back amongst the world's best.
I really don't believe this is the case as there's generally little or no mention of German players when it comes out to handing out end of season awards although Ilkay Gundogan has shone brightly this year.
There are also very few elite German players plying their trade in the EPL or La Liga which suggests that the talent supply is drying up.
Of course there is a small dazzling German contingent playing in the Bundesliga which includes the insanely gifted Jamal Musiala (pictured), the erratic but magnificent Leroy Sane and the waiting to blossom Florian Wirtz.
The above mentioned are top draw and form a potentially strong nucleus but it's a far cry from times gone by when Germany could count on their undoubtedly reliable and dependable superstars.
In defence the supreme libero Franz Beckenbauer will never have an equal (sadly these days when looking for someone to defend Germany, Angela Merkel's name is more likely to be put forward!).
Could you ever find a more reliable striker than the ultimate goal bomber Gerd Muller (come to think of it, they haven't had a decent striker since Miroslav Klose,)while the dynamic midfielder Lothar Matthaus was unrivalled and the glue that held all his teams together!
Sadly for Germany, they haven't had a player in the last decade who could tie the boot laces of these greats!
It's important in conclusion to remember that the problems didn't begin with Hansi Flick.
Germany have failed to advance out of the group stages of the last two World Cups. So where to from here for the beleaguered Germans…
It's fortunately not all doom and gloom; there is still an adequate talent pool, they have an amazing product in the Bundesliga and they have this incredible legacy to fall back on! It's just that the modern game is spread worldwide and ultra-competitive and they are going to have to learn to deal more effectively with the improved calibre of opposition they now encounter.
The reality is that the Japan of 2023 is a massive upgrade on Japan 2006 and that goes for the majority of international sides.
Germany will desperately need to get its upgrade too but it ain't gonna happen anytime soon if they find themselves relying on the likes of Kai Havertz and Timo Werner!
Feedback: Twitter @thesoccerwhiz
Related Topics