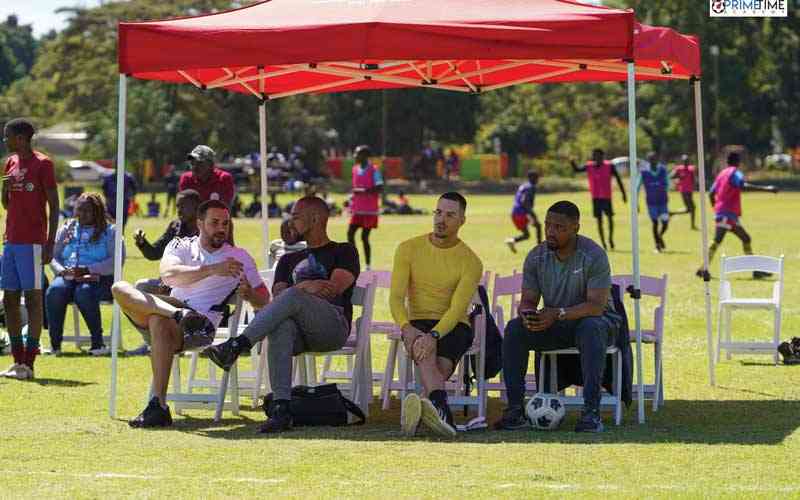 SCOUTS from top European clubs such as Brentford who play in the English Premier League, Werder Bremen (Germany), SC Braga (Portugal), Standard Liege (Belgium), Maccabi Tel Aviv (Israel) and IFK Gothenburg (Sweden) are set to take part in the Prime Time Academy international combine set for Alex Sports Club in Harare next month.
The international combine will run from December 11 to 13 and scouts from other top clubs who have not yet confirmed their participation could also grace the occasion.
This golden opportunity for talented upcoming footballers, both male and female has been made possible by local academy Prime Time, which was established two years ago.
Prime Time Academy is the brainchild of former England youth international striker Dexter Blackstock, who also played for Queens Park Rangers and Nottingham Forest in England; and former Trinidad and Tobago central midfielder Andre Boucaud.
Boucaud also played for English sides Peterborough United, Wycombe Wanders, Notts County and Dagenham and Redbridge.
It is the two directors of the academy, who have used their connections to invite the scouts from Europe.
The academy's general manager, Taurai Janhi, who is also the programmes director of the international combine confirmed the development.
"Prime Time Academy international combine is there in December from the 11th to the 13th at Alex Sports Club in Harare and we shall be having scouts from big European clubs," he told The Sports Hub.
"The objective is to create a marketing platform for our talented football players here in Zimbabwe. We have realised that we have a lot of talent in Zimbabwe, we have brilliant coaches at junior level, we also have fairly good facilities and football programmes running here in Zimbabwe but we do not have enough platforms to market our players. So this is a big opportunity.
"It's very expensive for talented players to go for trials in Europe and anywhere in the world, so bringing Europe to Zimbabwe is a good platform for these youngsters to be scouted and probably end up playing abroad. We believe that if we do this annually we will produce great results and impact positively on the national team and improve our football status on the international level," he said.
This is the second time this year that Prime Time Academy is hosting an international combine after another successful one in April.
The combine will give an opportunity to 300 players to interact with European scouts.
Janhi also spoke about the academy's achievements thus far as well as the long term goals.
"Prime Time Academy was established two years ago and we already have a few players who are in Europe and one player, Prosper Padera who is having trials at Brentford in the English Premiership. The big dream is to conquer Africa starting from southern Africa. That is to establish an academy in all the countries in southern Africa, tap the talent, market the talent to Europe and other big leagues.
"We want Southern Africa to be a football powerhouse. We want to make sure national teams in southern Africa improve through empowerment, identifying, promoting and marketing talent.
"As an academy dealing with junior development we advocate against drugs. This is a very big pandemic in our times and we want to make sure these youngsters do not indulge in drug and substance abuse. Drugs and substance abuse are a big issue all over the world and we can also play a very small role in addressing it through sport," he said.
Related Topics